Make Money From Home Using Upwork
How To Use Upwork To Turn Your Current Skills Into Online Services
Hey there SuperWahmmers!
If you missed my previous article on How to use your current skills and turn them into an online business I'd recommend you start there, before delving into this article.
Using Upwork to sell your online services
If you've been looking for the best work from home freelance jobs – look no further!
Platforms such as Upwork, Fiverr, Freelancer.com, Cloud peeps and, People per hour are a great way to sell your online services to clients that need your skills.
How do you work out what clients are hiring for online?
RESEARCH! The best way to know the market is to research it. What are clients in need of that match your current skill set?
Network – either on social media or face-to-face. What are their pain points? What challenges do they need a solution for? How can you help them?
See what other freelancers are offering – then decide what can you offer that's unique to the majority & that helps you stand out from the crowd. Never over-promise, but always over-deliver.
Example: If you've noticed a pattern that people appear to be hiring for tasks that help them with time management or business organisation, perhaps you might offer administration services – if your previous experience was in office reception.
How to find relevant jobs on Upwork that match your skill set
To search for open jobs, try typing 'administrative support' into the search bar
And relevant search results such as these will show up as open jobs!
Finding & applying for a job on Upwork
The next step is to find a job that's relevant to your skills and that pays a fair rate.
Use the following filters when searching for jobs on Upwork:
Payment verified
Star rating
Location
Relevant tags
Hourly/fixed rate (depending on your preference)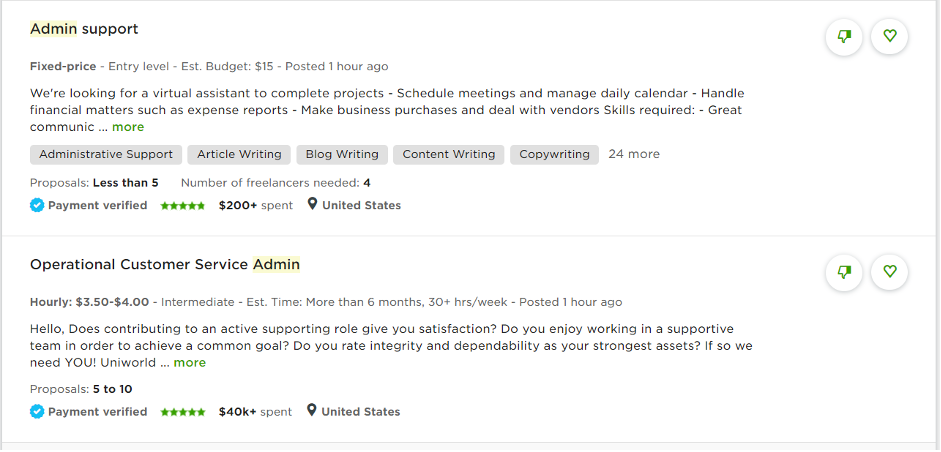 What to include in your freelance profile when offering online services
Next, create your online profile on a freelance platform of choice. I personally love Upwork as it's simple to navigate and easy to find relevant work, send proposals to clients, and download payment reports.
You'll want to include as much information as possible here – as your profile portfolio displays and outlines the value you add and the services you are offering. Take your time when you write it, as it's displaying how you can offer a solution to the client's problems using your skillset.

Include the following in your Upwork profile
Add qualifications and certifications.
If you have a portfolio of past projects & work samples that you can display, then add these to your profile
*important* Add tags to your profile, as these act as keywords and help you to show up on the job board for relevant projects.
Tip: If your profile is looking a little bare, is there a quick short course in order to offer new skills? Free academies include: SemRush Academy, Canva Academy, Google Analytics.
Sell Your Skills Online & Make Money Providing Services
Awesome – now that your profile is done, you're ready to turn your current skills into online services, start sending proposals and bidding for projects!
Here are some tips to writing a winning Upwork cover letter:
1. Setting Expectations and outlining the project deliverables:
What deliverables can you offer to your client for your particular service?
Break it down & describe what is produced
For Example, this may involve one or more of the following:
Research, add a captivating blog post title & write a 700+ word blog post
Create a blog brief for a content writer
Research the market for possible content for blog articles
Organise and manage the content calendar for blog scheduling
Break it down & describe what is produced, what is included, how it will be delivered and what the timeframe is like in order to deliver the service they are requesting.
2. Timeframe:
What's the timeline for the project completion?
When selling your skills and services online as a WAHM, it's super important that you set a realistic timeline for the project and whether you expect to be paid an hourly or fixed rate fee for your services.

3. Communication
How will you be communicating with clients?
Email
Phone
Skype
Slack
Freelancing Platform (Upwork, etc)
Tip: Choose one of the above listed, so that the process is streamlined and as seamless as possible. There is nothing worse than missing a message because there was a mix up with the communication platforms.
4.Expectations:
Is there anything that you require the client to provide you with, before you commence the project?
This might include things like login details, a more detailed brief, branding colours, font, tone, etc.
Communication is key here. If something was unclear in the conversation – ask questions and ask them to clarify.
Tip: Always recap with a follow up email to the client, recapping the conversation and project outline in your own words, to double ensure that you're both on the same page.
This helps to build trust, but also means that you have a version of the discussion in writing.
5. Payment
For this particular project, is the client proposing an hourly or fixed rate? Will payment be made through the freelancing platform, or through a third-party resource, such as Paypal or Transferwise?
Note: Try researching other freelancers and working out the average rate for that service. It's important that you don't overcharge and super important that you don't under sell your services.
You add value and are freeing up their time – remember that.
6.Feedback
As a freelancer, every single testimonial and star rating matters – as it boosts your profile, displays your expertise and may help you land future clients. It's always a great idea to outline when you expect feedback – usually it's received at the completion of the project.
Once you have completed the task or project you were hired for, make sure you follow up on this.
Conclusion
As you grow your experience working online as a freelancer, you'll soon notice that you'll want to aim for more longer-term projects, over short one-off tasks. The reason for this is that it helps bring in consistent, predictable cash flow each week, whilst also allowing you the freedom to work your own hours, from where ever you want.
So there you have it, soon-to-be SuperWAHM! Our ultimate guide on how to use Upwork to turn your current skills into online services.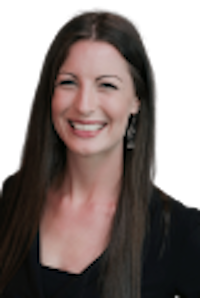 Jacqui Hastwell is a freelancer who offers support to digital agencies, aiding them in streamlining their online business systems & managing their client load. After learning that she could earn multiple streams of income, make money from her living room and create a balanced, thriving life, Jacqui made it her mission to help other women with their digital presence & income diversification.