Staying Fit While Working From Home
7 Important Tips to help you stay fit while working from home
Working from home sure sounds like the dream life. Avoiding long traffic jams, staying in comfy clothes all day, and taking calls from the couch – what's not to like, right?
However, without the daily habits of getting ready for work, it's easy to adopt a sedentary lifestyle. It's even easier now with the current COVID-19 pandemic, where even gyms and other fitness centers are closed and we are forced to stay at home almost all day every day.
Luckily, with some creative thinking and some self-discipline, you can easily turn things around and make exercise a part of your weekly routine.
And of course, regular exercise will help you stay slim and fit, but it will also reduce your stress levels and allow you to sleep better at night. That way, you can always enjoy high energy levels throughout the day to complete all your chores and work activities without feeling like you've been 'run over by a train' when you finally get to spend some free time with your family.
As a mother of three and a work-from-home mum myself, I've made a list of the top 7 things you need to do to make sure you get regular exercise while working from home.
7 Tips to Stay Fit While Working From Home
1. Make a schedule
First and foremost, try to make a schedule that includes at least 3 days of exercise per week. You can do the workouts either in the morning before you start work, or after you've finished, whatever works best for you. Just remember to stick to it and make it a routine.
And if you end up missing a few exercises now and then (we know, it can get really busy when working from home as a mum), don't worry and try not to give up. Just pick up where you've left off and always continue pushing.
2. Go Digital
If you have trouble sticking to your own workout schedule, why not try some online exercise classes?
There are plenty of them on YouTube, or you can even download an exercise app to help you keep track of your progress and see how you compare to other people.
Online exercise classes, and apps as well, offer every type of exercise, ranging from yoga and pilates to more intensive exercises like HIIT or kickboxing. Anyway, you'll be sure to find something to suit your style.
3. Forget about your car
Have some errands to do outside your home?
Leave your car at home and grab your road bike.
You're sitting at home all day, so why sit in the car as well when you can use a road bike and spend some calories along the way?
It might take a little longer to arrive, but it's definitely worth it as you'll get a chance to stretch your legs and get your heart beating, making you both healthier and happier overall.
In addition, you'll get to spend that time outside and get some sweet sunshine instead of sitting inside of a car.
4. Get up every hour
Regular breaks during your work hours will not only make you more focused, but they will also allow you the chance to stretch your legs and get some blood flow there to help battle the negative effects of sitting too much.
Even with regular exercise, constantly sitting for hours on end can increase your risk of heart disease, diabetes, obesity, and hypertension.
Set a reminder every hour to get up and move around your home for a few minutes.
You can even configure a smartwatch or an app on your smartphone to notify you when you've been sitting for too long or if you haven't taken a certain number of steps.
If you feel extra energetic, you can even do a few spins on an at-home exercise bike, which leads us to our next tip.
5. Invest in an at-home spin bike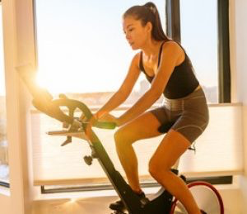 What's a better way to do some quick cardio exercises at home than having a spin bike right in your living room?
It's convenient, saves time, and it's cost-effective as you only need to buy it once and you can use it for thousands of workouts. In addition, the best spin bikes uk even offer training programs and coaching modes.
Or, if you're short on storage space, you can even get the best exercise bike that folds and saves some precious space.
6. Do some extra cleaning
Household chores are often thought of as a daunting task, but they don't have to be.
If you're working from home, chances are that you have some free time on your hands, so why not get the best of both worlds by combining exercise with cleaning?
While you won't burn as many calories as you would on a spin bike, you'll still get off your chair and move around a lot.
Plus, keeping your home as clean as possible is essential when working from home, as we all know that a clean home leads to more productivity.
7.  Keep all your exercise equipment nearby
The benefit of working from home is you don't have to set aside 2 whole hours for exercising (going to the gym, working out, and getting back).
Instead, you can just do as many exercises as you can whenever you have a few minutes available. The best way to do this is to keep some weights near your desk and use them whenever you have to wait for a call or for some files to transfer.
Just remember to stretch a bit before lifting any weights to prevent injuries.
Find your Rhythm and Get Fit while Working From Home
You see, it's not that difficult to stay fit while working from home. The hardest part is to avoid becoming lazy and set up a routine. Once you do that, including 3-4 exercises in your weekly schedule shouldn't present any problem.
Find your rhythm, get yourself the equipment needed that inspires and promotes a fit and healthy lifestyle, and with these 7 tips you can achieve your fitness goals in no time.
Suzanne Taylor is a stay at home mom with three beautiful children, and is passionate about helping people live healthy lives. Her weight loss comparison site gives an unbiased review of the many different ways to lose weight, (both paid and free weight loss programs), empowering women to make their own weight loss decisions.