Gardening With Kids When You Are A WAHM
Gardening is a good way to relax your mind and relieve stress, especially while working from home. Also, involving your kids in gardening is a fun way to teach them about their environment. It can show them how to be caring and responsible. There are lots of benefits your kids can get from planting rather than watching the iPad. Your kids can have that feeling of satisfaction by watching their little flowers thrive every single day.
Living in a small space with no garden? Don't worry! There are plenty of plants you can grow inside your home. One thing you can do is make a creative terrarium garden with your kids by using recyclable items like a juice bottle and candy box.
Are you afraid of your kids making a big mess? Don't worry! There are different kinds of smart garden kits that have soil-free gardening, such as Aquaponics – a combination of aquaculture and hydroponics.
Want to see more creative ideas and gardening tips for kids? Let's get started!
Fun, Practical Tips for Gardening With Kids

If you are planning to do some gardening with your kids, get them involved as much as possible. Make them feel like this is their project.
Here are some tips you can consider:
First of all, keep it fun and easy to understand. There will be a lot of steps and learning activities involved.
Reserve a small area just for your kids, make them small planter boxes and let them decide what they want to plant.
Children enjoy plants that have strong smells and are recognizable. This could be carrots, pumpkins, herbs, or even sunflowers.
Some other ideal plants would be snow peas, lettuce, and cherry tomatoes. These are good because they can be easily picked and snacked on which kids love
Plant a range of textures from fuzzy, rubbery, prickly, and smooth to keep them fascinated.
Buy child-friendly gardening tools like spades, cultivators, rakes, and hoes. Fortunately, they can be found in child sizes to help them manage the work safely.
Prepare a watering roster to help them remember when they should water their organic plants.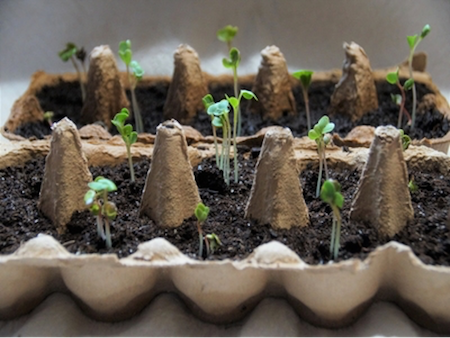 Creative Gardening Ideas – Use Recyclable Items
There are many recyclable items that you can use when gardening with kids.
Creative Gardening Idea #1 – Use Eggshells & Egg Cartons
At zero cost, you can start a garden using eggshells. These are good because they don't require much effort. When making eggs for breakfast, simply break the shells a bit more carefully than usual and keep most of the shell intact.
This makes the perfect biodegradable planter since the shells contain calcium carbonate and protein. These two nutrients are helpful in the germination process. Additionally, they are ideal for creating an herb garden in the kitchen.
What to Prepare:
Eggshells
Potting soil (a spoonful for each eggshell)
Egg carton
Seeds
Water
Carefully break the eggshells and leave two-thirds of them intact. Then gently, but thoroughly, clean them and make tiny drainage holes at the bottom. You can use a pin to do so. This prevents the chances of root rot.
Place the eggshells into the carton and fill it up with moist potting soil. Finally, plant your desired seeds in the soil and put them where they will receive enough sunlight. Remember to spray water regularly to help it germinate.
Once the seeds develop their first set of 'real' leaves, transfer them to a larger pot. There is no need to replant, though. Simply put the eggshell as it is with the seed into the pot and it will continue to grow.
Creative Gardening Idea #2 – Use Juice Bottle
We all know kids love juices and I bet you are throwing away dozens of bottles a week. Not only juice bottles but also water bottles can be used as self-watering planters. The beauty of this recyclable equipment is that it is readily available and can even be used for plants that grow in water.
What to Prepare:
Plastic juice or water bottles
Scissors
A couple of decorative stones
Use the scissors to cut the top of the bottle. You can even create a decorative trim. Also, cut the bottle in half and fill it about a quarter of the way up with decorative stones. These stones are essential for drainage, preventing the roots from being water-logged.
Creative Gardening Idea #3 – Use Milk and Candy Boxes
How often do you buy milk and candy? Often, right? Imagine making use of the milk and candy boxes for organic gardening. This is how you can make use of the milk and candy boxes.
What to Prepare:
Empty milk and candy boxes
Craft knife or scissors
Paint and a few paintbrushes
Decorative tape
Soil
Seeds
With a knife or scissors, carefully cut off the top of the box and throw it away. The next step is to paint the box. Let your kids get creative and paint whatever they wish on the boxes. Let the box dry completely, then decorate with your chosen tape, or embezzle gems on the boxes.
The idea is to be fun and creative so do not hesitate to let them add a personal touch to the boxes. Fill the seed box with potting soil and plant the seeds. Patience is key and kids get to learn this as the seeds germinate.
After a few weeks, the plant will have roots and will be ready to transplant. Get your pair of scissors, cut the box away, and move them to your planting pots.
Creative Gardening Idea #4 – Use Old Toys for Decoration
Kids outgrow some of their toys fast! So, dig up all those old toys stored in your garage and use them to decorate your garden. This brings the garden to life and keeps it fun for your kids as they do their gardening. However, let them choose where the toys go!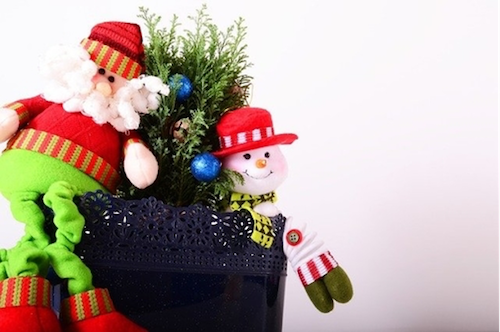 Creative Gardening Idea #5 – Make Use of Food & Garden Waste as Compost
When it comes to garbage, have a separate bin for food and plastics. When this is done, the food can be easily picked up and turned into compost to be used in your garden. Compost is essential because it helps enrich the soil and provide nutrients for the growing plants.
Using compost is very economical and provides your plants with organic nutrients that do not affect the environment as much when compared to synthetic fertilizers.
What Do Kids Learn from Gardening?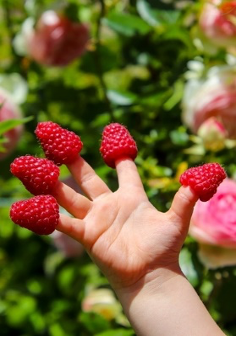 Involving your kids in gardening is a great way to create awareness about nature and food. They get to learn the life cycle of plants thus understanding where the food they eat comes from. Using food waste as compost manure also educates them on recycling and reusing processes that are also essential parts of large scale environmental conservation.
Moreover, they learn how to be patient and responsible as they take care of the plants through weeding and watering regularly. You will engage in many learning activities with your children.
Finally, they get to be independent. These skill sets are important in everyday living and can be taught at home simply by involving them in gardening. Plus of course it's a great way to bond with them when you are a busy work at home mom (WAHM). Give them your attention and learn more about your kids while gardening!
Gardening can be a skill that your children carry forever! This first step can make them fall in love with gardening and pass it on to their kids once they grow up.
Have fun Gardening With Your Kids!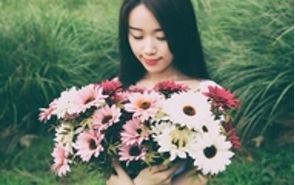 Maggie Ke – Working from home mum with 2 kids, who has created a gardening blog during Covid pandemic time. She is enjoying gardening and happy to share the gardening tips & experience with other parents. For more tips on how to grow tomatoes as beginner and how to build indoor creative garden with kids, check out her website – Stay Home Stay Gardening.