The Basics of a Good Blogsite – Part One
So what are the basics of good webdesign? A lot of work at home mums put together their own websites using WordPress, and this is great. Most of the A-lister bloggers I know also use WordPress – you're in great company! However, there's so many possible options that you can include on your site. How do you know what to include and what to leave out? Whats the best way to set up your new website?
One of the things we've been doing recently over on Virtual Coach Forums is website critiquing for people just getting their sites up and running.
I've put together some of the basics of good web design that need to be considered when planning and setting up your site.
1. Is your website Business or Personal? If it's a business site, then that needs to be obvious. Your business, what you do or sell, needs to be front and centre on the home page. It is more important that people landing on your page know what your business does than that they read your latest blog post. A good compromise is to have an excerpt of your latest post on the front page if you really want it there.
Include a fantastic tagline in your header, or somewhere very prominent, so a first time visitor can see it, read it easily and know what your site is about.
If your site is a Personal website, then this is not an important consideration.
2. Have your own Domain name. I can't say this often enough.  A .com domain name will cost you around US$8.00 per year to register.  It gives your business credibility, increases your search engine ranking, brands you.  Using free sites such as blogspot or wordpress.com actually costs you money.  The site and hosting may be free, however you are paying for it as you lose customers.  It looks amateurish and unprofessional, don't do it. This is a post I wrote several months back on the advantages of having your own domain name.
Same goes for hotmail and yahoo free email addresses, don't use them.  Gmail is good, but that's the only one.  If you've got a freebie site and freebie email address you're going to look like a fly-by-night business who may not be around for the long haul.
3. Recent posts. Have only five to seven (preferably only five) posts showing in your recent posts. Any more and a visitor is given too much choice and it takes up too much space. The top of your sidebar is prime real estate, use it well.
On a related note, limit the number of posts to only having two to three posts showing on one page. It saves time when loading up and makes reading easier if the visitor doesn't have to scroll through twenty screens to read your posts.
4. Get rid of the clutter in your sidebar. In the same vein, get rid of any clutter in the sidebar. Your site needs to be easy to read, not have the visitors eyes pulled every which way and distracted. Blogrolls, Tag Clouds, Calendars, twitter updates, if they're not adding particular and measureable value to your site then get rid of them. They provide a distraction to someone browsing your site.
If you have two sidebars (three column theme) be very careful what you put in your left hand sidebar. Search engines read from left to right and give more importance to those things it reads first. So if your left hand sidebar has your twitter updates, the search engine may rank them as being more important than that beautifully written, keyword rich blog post you have there.
For myself, I prefer sites with only a right hand sidebar. I find them easier to read and find things. When a person looks at a page or a website, their eyes move in a Z fashion. There's a saying that a confused mind will always say no. By keeping your sidebar clean and simple visitors are more likely to stay and keep reading and looking around.
5. Navigation. K.I.S.S. Keep It Simple Silly. Have your navigation organised so the more important pages are listed on the left and least important on the right. The exception to this is your Contact page (yes, you MUST have a contact page.) which is generally on the far right. Label your pages with easy to understand names, easy for first time visitors to understand that is.
Whatever you do, don't use Flash or Javascript for your navigation. More and more people are using Adblock, pop-up filters and the like, plus the vagaries of all the different browsers. A lot of people cannot see javascript or flash without changing their security settings. If your navigation is in javascript then they can't see anything beyond the home page. Bad move….
6. SEO – Search Engine Optimisation. SEO is an ever changing beastie, the bane of all business people and pretty much anyone who is not an SEO expert. If you are looking at starting an online business or you are wanting to earn money online working from home in any way then its well worth learning at least the basics about SEO. Be warned though! SEO can be overwhelming at first. If you want some great resources for where you can start learning about SEO online then head over to the Search Engine Journal article on The 25 Best SEO Blogs & Resources to Learn SEO – a great place to get started learning SEO.
7. RSS. There's a couple of things I'd like to say about RSS. First up, please, please, please, offer an email option for people to sign up for. A lot of people don't like using web-based Readers and prefer an email option.
Use Feedburner to disseminate your RSS. It's very efficient, it's free, you can optimise it with your branding and it's easy. I've written about RSS before, about using RSS to keep readers updated and also about branding your Feedburner RSS emails
Send your feeds as a full post, not an excerpt. People are basically lazy and normally won't click through to read a full post. Make it easy for your readers, don't make them work for the information. If you've gone to the effort of writing a post, full of useful information for your readers, make sure it gets to them. Don't waste your efforts by depending on readers to click through to read it.
8. Remember that not everyone has adsl or high-speed internet. There are actually people in the world who are still on dial-up. I know…, it sounds unbelievable. But trust me, there really are people who are still on dial-up. Don't load your pages up with huge graphics, keep your posts down to a reasonable number. If you have a lot of graphics use thumbnail images for faster loading.
Forget about using Flash on your site. It uses up a lot of bandwidth to download and search engines don't consider it. Same with video and audio. I'm not saying don't have them on your site, just don't have them auto-playing when a person lands on the page. Give the person a choice to listen/watch.
This article on the basics of good web design is continued here: https://www.superwahm.com/blogsite-basics-2/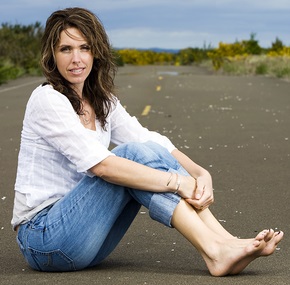 Melinda is the founder of SuperWAHM.com and started this site to share her best work from home ideas to help other Work At Home Mums become more financially independent and able to spend time with their families.