How A Camping Trip Can Calm Your Soul
If you're a busy mum looking for a way to unwind with the kids – maybe camping might just be the trick?
A basket full of your favorite food, some good company, a camping pocket knife, and a few other essentials – that's all you need for an outdoor adventure with the family.
As busy work-from-home-mums, we all need a way to relax, unwind, and a getaway from the modern-day world. We live busy and fast lives, and sometimes we forget to invest some time in our own bodies and mind. Camping can benefit your mind and soul, but beyond that, it's also a fun way to socialize and spend some quality family time with the kids and friends. Socializing in nature is way easier, so camping is a perfect activity to build stronger relationships with the people you love the most.
There are many reasons to go camping and spend some quality time outdoors, but the main one is your health. The health benefits of experiencing nature like stress relief, recharging your soul, and boosting your metabolism are well documented. Simply put, camping can help you live a longer and healthier life.
Benefits of Going on a Camping Trip
Relieve Stress: Camping is a great way to cope with stress. Whether you love your job or not, job-related stress is one of the primary causes of all physical or mental diseases. A camping trip can allow you to escape your work schedules and tasks, and focus on the positive and stress-free aspects of your life. A few days of camping where you can just sit back, enjoy a campfire, go fishing, swimming, or practice meditation, can improve your mental health and increase your lifespan.
Improve Sleep: Camping can, in fact, improve your sleep quality. After a day full of outdoor activities with the kids, sun, fresh air, and the absence of electronic devices, your body will welcome a good night of sleep.
Physically and Mentally Stronger: Camping requires physical activity, like setting up the tent, gather firewood, or hunt for your food, which in return makes you burn more calories and improve your cardiovascular system. It's also a great idea to get your kids involved in the set up too, so they can learn some new skills and stay active. A combination of camping and exercise can improve your overall well-being.
Relationship Building: One of the most important benefits of camping is the opportunity to build a stronger relationship with your friends or family. Spending a couple of nights with your spouse and children without the distractions of the modern world can bring you closer as a family.
Develop New Skills: From setting up the tent, tie different kinds of knots, starting a fire, or using a camping pocket knife for a variety of tasks to cooking unconventionally; setting up a campsite is a great way to develop new skills and learn new things.
Camping offers relaxation but also a way to adopt a new hobby for a few days, such as biking, hiking, hunting, swimming, or any other outdoor activity.
Camping Pocket Knife – An Essential for a Camping Trip
A good or bad camping experience can depend on the things you bring with you, like a cozy backpack, proper footwear and clothes, a camping pocket knife, or a comfortable pillow. Here are a few essentials for camping:
Tent: Even if you choose to sleep under the stars, you should always have a tent just in case. A tent can shield you from strong winds, rain, or other unforeseen conditions.
Sleeping Bag: Temperatures can often drop at nightfall, so a sleeping bag is a must. Sleeping bags serve not only as protection from the cold but as protection from insects as well.
Food and Water:If your campsite is on a remote site where you don't have nearby access to water or food, make sure you bring plenty with you.
Pocket Knife:The best tool on a camping trip is your camping pocket knife. You can use your knife for a variety of different tasks, like splitting kindling, food preparation, fire starting, and all-round maintenance on your campsite.
First Aid Kit:Wherever you go, first aid kid is always a necessity, even when camping. A simple walk through the woods can result in blisters that require bandaging. It's better to be safe than sorry.
These are some of the most basic things you can take for an enjoyable camping trip. Of course, you can add a million more things on the list for a perfect trip, but let your adventurous spirit take over.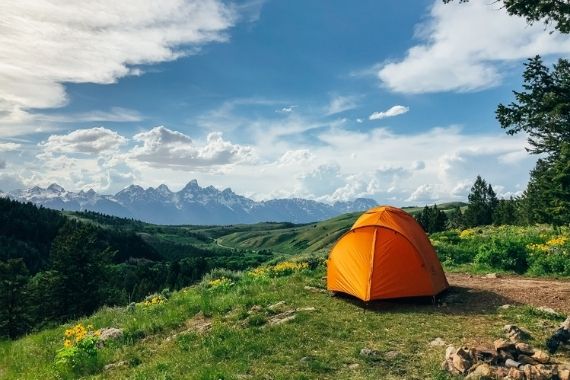 Get ready to go camping with your kids
We are often glued to our computer, TV, or phone screens, and we forget how nature and outdoor activities can be soothing for our kids well-being.
Engaging nature comes with a plethora of benefits, and it's beneficial for both adults and young children. It's the perfect way to add some healthy and exciting activities to your usual routine and escape the big city for a few days. So pack your camping pocket knife, outdoor gear, and your adventurous spirit, and get ready for an enjoyable camping experience.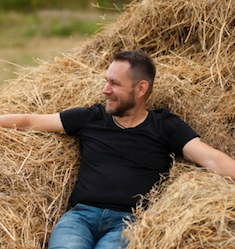 George Wilson is a family man at heart. He's passionate about his kids and loves to go camping with his family. George specialises in pocket knives for all situations. He runs the review site, https://sharpestpocketknife.com, and when he's not running the website, he's busy doing camping trips with friends and family.