Setting Up An Outdoor Office Space When Working From Home
With many mums transitioning to working from home, or starting home-based businesses, the option to spend some time each day working in an outdoor office space is achievable and attractive.
It doesn't have to be elaborate.  The fresh air and sunlight will go a long way to creating a welcoming diy outdoor office space.
With minimal effort, it is possible to turn a back patio or corner of the garden into an ideal space for working outdoors.  A simple outdoor umbrella can provide the necessary shade for a comfortable office space outside.
Sitting in the home office all day, every day can become a bit monotonous.  We do our best to make it a calming and productive space, but that doesn't stop the work piling up.  With some simple changes outdoors, it's possible to get outside, get some fresh air, hit the reset button and achieve a full day's work.
If you are considering working indoors vs outdoors, we'd like to share a few thoughts with you to help you adapt your outdoors so you can have that much needed change of scenery.
Benefits Of Working In An Outdoor Office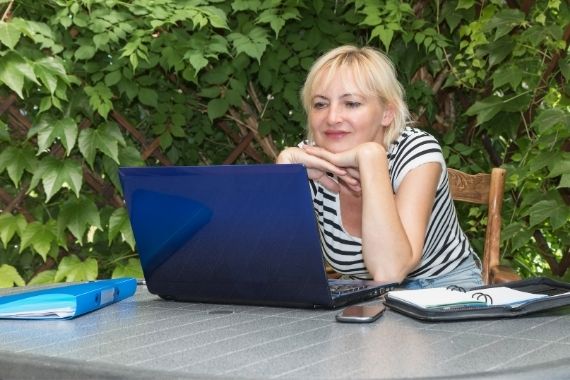 Being close to nature is great for your mental health and wellbeing.  The fresh air, sunshine and plants are known to lift your mood and improve general happiness.
Even a short half hour break in the outdoors reduces mental fatigue.
It's like a reset button that distracts from the pressures of the day and allows you to clearly focus on the task at hand.
The change of scenery when you take your work to an outdoor office space can provide that spark of creativity and focus as the distractions from life indoors are removed.  Quite often, just changing your environment can give you a fresh perspective.
The distractions of chores inside are gone and an inspiring outdoor environment can help give you the energy and clear thinking to tackle those tasks you have been putting off.
Studies have shown that employees often feel better about their job and have greater job satisfaction when they are able to spend some time near nature.  For some, this may involve some indoor plants in your indoor workspace but it you have the option to spend some time outdoors each day, why not top up your daily dose of vitamin D whilst completing those daily jobs.
Kids often need a breather outside too and taking a few simple tasks outdoors allows you to watch younger children whilst you are productively crossing off the to-do list.
More often than not, children are happier and more occupied when they are outdoors than indoors.  The simple addition of a sand pit or a swing set shaded by an outdoor umbrella will allow them to happily play while you keep working away.
Tasks That Can Be Easily Done In An Outdoor Office
When considering working indoors vs outdoors there will be some tasks that may be more suited to being completed in an outdoor office space.  Here are a few things to get you started thinking about your week and your regular tasks and how you might be able to spend some refreshing time each day completing them outdoors.
Planning the week ahead
It is easy to get distracted when you are working from home.
Spending some time at the start of the week setting a schedule for the week is a great way to ensure your work hours are productive.  This is one task that is ideal for completing outdoors.
Spend some time away from the piles of paperwork with plenty of fresh air in a relaxed outdoor environment and take 15 – 20 minutes to prioritise your activities for the week.
Emails and phone calls
If you have young children, you probably know that whenever the phone rings, there tends to be something that they just have to tell you, it can't wait!
Why not try making some phone calls when the kids are having a great time playing in the backyard, or set them up with a picnic to allow you some time for phone conversations.  Attending to emails in the sunshine can be much more enjoyable than at your desk.
Meetings
When you need to arrange business meetings with colleagues or clients, but the kids are on holidays or you can't get baby sitting, taking them to an outdoor office space in your yard can be ideal.  It's less personal than having people in your home and if you haven't had time to race around and tidy up, it doesn't matter.
Being outdoors is generally less stressful and lifts people's moods which may be beneficial to the tone of meetings and people's general feeling of happiness.
Strategic planning
It's common to hear business coaches remind us that it's important to spend time working on your business and not in your business.
Being outdoors in an uncluttered, stimulating  environment with plenty of light and fresh air allows you to focus on thinking about the direction for your business, setting up systems and strategically planning for different aspects of small business life.  Creative thinking can be enhanced by a less stressful outdoor environment with fewer distractions.
Setting Up The Ideal DIY Outdoor Office Space
The main thing is, it doesn't have to be complicated 
Of course you can go all the way and construct a purpose built outdoor office space for working from home, but it isn't necessary when you are just wanting to ensure that every day you spend some time outdoors in the fresh air and bright sunlight.  Here's a few tips and things to consider when setting up your DIY outdoor office:
Comfort
Ensure you have suitable furniture. A comfortable chair and a simple desk or even your outdoor setting.  This gives flexibility to your outdoor space as an entertaining area or an outdoor office.
Shade from an outdoor umbrella or pergola. When working outside you need protection from the sun and it will be necessary to reduce glare from the sun on screens and paperwork.
Providing an outdoor umbrella to shade the kids while you are working from home will also create a more comfortable environment for them, encouraging them to play outside longer.
Equipment
A laptop or tablet will make the transition between working indoors vs outdoors Perhaps for simple tasks such as emailing, a tablet may be sufficient.  The equipment you require will depend on the tasks you intend to do outdoors.
Ensure that you have power points or a portable battery pack to run the equipment you'll require.
Investing in a wi-fi extender for your modem may be advisable and will help ensure you can work continuously and not be disrupted by poor internet or wi-fi connectivity.
Aesthetics
A few easy to grow, low maintenance plants will help to create a relaxing outdoor office space. If you need privacy from the neighbours perhaps consider creating a living plant screen.
Water features can have a calming effect and be particularly beneficial to mask traffic noise.
Practicality
To keep paperwork in order when working outdoors be sure to have some folders for easily moving necessary documents from indoor to outdoor. Paperweights may also be a good idea for those windy days.
Working outdoors at night will require some lighting options and perhaps a patio umbrella with solar lights could be beneficial in your DIY outdoor office space.
When working from home and heading to your outdoor office space it is best to have some clear tasks in mind that you want to achieve to ensure the time outside is productive.
Spending time outdoors each day is great for your mental health and well being and allows you a break physically and mentally from the routine of the desk, keyboard and screen.  Increasing movement by getting up to move from working indoors to outdoors could even help to prevent postural problems.
Hopefully you will find some creative ways to adapt your backyard or patio into an outdoor office space that is an enjoyable place for working from home.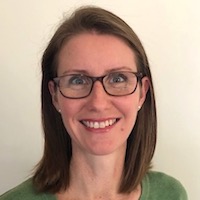 Lisa Cullen is a mum of three who enjoys getting outdoors whilst working from home.  Balancing work and family life is important to her and she finds being outdoors very refreshing.  Lisa writes articles for Best Outdoor Umbrellas to help guide families in choosing the best outdoor umbrella for their backyard.