7 Must Read Books For Women In Business
Ladies, you already know how difficult it is to be an entrepreneur. However, the rewards should be as great as the challenges. That is why there are so many inspiring must read books for women in business available today that are intended to give you insight into how others overcame adversity and became successful.
The list of books below are our picks to boost your confidence, give you ideas and show you how to get on the right business track, mentally and physically, and stay on it.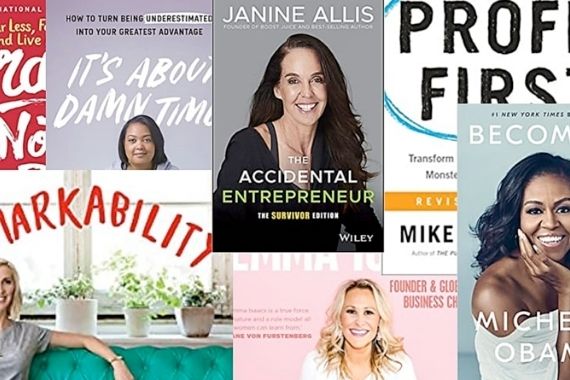 1 – Brave Not Perfect – Reshma Saujani
Subtitled, "Fear Less, Fail More, and Live Bolder," the author explores what it is that makes women of all ages beat themselves up for even the most minor of mistakes. The root of the problem dates back to childhood where all girls learned to play it safe.
Sound familiar? If you grew up afraid to fail, this book is for you. With it you will learn how to release those fears and become braver and bolder. But most importantly, anything but perfect gets the job done.
2 – It's About Damn Time – Arlan Hamilton and Rachel L. Nelson
In 2015, Hamilton, a gay, black woman, was scraping by sleeping on the floor of the San Francisco Airport and living on food stamps. All she owned was an old laptop computer with the dream of breaking into the venture capital business.
At the time, entrepreneurs all looked the same. They were white males. This book traces her climb to the top and shares insight on how you can survive the worst situation if you put your mind to creating the change you need.
3 – Becoming – Michelle Obama
The former US First Lady is unforgettable. Her style, grace and bravery have made her a role model for more than just the African-American population in the United States and beyond. She showed us all how to be strong and still support the then-most powerful man in the world.
This book tells the story in her words and shares her experiences starting with her childhood on the South Side of Chicago that shaped her into the iconic woman she is today.
4 – The Accidental Entrepreneur: The Survivor Edition – Janine Allis
The founder of Boost Juice and former competitor on Survivor Australia, Allis has quite the story to tell. As a mother of four, she took on the marketplace when she introduced her new brand with a unique retail concept.
It was not easy but she didn't give up and passes on valuable life lessons and practical business advice between the covers of this book. She even gives you behind-the-scenes details on her work behind the business venture program Shark Tank.
5 – Winging It – Emma Isaacs
The mother of five who shuns the work/life balance, the author of this book is also the CEO of Business Chicks – Australia's largest community for women. Her style is casual as she will tell you that it is impossible to carefully plan every step of your day. You need to be flexible and see things beyond the confines we typically use.
Find out how to turn a dream into a job and that job into a business plus many other sensible ways to use your creativity as you build a career.
6 – Remarkability – Lorraine Murphy
If you've ever been told that the baby steps count, then you will find this book to your liking. The author subscribes to the same business concept where giant leaps skip over the small details that would get you there anyway, but better prepared.
It is an inspiring book where you will learn many lessons that will help to shape your entrepreneurial journey and save you from making a few mistakes along the way. Looking for smart advice you can use? This book has it.
7 – Profit First – Mike Michalowicz
Subtitled, "A Simple System To Transform Any Business From A Cash-Eating Monster To A Money-Making Machine," there isn't really all that much left to say. The title basically tells it all.
The author reviews the GAAP accounting system and reveals why it is so dangerous for entrepreneurs to put their complete faith into it. A shift in focus is what you will gain from this book which will change your business as soon as you implement the changes discussed.
In Conclusion
 As more and more women fill the shoes of entrepreneurs and CEOs, the business world will continue to evolve. This is a good thing as women continue to seek non-traditional roles in their careers, a new kind of success is emerging.
If you are considering the path of entrepreneurship for your career, these seven must read books for women in business listed above should provide you with the insight you will need as you move forward into the working world. A world that has been a Man's World until recently.
Bess aka The Librarian. Bess Turner is an old-fashioned book worm from way back and still believes nothing can replace the physical smell and feel of a well-read book. She is the chief editor and writer of her passion site WhyToRead where she reviews books on all topics from autobiographies to zombies, and blogs on the benefits of reading.