The Benefits of Gaining A Yoga Certification Online
Have you considered working from home as an online yoga instructor?
2020 will be a year to remember. The COVID-19 pandemic has changed the lives and working conditions of millions of work at home mums and dads around the globe. For many, the nine-to-five workday and the office commute may have changed forever with more people working from home offices than ever before.
Another significant change in people's daily lives is the way they approach health and fitness. Individuals and families have had to eat at home more and expand their culinary repertoire, with an added focus on nutritional meals that will help lessen the chances of contracting the COVID-19 virus.
The global lockdown has also seen the mass closure of health and fitness clubs like sporting complexes and gyms, forcing people to invest in home equipment, try new workout regimes and seek online access to personal trainers and fitness content on streaming services like YouTube.
Many work at home mums have used the lockdown period to take up a yoga practice, as it requires little to no equipment. At the bare minimum, you can get by with a yoga mat, a couple of yoga blocks. These affordable items can generally have you progressing in leaps and bounds in as little as an hour a day, a few times a week.
This has also led to a spike in interest by people like stay and home mums and at-home workers, to look into obtaining yoga instructor accreditation, so they too can share the many benefits of regular yoga practice with other people through the medium of modern communication technologies and smart devices.
Many reputable yoga schools are now offering online yoga teacher training, providing people with a rewarding new career opportunity, or supplementing their income by helping others live their best life. 
Online yoga also gives individuals the ability to access schools and students from all over the world, offering the flexibility and freedom to work and study from home as much or as little as they want.
Finding the right school to start your online Yoga Career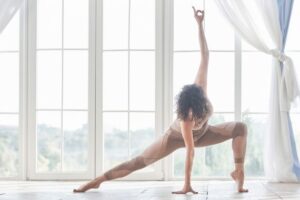 If you are a stay at home mum or work minimal hours from home, and being an online yoga teacher is something you have been considering, then you may have already looked around and found a sea of schools offering courses for any number of yoga mediums.
So how do you decide which school is for you? How can you guarantee it is legit? And will you get the training you need to instruct people comprehensively and confidently while developing your own yoga practice along the way?
Make sure the yoga school is certified
Before enrolling in a course, make sure that your certificate will be recognised by an international governing body. There is plenty of information and reviews online to help guide you to a reputable course and school, so take your time and don't rush.
Know where your qualification will be recognised
Another reason to pick a reputable course is to ensure that your qualifications are recognised internationally. This will open up your student base to the whole world, rather than just people within your region.
If you wish to make a viable income from teaching yoga, then the more access you have to yoga seekers, the more you can expand your services.
It also presents you with an excellent opportunity to challenge your comfort zones and expose yourself to different people and cultures.
Know what kind of yoga you want to teach
If you are new to yoga, then you may not have had time to explore the different types of yoga that are practised around the world. The list is quite prolific.
Hot yoga, like Bikram, may not be an option to teach online due to the particular requirements needed to heat a studio effectively. Still, there are so many other types of yoga to study that you shouldn't have trouble finding one that suits you.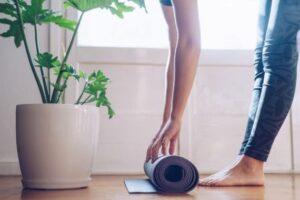 Some common forms of yoga include:
Vinyasa
Hatha
Iyengar
Kundalini
Ashtanga
Yin yoga and more
Every style of yoga has its own unique attributes and intensities, and it is worth going online and trying different types to see which one works best for you. To teach yoga effectively, you must enjoy and be inspired by your practice.
How long does it take to get accredited?
The length of a yoga teacher training course can vary greatly depending on the type, or types of yoga studied, as well as the depth of the course material.
The average course tends to be around 200-hours, but some courses can take up to 500-hours to complete. It is always suggested, however, to try and not rush your study. Yoga is as much of a lifestyle as a practice, and it is best to gain a good foundation yourself before you begin teaching others.
How much do online yoga teachers get paid?
According to PayScale.com, the average hourly rate for an online yoga teacher is approximately $25-per-hour. However, a short search online will have you find one-hour yoga classes for as little as $12 an hour, and others for as much as $60 or more an hour.
Like all industries, yoga teachers pay rates will reflect their level of experience and their reputation. How much you choose to charge once you are accredited will also depend on your class structure and targeted audience.
You will also have to consider whether you are providing one-on-one service, or whether you are creating an online group class, which is usually cheaper than getting personal tuition.
Starting Your Online Yoga Career
No matter which school you decide to go with, or how dedicated you choose to be with your yoga teaching and practice, yoga should not be considered a get rich quick scheme.
Teaching yoga is a privilege that should be taken seriously as you are taking on responsibility for an aspect of someone else's health and wellbeing. Unlike regular workout programs, yoga is a practice of harmonising mind, body and spirit, so people need to be able to rely on and have faith in who is teaching them.
Teaching can be as rewarding as the practice itself, and each practitioner will have their own unique journey. If you find you get the yoga bug, and develop a desire to teach online, then you can put yourself in good stead to have a rewarding career doing something you love, all while helping other people grow with your expertise.
Excited to begin your new career? You can learn more about these great online yoga courses here.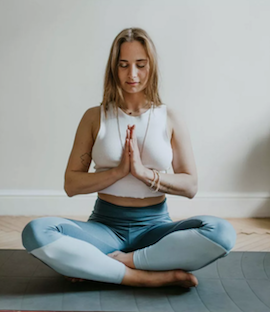 Melissa Hall is a busy work from home mum, who knows the importance of busy mums taking care of their bodies. She started her blog My Free Yoga back in 2009 as a way to provide a useful resource for people looking for advice on yoga and yoga-related products.