7 Reasons You Should Consider A Ski Vacation With Kids For Your Next Holiday
Are you ready to plan your next family vacation and looking for some new ideas? Maybe it's time to consider a ski vacation with the kids. Check out these 7 reasons why…
Are you starting to think about your next family vacation with the school holidays looming?
Holidays that are jammed-packed full of activities are perfect for active kids. Perhaps you've tried biking or hiking vacations before. But how about something a little different this year?
A ski vacation with kids might be a fun alternative to try something new and keep the entire family fit and active while on holiday.
But, of course, we understand you're a busy mom. So, to help with your planning, here are our top 7 reasons for exploring the best resorts for kids.
Reason #1: Ski resorts help to enhance your kids' social skills
We understand how overwhelming it can sometimes be when you're a busy mom working from home, juggling office work with daily household chores.
But it's also really important that your kids get the opportunity to socialize and interact with other children as they grow.
Planning a ski vacation can be an excellent idea for introducing your kids to new people. It's a great way for your children to socialize and make new friends.
Exposure to different groups of people will also help them learn various social skills. You can enroll your children in group lessons for skiing. This will make your little skiers more eager to learn this fun-filled yet healthy activity.
Tip #2: Get your kids away from the screen!
On one hand, the way technology has evolved has made the way we work at home far more accessible. But when we look at the other side of the picture, we see a generation of youngsters glued to electronic screens, turning them into screen addicts.
This addiction can affect your child's emotional and physical well-being. Many parents struggle to reduce their kids' screen time, even during a vacation.
But, when you take your kids outdoors for an activity like snowboarding or skiing, time will fly, and they'll have so much fun. They MAY even forget to check their phones all day. 🙂
And it's not just the kids. With your ski vacation, you will also get a break from the digital world. Several ski resorts are so remote they don't even get cell service – which can be a nice bonus in the context of a digital detox.
Reason #3: Help your kids appreciate nature
From daily assignments to hectic exams, kids always find themselves in the hustle of moving toward excellence. The struggle to constantly achieve the best somehow overshadows the possibility of appreciating the scenic beauty of nature.
And, of course, as a mum working from home, your daily routine might not let you stay connected with nature the way you should be.
So, this becomes a great reason to plan your next vacation in one of the best ski resorts for kids. It benefits the whole family.
Being in the mountains and surrounded by picturesque beauty will help you experience the wonders of nature in its true spirit.
Also, your children will appreciate nature even more when breathing in nice, clean air and surrounded by white snow glistening in the sunshine.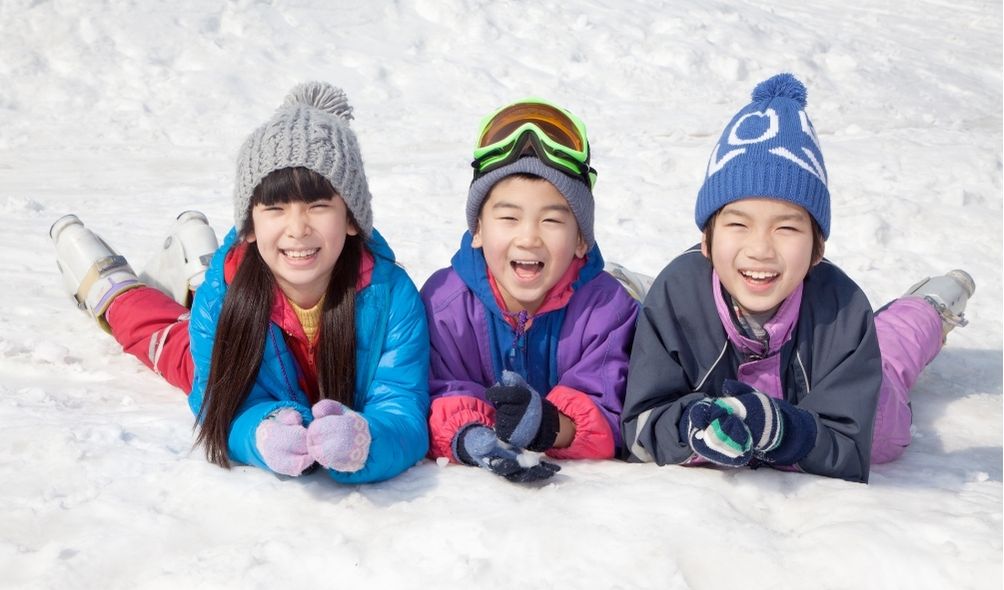 Reason #4: Improve the Mood of both You and Your Kids
Each one of us has become a victim of a sedentary lifestyle. Skiing is another great way to Keep Fit After Having Kids.
Today, physical activity has been reduced to an all-time low. Many of us have become workaholics, couch potatoes, or screen addicts. And this decreases our overall aerobic capacity and cardiovascular endurance.
Snowboarding and skiing come with excellent mood-enhancing effects. Skiing becomes a precursor for the release of endorphins, giving young skiers a great sense of happiness. Plus, the accomplishment you experience at the end of a good run serves as the ultimate cherry on top. You can finish the day feeling proud.
Active children are often the happiest ones. With snowboarding, a lot of physical activity is involved, and it's unlikely your kids would complain about being bored.
This leisure time, combined with the feeling of sheer joy and happiness, becomes a win-win situation for the whole family.
Tip #5: Skiing builds confidence
Children need to feel confident growing up to have effective leadership qualities. Outdoor recreational experiences help a lot in this matter. Skiing and snowboarding may seem like group activities, but they are individual in nature.
In these sports, your progression entirely depends on how far you are willing to push yourself to improve. It is more about making yourself mentally tough to overcome challenges.
When your kids start their journey of taking skiing as a leisure sport, you'll gradually see how this game has taught them to take charge and be a leader, not a follower.
Plan a memorable ski vacation with your family so you can have memories you'll cherish throughout your life.
Tip #6: Outdoor activities promote academic achievement
Are you finding it hard to take time out for extracurricular activities with the kids due to a busy work schedule? If so, planning a vacation in one of the best ski resorts for kids can be a great idea.
Through outdoor activities, kids must be able to attempt various skills that ultimately help to lay a solid academic foundation. With this in mind, the impact of physical activities helps to increase the brain's cognitive abilities. This sows the seed of stronger concentration and memory skills that facilitate kids in achieving their curricular goals.
By participating in outdoor activities, your kids are more likely to want to succeed in academic achievements as well. So, if you're looking for a fun way to encourage them to perform better in the classroom, enrolling them in outdoor activities like skiing is a great idea.
Tip #7- Impart environmental responsibility by connecting your kids with nature
The dawn of the 21st century brought the aftermath of the Industrial revolution. Global warming and climate change are significant concerns for the well-being of our planet.
You can tell your children about the conservation of resources at home. But, when you take them to shared outdoor spaces like skiing resorts, they start to understand the interconnected nature of the mountains, lakes, and forests.
This will help infuse a spirit in them to protect the natural resources so they can enjoy more outdoor recreation activities. So, your ski vacation trip would not only be a recreational activity, but you will also be able to nourish young minds to responsibly protect our outdoor shared spaces.
Make your next holiday a ski vacation with kids!
There are a lot of great reasons why you should turn your next family holiday into a ski vacation.
So, what are you waiting for!? Put down that load of washing and get planning on your trip now. Hopefully, these tips have helped you to consider enjoying one of the best ski vacations with your kids.
Do a bit of your own planning and research around the best ski resorts for kids to get the family excited with you. Include everyone in the process. They say a large part of a vacation's joy comes from its anticipation.
Or have you already had your ski vacation? Leave us a comment below. We'd love to hear how it all went or if you have any other tips you can add.
Tim Starchuk is a snow connoisseur, and the founder of Steep and Deep, a leading resource for the best skiing in Canada. Tim's background is in corporate marketing, but today he can't resist blogging about his passion for skiing. He is also new to the parenting world and is loving his life as a new dad!