Fire Safety Tips To Help Keep Your Family Safe At Home
House fires are a terrible occurrence that can be highly dangerous and sometimes a life-changing experience. So, with the amount of time a Work at Home Mum (WAHM) spends in the house, fire safety in the home should be considered a high priority.
You spend time and money ensuring you stay safe online. So, now its time be familiar with the best ways to avoid or escape fire emergencies.
Your family members must be aware of the fire evacuation procedures as well as how to prevent fire incidents.
8 Fire Safety Tips To Implement Today
Listed below are a number of fire safety tips to follow to help ensure the safety of your loved ones and your home.
Tip #1: Install Smoke Detectors
Installing smoke detectors in your home can help reduce fire loss by up to 50%.
Smoke detectors are easily available in hardware stores, department stores and online stores at very economical prices. Some pricey models come with additional features such as, flashing light, audio message recording, or detection of poisonous gases.
This article reviewing The 7 Best Smoke Detectors 2022 will assist you in deciding which smoke detectors you need for your home.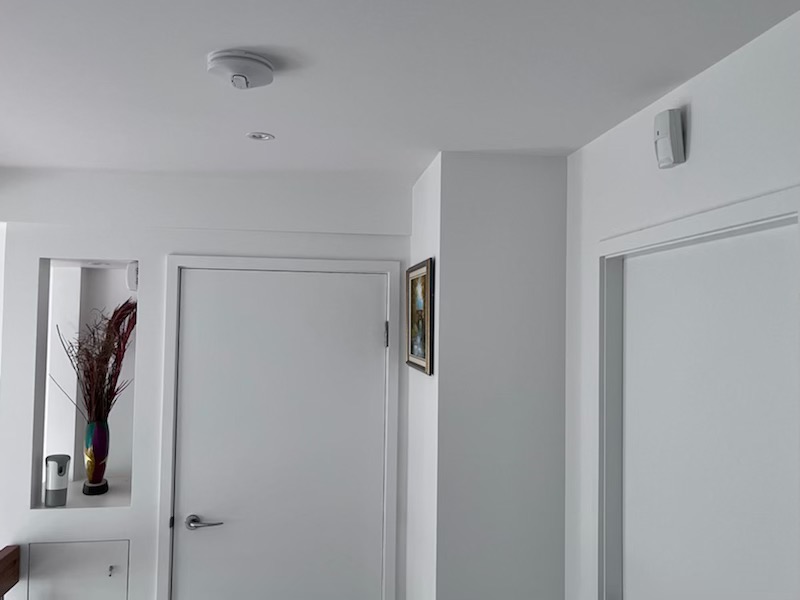 Where to place smoke detectors in the home
Place smoke detectors on every floor of the home. Ideally one should be in every bedroom at a minimum.
Other areas to consider are study, hallways, living areas, stairs, garage and laundry. Avoid putting smoke detectors in the kitchen and bathroom.
They must have high insulated wiring with a backup power source e.g., battery. Smoke detectors should be tested every month and alkaline batteries must be replaced annually.
Tip #2: Doors Must Be Kept Closed
As a WAHM you most likely find yourself working within a confined workspace in your home.
Smoke detectors installed outside in hallways can make you aware of a fire emergency if you are in a nearby room. Keeping the door closed gives you additional time to escape the house and survive.
If you touch the door handle and find it hot, then it means that the heat, flames or smoke has spread onto the other side of the door. This could stop you from escaping.
If possible, place a wet towel at the base of your door to prevent the flames from seeping into the room.
Tip #3: Never Leave Burning Candles Unattended
Unattended or abandoned burning candles are a major reason for fire breakouts in homes.
It may be calming to have a candle burning while you're working at home, however you should never leave the candle burning when you leave the room.
Other leading causes of fire in homes include bar heaters, stoves, ovens, and open fires when left unattended.
Tip #4: Safe Use of Space Heaters
During the winter months fire safety is essential.
You'll probably drag out that old space heater to warm up your work area. Make sure you check for any dust before starting it the first time.
Space heaters are the most common cause of home fires. Place the space heater on a low and flat surface. The heater must be kept away from mattresses, clothing, or upholstered furniture.
You should never leave the space heater running unattended. When not in use, turn it off completely and unplug it.
Tip #5: Cooking Safety
As a WAHM you may have under school aged children at home with you. Ideally, the kitchen is an out-of-bounds area for your toddler.
While cooking, you should never leave the food on a stove unattended. Always turn off the stove before leaving the kitchen and ensure pot handles are out of reach.
Keep all flammables such as paper products, wrappers, dish towels, and mitts away from the stove.
Tip #6: Get a Fire Extinguisher and Fire Blanket
The ideal fire extinguisher for the home is a multi-tasking type which is able to put out all sorts of fires whether they be electrical or liquid.
There's no point having a fire extinguisher if you don't know how to use it. There are 4 basic steps in using a fire extinguisher involving the abbreviation PASS:
Fire extinguishers are small enough that they can be simply handled and can stall the fire until firefighters get there. Also, the fire extinguisher must be properly checked twice a year.
The other item you should hang either in or very close to your kitchen is a fire blanket. This can be used in case of a stove fire or in the unfortunate event that clothes catch on fire.
More information on these two important pieces of fire safety equipment can be found here.
Tip #7: Set Up a Fire Escape Plan
Your family members should decide on a fire escape plan for every room. This must be practiced at least once or twice each year to ensure everyone remembers the plan.
You can use windows for the evacuation if the smoke or fire blocks the escape plan strategy other than the front or back door route.
As a work from home mum, there will be times where you need to be out and about promoting your business. During these times you'll rely on a babysitter to look after your young children.
This person also needs to be made aware of your fire escape plan, including a contact number in case of emergencies.
We know that planning makes perfect, and that creating a fire escape plan might be the difference between life and death.
Tip #8: Call Fire Fighters
Firstly, you must get out of the fire and then call the emergency number. This will differ depending on which country you are in. e.g. Australia-000, USA-911, UK-999.
The emergency responder will ask you about the exact location and other relevant information which will help them to arrive at your place promptly.
Once you are out of your house that is on fire, you must never re-enter for any reason. Let the fire emergency team come and handle the rescue operation at their level or until the fire rescuers say it is safe to do.
Other Fire Safety Tips for the Home
Here's some extra fire safety tips for you to consider around the house:
Never smoke inside your home.
Keep match boxes and lighters out of the reach of your children.
Make sure that your children recognise the fire emergency and teach them about the smoke detector alarm too. They're never too young to know this life saving information.
Ensure children are aware of what they need to do and where to go if there is a fire crisis situation – follow the fire escape plan.
If anyone unfortunately catches fire, then tell them to stop, drop and roll to avoid severe injury. Grab the fire blanket and roll them into it.
Are you ready to implement the fire safety tips in your home?
Work safe – Plan safe – Keep safe
There is no guarantee that a fire won't happen in your home, that's why you need to be prepared.
To ensure fire safety in your home install smoke detectors, buy a fire extinguisher and fire blanket, make a fire escape plan, and follow the simple safety tips suggested in this article.
While it may seem uncomfortable to talk with your family about fire, destruction and potential death, these conversations are what we need to have to increase our loved ones' chances of surviving a fire.
By following these tips, you are one step closer to keeping you and your family safe in the home. If you found these tips helpful, or have other tips you want to share, leave us a comment below.

Leonie is a retired primary school teacher specialising in computer education & mumpreneur to her fur baby.  After leaving full time employment, Leonie now splits her time between daily walks with her dog, her new website design business SSGC online, reading, playing bridge & line dancing.