The Most Efficient Makeup Routine For A Professional Mompreneur Image
With zoom meetings and scheduled client meetings, you may find that your working from home schedule requires you to look professional even when you don't leave the house. How do you maintain a professionalism image when working from home? Let's take a look at incorporating an efficient makeup routine…

Having an efficient make up routine in the mornings can help you feel professional and ready for the working day ahead. Being a mompreneur that juggles childcare, work and all the other things in a day, time is precious, therefore this routine needs to be fast, efficient and only a few steps.
Looking professional on online platforms such as zoom or skype can be extra kind to the time poor, because of the way web cams interpret faces, with a little bronzer and a coat of mascara, you'll be looking neat and professional in no time.
Below are the quick and easy makeup steps that create an efficient makeup routine to prepare you for your working day, no matter what is in store. An effective morning routine will significantly help you with increasing your productivity as a working from home mother, as well as give you a sense of peace and calm for a few golden minutes each morning to prepare for your day.
As a professional makeup artist in Melbourne, I know firsthand how complex and involved makeup routines can be. However this efficient and essentials-only makeup routine is aimed at giving mompreneurs a clear and focused way to get ready for their day, feeling confident and beautiful.
With these simple and effective makeup tips, you'll be feeling like a makeup artist yourself!
A quick and easy makeup routine to prep you up for Zoom meetings – perfect for busy Mompreneurs!
Clean your face
Having a clean canvas to work with is the first step, make sure to clean your face thoroughly removing the dirt and oil that built up overnight. This makes the makeup application cleaner and easier. It also promotes a healthy skincare routine that can prevent breakouts and improve the appearance of your skin.
Moisturise your skin
After washing your face, apply a good facial moisturiser to hydrate and nourish your skin. A good facial cream will give your skin a healthy glow with just the right shimmer without appearing too glamorous on video calls.
If your meeting will be outside, consider purchasing a moisturiser with sunscreen to help protect your skin from the harmful rays of the sun, this will also help your skin remain youthful. A good moisturised will effectively reduce the need for much foundation as it mixes well with a good moisturiser.
Apply foundation
Less is more with a good foundation application. With the right colour match to your complexion, a light coverage of foundation whether liquid or powder form, will help smooth your complexion, especially around the eyes.
Fill your eye brows
A quick addition of a well matched eye brow pencil will help define and fill in your eye brows, this will be noticeable on camera and will help to add more shape to your brows.
Apply a coat of mascara
A quick mascara application will add fullness to your lashes, helping your eyes appear larger on screen.
Add a touch of bronze
The camera can often times leave you looking washed out. Therefore a small amount of bronzer to your temples, cheekbones and jawline will give your face more depth on screen and give you a healthy glow.
Give your lips some lasting colour
Lastly, apply a lipstick shade to highlight your lips. Alternatively for quick and long lasting colour, use a lip tint of your chosen shade, these are great alternative for smudge proof colour.
Non-essential make up items
You can skip the eyeliner and eyeshadow since they are not very visible on screen and are much more time consuming to apply and remove.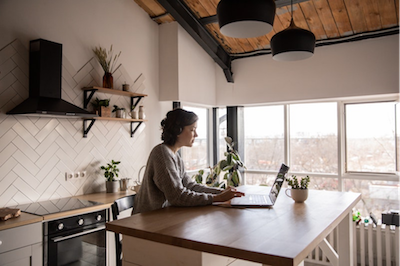 Using an efficient makeup routine to create a simple and professional work at home look
As a wedding makeup artist in Melbourne, I can tell you that the makeup process that I go through for each of my clients is very extensive and requires a ton of products.
However what mompreneurs need is an essentials-only list. By passing the extras and the products that aren't worth their time in application, you can use the most effective products and techniques without wasting any of your precious time. Remember what you're aiming for is a simple and professional makeup look that can be done within a few minutes using only a few steps.
The technique for fast but professional-looking makeup is to focus on highlighting your facial features. There is no need to change the way you look or completely make yourself over for the screen, it is not about changing your features of hiding imperfections to a picture-perfect complexion, it is about enhancing what you have and giving yourself a little boost with a healthy glow.
Bronzer to the rescue – The favourite essential makeup tool of Mompreneurs
Many women underestimate the power of a little bronzer. A good bronzer can come to your rescue when you are feeling drained from a rough night with the kids or looking a bit pale.
Adding a light touch of sun kissed colour to your cheekbones, temples and jawline can do wonders for giving you a healthy glow that translates on the screen.
Keep these makeup tool essentials within reach for a simple and time-efficient makeup routine. Keeping in mind that this simple day time routine can easily be tweaked for a fancier look with a stronger lip colour and a little eye shadow.
An important note is to routinely clean your makeup tools to prevent the bacterial spread onto your skin, reducing the likely hood of break outs.
Mastering your morning efficient makeup routine
Mastering a go-to make up routine for busy mornings will give you a confidence boost for your next meeting, whether it be with colleagues or with a client. A healthy glow with a neat hairstyle and clothing will ooze professionalism in your next meeting. If you're stretched for time to get to a hair salon, consider the idea of a mobile hairdresser that comes to you, this will save you time and help keep your mompreneur image professional.
With the busy life that a working from home mother experiences, these little tips on how to make your morning routine easier and efficient will hopefully help you feel professional, prepared and confident for whatever you have planned for the day. Simple and efficient, enhance your natural beauty with a health glow!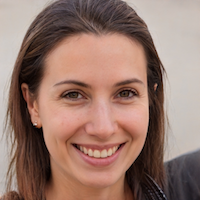 Ellen Pine is a working from home mother, who is passionate about finding the little tricks and tips to make life easier, simpler and hassle free for herself and for other parents. Ellen is a proud director of a thriving agency of hair and makeup artists in Melbourne, Australia.