Dog-Friendly Camping: Planning the Ultimate Weekend Work Break
You've spent all week at home, cooped up inside of your office listening to the kids and the dog cause chaos. As the weekend looms, you realize that your only plans involve… sitting on the couch listening to the kids and the dog cause chaos. Fun!
If this sounds familiar (and let's be honest – we've all been there) then it's time to treat yourself to a weekend away. Taking the family on a dog-friendly camping trip is the perfect way to get back in touch with nature and rejuvenate after a long week.
Why Plan a Dog-Friendly Camping Trip for Your Family?
Spending time in nature has been found to reduce feelings of stress and anger, boost physical health, and even improve the quality of our sleep.
Coincidentally, there is also another thing that helps with all of these factors: spending time with our dogs! 🙂 All of these holistic, mood-boosting benefits make dogs and camping a perfect pairing.
As a working mom, it can be really hard to put yourself first. A simple day out isn't always enough to come back on Monday feeling refreshed.
If you're particularly burnt out from a hard week at home, then planning a dog-friendly camping trip is a good way to both prioritize yourself and spend quality time with the people (and pups) that matter to you most. Making a night of it means being able to keep those good feelings going all weekend long.
Preparing for a Dog-Friendly Family Camping Trip
Moms are busy, and busy means that things need to be kept simple. Luckily, booking a dog-friendly camping trip for your family is as simple as it gets!
Kampgrounds of America (KOA) is a go-to for any trip. Their site makes finding a campground as simple as clicking a button. KOA campgrounds are dog-friendly and often have their own pup-oriented facilities!
Whether you're venturing near or far, there are over 500 campgrounds to choose from on KOA. Each has its own special qualities and unique location.
Before booking your trip, think about what your family enjoys doing on location. Maybe you love hitting the lake: jumping from the dock, taking the paddleboard for a spin, or long picnics by the shore. Or maybe you're craving the scent of pine and a crisp breeze in your hair.
The beauty of camping is that it can be done almost anywhere. No matter your preference, it's never been easier to find your perfect spot.
If you're looking for a complete cheat sheet to help you plan the perfect trip, then Dogsplorer's Complete Guide to Dog Tent Camping almost plans your trip for you. Almost…
Choosing a Dog-Friendly Campground With Kids
If you are planning your trip for a busy time of year, it's likely that other dogs are going to be out and about around the campsite. It goes without saying that you might stumble across some pets that aren't comfortable with children, or who are a little more rambunctious than others.
While this may sound stressful for families with kids, it doesn't need to be! Many campers face these issues, and so campgrounds have risen to accommodate.
Familiarize yourself with the rules of the campsite you are looking at. If you have younger children who aren't overly confident around unfamiliar dogs, you might feel more comfortable staying in a campground that strictly enforces dogs remaining on leash at all times.
Some campgrounds even have weight, size, or breed restrictions. Take the time to figure out what is best for you and your kids and then book accordingly. There's no need for anybody to miss out when there are so many dog-friendly and kid-friendly campsites available.
What to Pack When Camping with a Dog
The biggest benefit of camping? It's simple, easy, no-fuss fun. Even organizing everybody's equipment for a weekend away doesn't need to be a hassle.
Packing 101: Keeping it Simple
Keep your location and accommodation in mind while honing your packing list. If you're spending a summer weekend in a seaside town, it might be best to leave the winter coats at home. Heading into the mountains in the fall? Consider your usual winter comforts and be sure to bring them along.
There's no need to over pack for a quick weekend trip. If you find yourself really missing something – a favorite blanket, your phone charger, a portable speaker – note it down and pop it on the list for next time.
Camping Essentials for Kids
It's not wrong to want to steal a few minutes for yourself while the kids play. These must-have items will keep the kids entertained while you make some progress on that book you got last Christmas.
The Five Best Pieces of Outdoor Equipment for Camping with Kids
Frisbee
Water balloons
Bubbles
Binoculars
Bikes or Scooters
Five Items that Will Keep the Kids Entertained in a Tent
Board games
Puzzles
Movie projector
Paper planes
Coloring books
Remember that while all of these items are nice to have on hand, they aren't a must. You might just be surprised by how creative your kids can get when they're out and about in a new environment.
Best Camping Gear for Dogs
The human children are sorted, but what about your four-legged babies?
Choosing the best camping gear for your dog can be tricky. If you (or your dog) are complete camping newbies and need to purchase your equipment from scratch, then this list of The Best Dog Camping Gear of 2022 is a fantastic place to start.  You'll find plenty of high-quality, affordable product recommendations that will help make your trip a breeze.
Durable camping gear can last for years. Figuring out exactly what camping with your pet will look like before making any major investments can save you lots of stress and money down the road.
When purchasing camping supplies for your dog, think about your family composition and your pets individual needs. Do you have a large dog who will happily bunker in with the kids? Or a dog who might be on the smaller side, but has a big need for personal space?
If you already have the basics sorted, throw in some of these fun extras to get even more out of your trip:
Dog-friendly paddleboard or kayak
Doggy life jacket
Tennis ball
Frisbee
Extra treats for outdoor sniff work
Tug of war rope (great for kids vs dog)
Why Dog-Friendly Camping is Your Perfect Weekend Away
It doesn't get much better than snuggling up with your kids around a campfire, the dog snoring away at your feet.
Time spent in nature is the perfect way to remind yourself that the world is a little bit bigger than your home office and Zoom calls. A dog-friendly camping trip will have you feeling bright-eyed and focused by the time Monday rolls around again.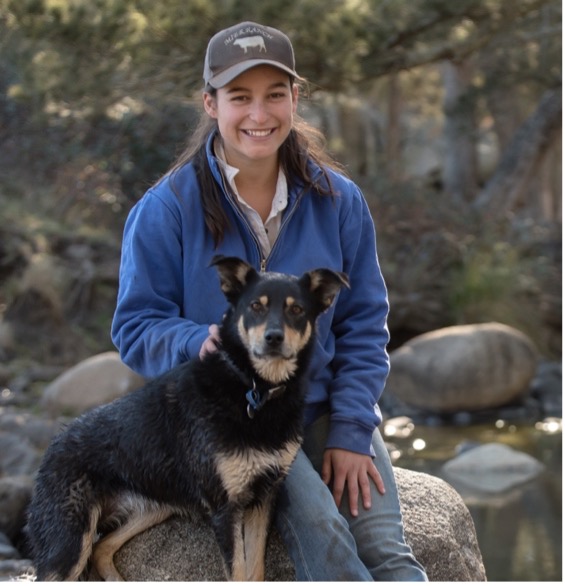 Jenni Chandler has traveled extensively across the US and Australia by car, bicycle, and on foot. Since becoming a proud dog mom to 6 furry friends, she loves to share as many of her epic outdoor adventures with her dogs as possible. When she's not out exploring with her dogs, she can be found, laptop in hand, on the porch of her family-owned ranch.