Growing Your Hair And Looking Like A Fabulous Mompreneur!
WAHM secret hair tip: How to grow out your hair whilst keeping the professional mompreneur image – even at the awkward stage! Our professional hair stylist reveals how…
Are you looking to change things up with your style? Changing your hairstyle is an effective way to refresh your professional "WAHM" look, however growing out your hair is not an easy task especially when you've got to maintain a professional image as a mompreneur in the awkward 'in-between' stage.
So how do you grow out your hair all the while keeping it looking professional and easily manageable at the same time? As a mobile hair stylist in Melbourne, here are my suggestions on how you can do both.
How to grow healthy hair FAST – perfect for busy WAHM's!
On average, hair grows about half an inch each month, it is a slow process, but the goal is to have healthy hair.  The below natural hair treatments can stimulate hair growth and help strengthen your hair roots and strands without the negative effects of chemical hair treatments.
Nourish your hair and follicles using natural ingredients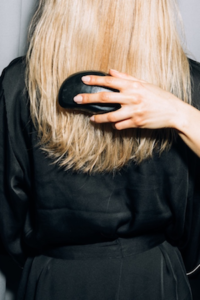 There are natural ingredients you can find in your home or at the local health food shop, that can help grow your hair fast. It's a safe and cost-effective way to help grow your hair without harming it. You know how to eat nourishing foods, now you can use these vitamins and minerals to nourish your hair too!
Rosemary oil for scalp massage
Since centuries ago, rosemary oil has been used for stimulating hair growth. Apply a small amount of rosemary oil on your fingertips and gently massage your scalp in a small circular motion. This helps stimulate blood flow to your scalp which strengthens your hair roots and helps your hair follicles to get the nutrients they need. After a few minutes, wash your hair with your usual shampoo and conditioner.
Castor oil for hot oil treatment
Castor oil is perfect for hot oil hair treatment. It has antibacterial and anti-fungal properties to help prevent scalp infections that could affect your hair growth. It is also rich in vitamin E, omega-6 fatty acids, and other nutrients that your hair needs for strengthening its roots and strands.
Simply massage castor oil onto your scalp and use a comb to spread the oil down to your hair tips. Cover it with a shower cap and let it sit for about 15 minutes while using a hair dryer on your head on low heat. Then remove the shower cap and massage your scalp a bit before shampooing your hair.
Egg yolk mask to prevent hair breakage
If your notice that your hair strands break easily, you can use an egg yolk mask to prevent breakage. Egg yolk has protein and lecithin that help strengthen, nourish, and also heal your hair strands.
Just mix two eggs, two tablespoons of olive oil, and half a cup of water to dilute the mixture until it is less sticky. Apply directly onto dry hair and leave it on for about 30 mins. Then shampoo and condition your hair as usual.
Gently brush your hair to distribute the oils your scalp produces. Ensure you do this gently as some harsh brushes will result in more hair breakage than you may think!
Keep your hair healthy with regular trims
It may sound counterintuitive, but regular trims will help your hair grow healthy and strong.
By trimming away your dry ends, you will reduce the incidence of split ends and will make your hair thicker and healthier.
Simply trim about half an inch of your hair ends every 12 weeks. Scheduling in regular trims may seem like too much of a time commitment for a busy work at home mom, consider that a hairdresser can come to your home and significantly reduce the time out of your schedule for keeping your hair healthy.
The WAHM's guide: How to grow out your hair and look fabulous in the process!
Depending on where you're starting from, growing out your hair may require you to go through an awkward hair length or style. Therefore, learning how to style your hair at it's different stages of growth can help reduce a lot of time and stress with 'bad hair days'.
Additionally, how you style your hair can also affect its health. Some hairstyles such as tight ponytails or excess use of styling tools like a hair straightener, may weaken your hair roots or break your hair strands all together.
Master a quick and easy hairstyle that helps with hair growth and looks great in the process
For a quick and easy hairstyle that will keep your hair healthy, master a:
Simple ponytail
Ensure that your ponytail is not too tight to prevent pulling out your hair strands. Use a soft scrunchie to be gentle on your hair strands and prevent breakage.
Smooth chignon
This can protect your hair tips from getting damaged such as split ends, dry or frayed.
Loose half up hair
This is a very easy hairstyle that doesn't require much hairstyling. Simply get two small sections of hair from each side and tie them together behind your head into a half knot or a bun or if you have shorter hair, use pins to pin back both sides.
The simple messy bun
Get your hair in a bun and gently pull sections of your hair to create an intentionally messy appearance, pin hair up with a bob pin if hair is too short.
Avoid frequent use of heated styling tools
If you want straighter, smoother hair, consider getting a permanent hair treatment. For example, my clients often tell me of the amazing time saving results they get from the organic keratin hair treatment in Melbourne that my salon offers, which is a one -time treatment that results in smooth, straight hair for up to 6 months, plus it is organic!
With these hair growth and hairstyling tips, you'll find your hair grows stronger and looks neater and well-kept which will help you maintain a professional image at every stage of your hair growth. Pair these tips with an efficient makeup routine and you will be ready for the adventures of everyday as a mompreneur.
Changing your hairstyle doesn't have to mean you have an awkward hair phase, with simple styling tips, your 'growing out' phase can be hassle free and can look just as good as any other hair length!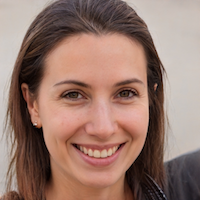 Ellen Pine is a working from home mother, who is passionate about finding the little tricks and tips to make life easier, simpler and hassle free for herself and for other parents. Ellen is a proud director of a thriving agency of hair and makeup artists in Melbourne, Australia.