How to Keep Your Home Office Clean and Still Have Free Time!
Everyone always talks about the advantages of working from home: you have your own office at your own house, with no commute… it sounds wonderful.
Well, it is, actually. But to be fair, people shouldn't forget to mention the lesser aspect this kind of work, particularly one that is unavoidable: getting your workplace really dirty.
Whether it's eating a snack during the afternoon, using an eraser or even dropping small pieces of paper, your carpet, floor and chair will eventually get dirty – dirtier than usual.
At first, I didn't mind cleaning a bit more often. But as time went by, I noticed my free time was decreasing. I barely had time for myself anymore.
Looking For A Office and Carpet Cleaning Solution
So I started looking for a solution, and this was when I found Myer Carpet Cleaning.
This company is based in Australia, and, since I live in Melbourne, I decided to give it a try.
I started by asking them to come and steam clean my carpets and chair, once per month.
Their technicians always came equipped with the nicest tools and some very cool techniques to solve my carpet cleaning problems.
I was so happy to see that every time they came, they made sure my carpets got back to how they used to be!
How Their Steam Cleaning Made A Real Difference To My Work and Head Space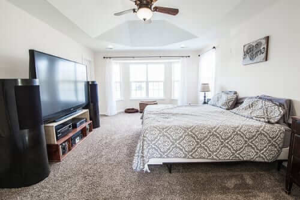 As you can probably tell by now, I started loving the results I was getting and (even more than that) my new-found free time! Because of that, I decided to ask the team to also clean the kitchen.
I enjoy cooking so much that I believe it has almost become my therapy. However, cleaning it at the end of the day… well… that's a whole different story!
Once again, the results were great.
I could finally work and cook and still feel a clean and comfy environment – in other words, I felt at home again.
That's when it stopped being just a cleaning service and started to become an essential part of making my house feel like home.
After that, I decided to get the carpets in the living area and rooms, I also get the lounges and
upholstery steam cleaned now as well.
I know this goes beyond my working space, but I really wanted to spread that lovely feeling of "home" to the entire house.
I always knew that bacteria accumulates in our furniture, but the truth is that I wasn't expecting that steaming it would make such a big difference in the overall air quality of the house.
It feels fresh and more inviting!
A Clean Office and Home Has Increased My Energy and Productivity
After having my home office steam cleaned, I'm finding myself feeling a lot more energized and productive when working from home. It's refreshing not noticing crumbs and stains all over the floor, and the cleaner air is refreshing.
As a mum who works from home a lot, I can't recommend highly enough investing in a good quality carpet cleaner near you. If you were working in a commercial office space, the company arranges for the floors to be regularly cleaned – so why not make that part of the standard for your home office too?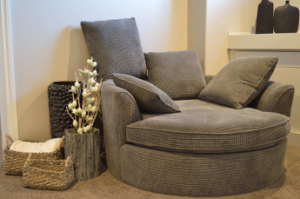 I would suggest finding using a reputable company such as Myer Carpet Cleaning, who operate in Melbourne, Sydney, Perth and Brisbane. So there is no excuse for our fellow SuperWAHMs to continue cleaning your own workspace at home anymore!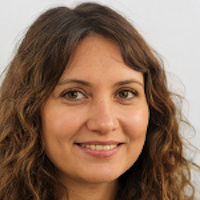 Jenny Agoston is first and foremost a mum of two beautiful girls. She works from home on her online business which provides learning resources for high school teachers and loves the flexibility this gives her to spend quality time with her family.