Improve Your Productivity At Home With A Clean Car
Did you know that something as simple as a nice clean car can actually help your productivity at home?
Staying productive when you work from home can be challenging. Especially if you are a mom. And many moms find cleaning, tidying, and keeping everything organized in the house very relaxing, which can be very productive.
Well, as a busy mom myself, I know first-hand that our cars are part of our household. They take us to soccer practice, school pickups, camping trips, and music recitals. We rely on our cars to get us and our kids wherever we need to go – rain, hail or shine. And…well…they sometimes need a little TLC from sticky fingers, dirty shoes and food that always seems to find its way under the seat!
But even though we rely on our cars so much, they are not cleaned nearly as often as we clean our house. A deep clean inside and out, and a good car wax can completely transform the appearance of your car. And it will make you and the kids feel a whole lot better on your next car ride. When you and the family are feeling great, its far more likely you're going to be much more productive at home!
So, with that in mind, I have outlined some of the best ways to wax your car. These steps will allow you to quickly tidy up your car, relax your mind, and stay productive throughout the day. If you are attached to your car as I am to mine, good car wax will really go a long way.
The Importance of Washing Your Family Car and Using Car Wax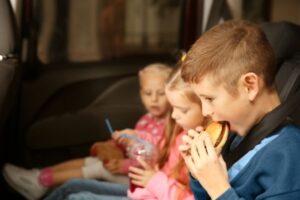 Keeping your car clean inside and outside has many benefits. The cleaning steps can be very therapeutic and relaxing, and you can help extend the car's lifespan as well. By using high-quality car wax, you will protect the car's paint from the sun, airborne contaminants, dirt from the road, and everything else your car may be exposed to.
Here are some other benefits of using a high-quality car wax when washing your car at home:
Protection from Airborne Contaminants:
Adding car wax after washing your car will help protect your car's exterior from many airborne contaminants such as acid rain, bugs, mud, dirt, and even salt sprinkled on icy roads. Some corrosive materials can stick to the vehicle's paint and eventually damage it. That is why it's important to apply wax after washing your car.
A Shiny and Clean Look:
This is an obvious one, who doesn't feel great when driving a clean and shiny car? I know I do! And if you're working from home and driving your car to work meetings, then leaving a good first impression is always necessary. The easiest way to get your car looking shiny and glossy is to apply wax after washing it.
Easy Washing:
Not many people know this, but a good quality car wax will make the next cleaning session a lot easier. All the bugs, dirt, stains, and other airborne contaminants will be stuck on the layer of wax, and not the car paint. These contaminants can be easily washed away due to the wax.
Keep in mind, the inside of your car is important too. Always remember to keep it clean, which will help with more common health issues such as allergies, dust mites and germs. This is really important, especially if your kids or family dog is bringing in mud and dirt into the car.
Simple Steps to Washing Your Family Car
Washing the family car at home doesn't need to be a big daunting task. Nor does it have to be expensive. You can get the kids involved and make it fun! Here are some simple steps to washing your car.
Step One: Wash the outside of the car
First, start with washing the car with clean water from the top, and work your way down to the bottom of the car, including the tires. Removing the top layer of dirt will prevent any scratches when you use the brush.
Second, you apply the soap or soapy water, and use the brush to properly clean the entire car. Once you are done, wash the car with clean water, and make sure no soap or dirt is left.
And third, let the car dry in the shade.
Step Two: Put on the Car Wax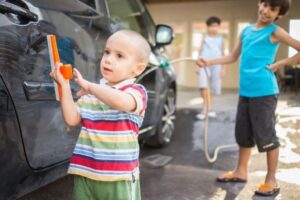 First thing first, when applying the wax, make sure you are no applying too much wax, as this can complicate the waxing process.
Apply the wax, and with a microfiber cloth, spread the wax in straight lines, either horizontally or vertically. Avoid the circular motions, they can ruin the effect of the wax. Have a look at the car waxes we recommend and that I personally use on my family car.
Once the entire car has been waxed, leave your car in the shade and let it sit for a while. Once the layer becomes slightly opaque, start removing it. To do this, use a clean microfiber cloth, and start by going in the opposite direction to which it was put on. To avoid putting the wax back onto the car, change the towel as often as needed.
Step Three: Clean the Inside of the Car!
 The last step is as important as the first two. Start from the top, cleaning the interior and the seats with a towel. Then wipe down the dash and the doors, collecting all the dust. You can go over the same areas with a disinfectant wipe. Lastly, vacuum the seats, floors, and mats of the car.
Has washing the car at home helped to improve your productivity?
As a woman, I appreciate a clean environment, and my car is a big part of that. It feels much nicer to drive a clean a shiny car, not only to my work obligations but when I drive my children too.
These few steps of washing your car, applying a good quality car wax, and then cleaning the interior will help add value to your car, but will also help you stay busy in a productive way.
Let me know – I'm curious to hear if washing the car at home has helped you and the family be a little more productive at home! You always hear the saying, "Happy Wife, Happy Life"… Well, I think we can take it a step further, "Clean Car, Happy Family".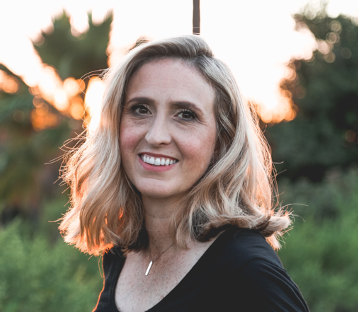 Samantha is passionate about cars and taking care of them properly, and helps run the review site https://bestcarwaxreviews.com with her husband, John. When they aren't looking after their own cars or researching the best car products, she's collecting old cars with John and restoring them back to their prime.