Imagine Slowing Down and Getting More Done
This is something I've struggled with for a long time; obviously I'm a slow learner because the benefits of slowing down have been pointed out to me time and time again. I even wrote a post that touched on this earlier this year. So what is it that I'm struggling with? It's the fact that when I slow down I get more done yet so often I fail to remember this and keep pushing to work longer and harder.
How does slowing down help you work better?
Not only am I more productive when I slow down – I finish my work faster – I'm also a lot more creative. You see, creativity doesn't happen in a vacuum. There needs to be life and activity to spark inspiration and creativity. However at the other end of the scale creativity doesn't happen when your head is full of ideas, thoughts, things to do and remember, all bouncing around together and crammed in, overloaded.
You need to take time out for thinking, allow time for your thoughts to marinate, develop and mature. Your subconscious mind works in the background, constantly. However when you try and cram too many ideas in then it has to keep working on new ideas before the previous ideas are fully explored.
Allowing your subconscious to work effectively
British psychologist and author Guy Claxton wrote in his book "Hare Brain, Tortoise Mind. Why Intelligence Increases When You Think Less" that most of our everyday intelligence "belongs not to the screen of consciousness but to the invisible 'motherboard' behind it". He talks about giving our brains time to pause, for our subconscious to 'connect the dots' and bring good, workable ideas to wholeness and fruition.
How often have you been doing something such as walking, housework, listening to music and you've suddenly had a brilliant 'Aha!' moment? An idea that bursts full-bodied into your mind? Inspiration that initiates an outpouring of a full-grown plan for growth, or the answer to a troubling problem?
That's your subconscious at work, doing what it does best. Your subconscious loves structure and a dependable routing. It's at it's most creative when it knows when to work and on what.
Scheduling inspiration
The famous playwright and novelist Somerset Maughan said "I write only when inspiration strikes. Fortunately it strikes every morning at nine o'clock sharp". His habit of sitting down to write at 9.00am every morning allowed his subconscious to prepare and be ready to produce ideas as soon as he sat. Do you do the same?
How many of us scorn routine as being a straitjacket that reduces creativity? How often do you brush off suggestions of writing out plans and ideas because it will take away the 'inspiration'? What if these things actually enabled you to get more done and come up with better ideas? What then?
Take the Challenge…  I dare you!
Here's a challenge for you, should you choose to accept it (and I hope you will). Pick something you've been thinking about doing or developing lately but have felt stuck on. Write it down, and then write down any suggestions, comments or anything relevant to it that you may have thought of. Then leave it. Give it a few hours and go for a walk. Take some time over the next day or two to slow down, smell the roses, walk in the rain (if you're lucky enough to have some) and just take time to allow your brain to slow down.
Keep jotting down any ideas that come to you. Schedule a time to come back to your idea and work on it. When that time comes, take out your paper or computer doc and see what comes out for that idea that you wrote down.
And let me know how you go with it. 🙂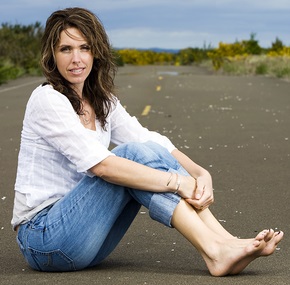 Melinda is the founder of SuperWAHM.com and started this site to share her best work from home ideas to help other Work At Home Mums become more financially independent and able to spend time with their families.