eBusiness Institute Review: How To Make Money Online Buying & Flipping Websites
This eBusiness Institute review looks like my personal experience with the Digital Investors Program (formerly known as the Digital Profits Program) with Matt and Liz Raad from the eBusiness Institute.
By the end of this review, you'll know whether or not you can trust the eBusiness Institute and whether the Digital Investors program is for you. I've also created a table of contents so you can jump to the section that is of most interest to you.
What I am covering in this eBusiness Institute Review

Who is the eBusiness Institute?
Let's start with the founders of the eBusiness Institute, Matt and Liz Raad.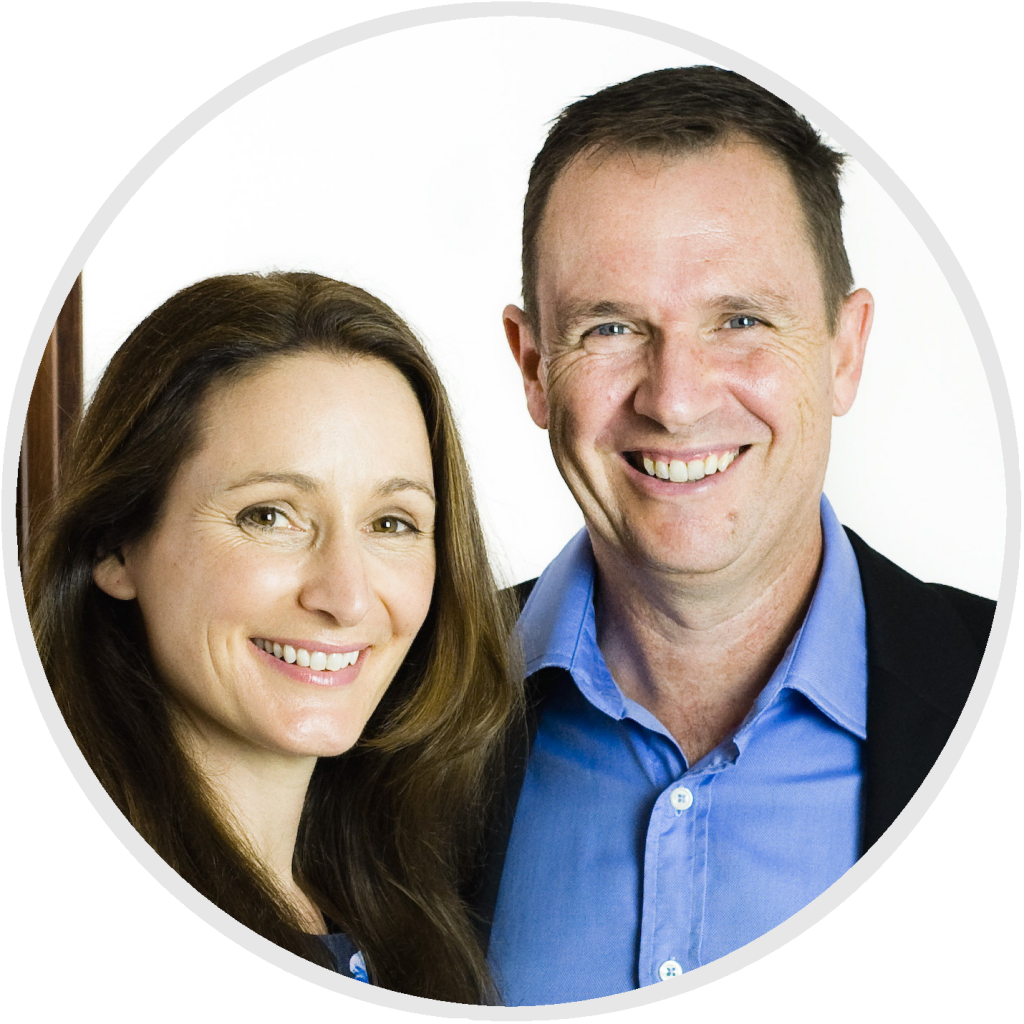 Liz and her husband Matt have been investing in websites since 2009.
They met studying Zoology at University. But wanted the freedom of being an entrepreneur. And they started out buying and selling rundown brick-and-mortar businesses.
Then the kids came along and Liz wanted to be a work-at-home mum, so they decided to go completely online.
Since then, they've done so well for themselves that they decided to teach others how to do the same.
And since they started training other mums on how to make money online using websites, they've helped hundreds of mums earn money online, so they too can become work-at-home mums.
They've helped teachers to corporate executives to electricians and everyone in between. 
But their typical student is someone who is a total beginner with no online experience.
How I learned about the eBusiness Institute
Liz Raad is a contributor here at SuperWAHM.
I've known about their digital course on buying websites for passive income.
And even though one of my financial goals has always been to figure out how to turn my active business income into passive income – income that shows up whether or not I'm actively working for it.
But the timing was never right for me to jump into an online course, because being a mum of three, I've always had my kids to look after.
Now that my kids are getting older and need less of their mum, I feel like I finally have some free time to dedicate to this so I jumped into it and purchased the Digital Investors Program.
Matt and Liz Raad from the eBusiness Institute 
Before I purchased the Digital Investors Program I actually did a lot of research, because one of the things I wanted to find out was what made Matt and Liz's programs different from what's in the marketplace and what other organizations were offering.
So one of the first places that I looked at was their website. And what I found were many reviews about the eBusiness Institute.
Here are some of the reviews that I found about the eBusiness Institute and why Matt and Liz Raad are different.
I was at a stage in my business where I felt I had lost purpose and focus — this workshop has totally re-energised me. As an early retiree — 52 — I was starting to flounder. I felt my brain was going mushy, I now will embark on a new path and it's all thanks to the knowledge and energy that exuded from Matt & Liz Raad.
– Shelley Houghton, Brisbane
Matt and Liz Raad are the real deal. Very down to earth, genuinely helpful and very motivating. I have done many courses but I have to say that this course (by far) stands out as the most useful, practical, enjoyable and rewarding.
– Christine Gawith, Rural Victoria
The thing that sets Matt and Liz apart from everyone else is that they listen & they are able to connect with all their students. It makes you genuinely feel as though you are part of an inner circle and that in this group and with their guidance, you can't help but suceed.
-Aliska Bierman, Brisbane, Qld
Matt and Liz Raad are just the right mix of care and commerce. Their training courses over-deliver value. They laugh easily and tell it like it is. So very different from the internet marketing mob… Thank you, very refreshing.
-Steven Hein, Sunshine Coast QLD
Thank heaven for Matt and Liz. Without your program and your genuine dedication to your clients and their success, I don't know where I would have ended up. Thank you.
– Sonya Matthews, Brisbane
I learnt more in 3 days than in 71 years of my life. You should teach this in school instead of irrelevant topics.
– Albert Hudson, Melbourne
I've linked to the eBusiness Institute review page, so you can some more reviews here.
Training programs from the eBusiness Institute
When you're looking for a course that'll teach you how to earn money online you want to know what all your options are and what the prices are, including what'd you get in the course.
So that was one of the things that I wanted to know before I purchased the Digital Investors Program as well.
What are all the courses offered at the eBusiness Institute, what are the prices, and what do you get?
Based on my research, the eBusiness Institute offers 3 courses. And the course that's right for you will depend on what your experience level is and what you're trying to achieve.
WebDev Accelerator Program

Before I talk about the WebDev Accelerator program I just want to clarify something that I personally found a little bit confusing.
And that is the program called the Digital Marketing Kickstarter course. 
When I read other reviews online about the eBusiness Institute some of the reviews were saying that I could get a free trial of the Digital Marketing Kickstarter course.
What I found out was that the Digital Marketing Kickstarter course is actually not offered as a free trial and it's not available for purchase either. But it is included with your purchase of the Digital Investors program. 
So I just wanted to clear that up in case that's something you were wondering or getting confused about. And just to confirm that this is true I actually emailed the eBusiness Institute and Toni from their team confirmed this. Okay, so with that out of the way let's jump into the actual 3 main courses that the eBusiness Institute offers, starting with their lowest priced course, the WebDev Accelerator Program.
What is the WebDev Accelerator Program?
The WebDev Accelerator Program is an online course suited for beginners, with step-by-step video tutorials to turn you from a total beginner to knowledgeable in digital marketing and certified in website design.
Who is this course for?
You're a beginner and you don't know much about websites or online businesses.

You want to learn new digital skills that can help you change careers, earn more and secure your position for the future

You're a student and you want practical skills you can use to help find a great job

You're a start-up and you need to know how to create a website that will launch your business and get leads and sales in the door
Who is this course NOT for?
… you already know how to build WordPress sites, or if you've been building websites for 2+ years and have figured out what makes websites profitable.
What's in the course content?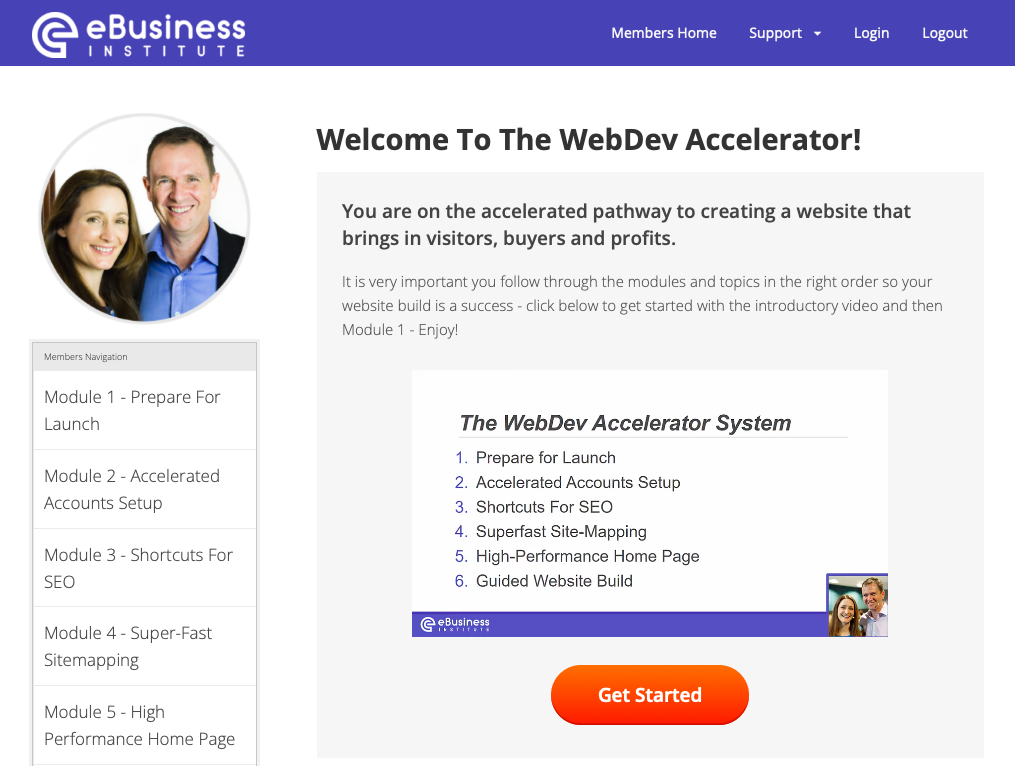 The WebDev Accelerator course taught me how to build money-making websites in just 6 modules. Below I've written out a couple of bullet points of what you'll learn in each module.
Module 1 – Prepare For Site Launch
The secret to success – the critical elements you must have in place before you EVER start building a website

How to find the gold in any product or service – and how to quickly increase conversions and sales

Our secrets to online success from our 10 years of experience investing in websites
Module 2 – Accelerated Accounts Setup
Ever been confused about hosting, domain names, cpanels and ftp?

Everything explained clearly and simply – your confidence will soar when you understand these fundamentals

Recommended services and free tools – save yourself time and money with this go-to list of services
Module 3 – Shortcuts For SEO
Search Engine Optimisation – or "How to show up on the first page of Google"

You'll see the simple shortcuts for great SEO, used by our students to rank local business websites in all kinds of Search Engines – not just Google!

No complex tech-speak and difficult, convoluted strategies – just the essentials that really work
Module 4 – Super-Fast Sitemapping
Just like building a house – it's faster and easier when you have a plan to follow!

You'll learn our proven site layout template so you can just fill in the blanks to create a beautifully designed and optimised website in a fraction of the time
Module 5 – High Performance Home-Page
You only have 5 seconds to impress your visitors

You'll learn how to design a home-page that grabs their attention and keeps them on your site

AND gets them buying too!
Module 6 – The Site-Build Express
This is where the magic happens and everything comes together

Build a simple, powerful $3,000 website with SEO, security, and monetised design in place

Easy to follow steps turn you into a talented web-developer within HOURS
How many hours will it take to finish the course?
Being a busy mom with three kids, I wanted to know how many hours it actually takes to finish the WebDev Accelerator course so that I can fit it around my schedule.
So after purchasing the Digital Investors program (which included the WebDev Accelerator course with my membership) one of the things that I did as part of writing this review was I tallied up the total number of hours of video tutorials in the WebDev Accelerator program. And if my math is correct, there are about 14 hours of video tutorials and training.
The way I got through the course was I set a goal of what I wanted to do each week. For me, my goal was to do the course 4 times a week, for about 1 hour a day, and if I continued this for 5 consecutive weeks, then I would be able to finish the course. 
Sometimes, our plans don't go the way we planned them, especially when you have a family to take care of as well, but we still reach our goal, even if it's in the timeframe we'd hoped. So what ended up happening was I ended up finishing the course in about 30 days after I purchased it. Then I spent another 10-15 hours (30 days) building out a website as instructed in the course. 
One thing that you might already know and it's something that I realised while going through the course is that things tend to take longer than we expect or plan, especially if it's our first time doing it. So however long you think doing something will take (like building a website), remember that it'll typically take twice as long if it's your first time.
How much is the WebDev Accelerator Course?
At the time of this review, the WebDev Accelerator course is available for $997 AUD, which is about $725 USD.
Is there a discount?
Yes, when I purchased it, I bought it using a 50% discount code and I believe you can still sign up for the WebDev Accelerator course for 50% OFF. 
To see if the 50% discount code is still available, visit the WebDev Accelerator course info page here.
Digital Investors Program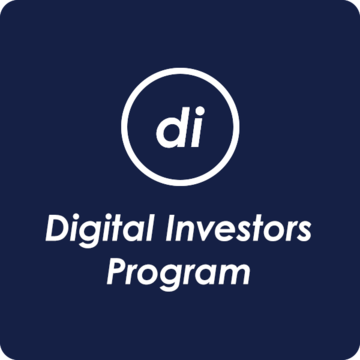 The next course offered by the eBusiness Institute is the Digital Investors Program.
This is the course that I initially signed up for and when I did, the eBusiness Institute had a special offer that gave me the WebDev Accelerator course for free as a bonus for signing up. 
I'm not sure if the WebDev Accelerator course is still included for free if you sign up for the Digital Investors Program, but you can contact them here to ask.
What is the Digital Investors Program?
I purchased the Digital Investors Program because I wanted to learn how to generate passive income with websites. 
I'm not really getting any younger and one of the things that's been on my mind lately is retirement. Not that I'm looking to retire just yet, but I want to have things set up so that I can if I want.
And part of being able to retire and live comfortably is to replace a portion of my monthly active income from my business, with passive income from cash-flow websites.
And that's what the Digital Investors Program is showing me how to do. To take the money I make today and use it to buy website assets that pay me forever.
THAT I believe is how I'll be able to have real freedom, to never have to work again unless I truly want to… and to never worry about my financial security in the changing, unstable world we live in right now.
Here's how I plan on doing that.
I figured that if I owned 5 websites that all generate between $1000 to $3000 per month in profit, that's an additional $5000 to $10,000 per month in passive income that I would normally have to work to create.
For me, knowing that we have $5,000 to $15,000 coming in each month without much of my involvement would mean I can step back from my work… that I can take time off work, do what I want, do more things with my kids.
So that's my goal and my intention and why I purchased the Digital Investors Program.
I'm also looking to stick with this for at least one-year, because I know that going from $0 to $2000, then $5000, then $10000, then $15000 is going to take time, and dedication. So at the end of one year of website buying and investing, I'll give you an update on where I'm at.
For now, I want to share a little more about the Digital Investors program, so you can see if replacing your active income from your work or business with passive income from website investing is something you can and want to do. 
Who is it for?
I'd say the Digital Investors Program is for anyone who wants to have income show up in their bank account without having to work for it in the traditional sense. 
I'm a mother of three, who works from home, cleans the home, does the cooking, looks after the kids most of the time, takes and picks up the kids from school, so this program is perfect for me because it allows me to go through it at my own time. So if you're a mum as well, then the Digital Investors Program could be what you're looking for
I also think the program would be really good for people who have experience with real estate and stocks/shares investing. The reason is because even though buying websites is different from buying shares/stocks or buying real estate properties, the general principle of investing is the same – we're using our money and a little bit of our time to grow our income and wealth.
Finally, I also think the Digital Investors Program is for people who want to build assets for their retirement that pays them for as long as they own the asset, but they don't have or want to invest the large amounts of money to get into real estate investing or take on the risk of share/stock market investing.
Who is it not for?
After having gone through the program twice, I'd say the program is not for people who actually believe you can get rich quick. 
And I'm speaking for myself here because I know that all of my friends would love to win the lottery. Who wouldn't, right? So, yes, we'd all love to get rich quickly 🙂
But we all know that getting rich-quick isn't a real thing because it takes work and dedication and time to get "rich".
What we do know is that even though we're not going to get "rich quick," we can get a little bit richer every month and every year. 
I also think this program isn't for people who buy courses but aren't willing to go through the course.
I used to be one of those people who would buy program after program after program, because I actually believe the next program I bought was going to be the answer to my life problems (read: money problems). 
Turns out, I got more "high" buying programs than actually learning what's in the program, so for many years, I struggled and wasted a lot money. I always thought it was the program that was the issue. But actually it was me. I was the issue.
So if you've just bought another program that you haven't yet received a return on… and you're thinking about buying the Digital Investors Program, I would ask that you wait. 
Yes, wait… wait until you do some of that program and get some value from it (ideally more than what you paid for the program) before you go and buy another program.
What's included in the Digital Investors Program?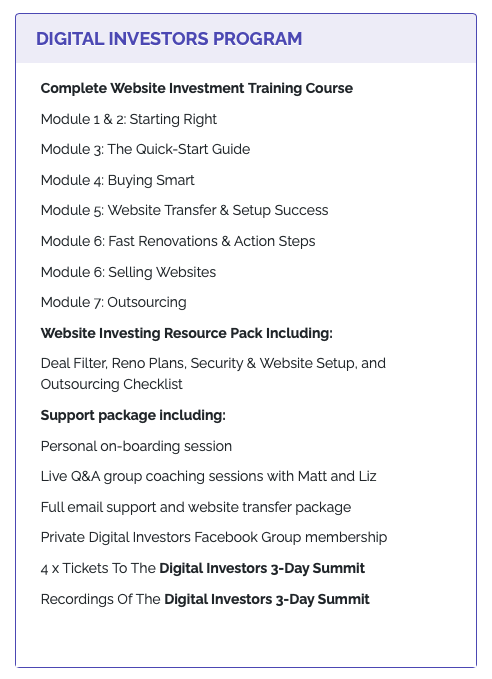 I am naturally a detailed person, so before I purchased the Digital Investors Program, I wanted to know what the course covered and included. 
And unless you've purchased the course, you can't really see "inside" the course area. 
So what I've done is "opened up" the course and listed out the key topics included in the course. Here's some of what you'll learn inside the Digital Investors Program.
Module 1: Master Strategy
The overall strategy to create and fund your online cash-flow portfolio

How to value websites and buy smart

Our 2 website buying strategies and how they work

The "shopping checklists" that show you what to look for when searching for websites to buy

Our Golden Rules for buying websites 
Module 2: Quick Start Guide
Buying your first website for less than $1,000

Transferring your website

WordPress and why it's critical to your success
Module 3: Essential accounts setup
Accounts you need to research, buy, manage and monetising your websites

How to setup your accounts — quickly and cost-effectively

Tools you need for buying websites, including free resources you can use
Module 4: Buying smart
How to find great websites to buys using the "first-sweep analysis"

Quickly filter out the potential good buys from the not-so-good-buys

How to do due diligence on the websites you want to buy

How to make sure there is money to be made in the topic or niche you want to get into

How to determine the risk level for each website and what to invest in it

How to use our due diligence checkout to buy high cash-flow websites that you can pay off as quickly and safely as possible

How to bid, negotiate, and pay for a website so you're buying websites with existing profit and passive income potential
Module 5: Website transfer & Setup
3 stages of website transfer

How to transfer your website into your account

Post-transfer checklist to ensure the website is transferred to you safely and securely
Module 6: Renovation
Smart strategies to double website income quickly and easily

Renovation action plan

How to improve website profits, conversions and traffic
Module 7: Selling
How to sell your websites for top price

How to prepare your website in the right way from day one
Module 8: Outsourcing 
How to leverage your time and money with effective outsourcing and delegating

The 16 Interview questions you must ask before you hire an outsourcer or part-time help on an ongoing basis

Template you can use to post a job when you're looking to hire a techie

Sample work and confidentiality agreement you can use and modify to suit your situation 
How long does it take to finish the course?
How long it takes you to finish the Digital Investors Program will depend on what else you have going on in your life that's a higher priority than this.
By "this" I'm talking about learning the system to help you turn your active income and savings from your work or business into passive income from cash-flow websites.
For me, I have three priorities: my family, my health and our wealth, so being a top 3 priority, I did a little bit of the course each week. And it's what I'd recommend for you as well. 
Because in the past and with other courses and programs, I would try and do as much of the course within the refund period, so I could see if the course was for me. But I found that to be counterproductive for two reasons:
First, trying to absorb as much knowledge as I could in a short period of time on top of what I already have going on in my life as a mother of 3 and running my business was just too much.
I would complete the course but if I were being honest with myself, I probably retained less than 10% of it. All because I tried to rush it. I tried to do the course with the goal of finishing it, instead of doing the course with the goal of understanding it. Very subtle but big difference.
Imagine trying to learn a new job in 30 days instead of 12 months? Or trying to take a university course that's designed to be completed in 90 days in 30 month? Or trying to teach a kid to learn how to write in 30 days instead of giving them a whole year. It would be overwhelming and they would quit. I made the mistake of trying to absorb too much too quickly with other courses, so hopefully you can learn from my mistake.
Second, learning has to be combined with doing. Because what good does knowing how to use the money you have to buy website assets that pay you passive income if you don't actually have website assets that pay you passive income?
That's why with the Digital Investors Program, I still revisit the course even though I technically finished it. And it's also why I didn't try to do the entire course within the refund period. Because I knew trying to do so would actually hurt me more than it would help me.
What's the cost of the Digital Investors Program?
When I learnt that the Digital Investors Program was 5 payments of $895 or $4475 AUD, I was like, "OMG. That is A LOT of money." 
And I almost didn't purchase it. Even after I purchased it, I wondered if I made the right decision.
But then I remembered something that I learnt from a mentor that's been really helpful to me, so I want to share it with you.
And that is, "Will buying this course make your future better than your past?" 
If it's a "No", then don't do it. Otherwise, go for it.
Since then, I've come up with my own filtering question whenever I'm thinking about buying something over $1000,  which is, "Will buying this help me with my top 3 priorities?" 
So if it doesn't help me become a better parent/wife (family), if it doesn't help me be healthier (health), and it doesn't help me make more and work less (wealth), then it's most likely a "No".
At first, $3500 did seem like a lot of money. But considering what it will do for me and my family's financial security, it really wasn't a big deal. 
Are there any special offers?
Yes, at this time of this review, you can get the Digital Investors Program for 1 payment of $3500 AUD and save $975.
You also get the Bonus Upgrade Pack which includes everything in The Digital Investors Program, PLUS these 5 bonuses:
BONUS #1 — WebDev Accelerator Program
Learn how to build your own website in one day that you can sell to a local business for $1000+ or keep to build your portfolio for free.
BONUS #2 — 5-Year Access To All Inclusions
Get 5-years of access to the Digital Investors Program including all the materials, updates, resources, monthly Q&A webinars with Matt and Liz and even the support and deal-check calls.
BONUS #3 — 4x Calls With Your Own Private Coach
You get 4 calls with your own dedicated coach so you never feel like you're alone on this journey of making passive income a part of your life.
BONUS #4 — 1x FREE Pass For A Family Member
Give a family member the gift of a $4,475 Digital Investors Program that will teach them the digital skills to become independent and set them up for a successful future.
FAST ACTION BONUS — 2x Private Sessions With Matt or Liz (LIMITED TIME ONLY)
Get two private sessions with Matt or Liz to look over your website deal, big or small. Whether it's your very first buy or it's a big website purchase, you'll feel safer and more confident knowing an expert has checked out the website before you buy.
You can see if the 5 bonuses are still available by visiting this page.
Champions Program
The Champions Program is eBusiness Institute's highest level 12-month program designed to give you the mentoring, training and support you need from Matt and Liz and their team to build your website portfolio.
I've learnt a lot but the two key things for me was Matt's million dollar content strategy to build large automated content sites that grow in value and cashflow. And their exclusive systems and templates for building websites that I can now hand off to my outsourcing team so I don't have to do the tech work myself.
If I had to add one more, it's being a part of this unique group of Champions who are also building and keeping websites for cashflow and online assets. 
There's a saying that your net worth is the average of the 5 people you spend the most time with. So if you want to grow your net worth, then surround yourself with people who have a bigger future than your past.
Not everyone gets into the Champions Program. The only way to get in is to apply for it. And application only opens once a year at their 3-day Digital Investors Summit.
As for the investment to join the Champions Program, it was definitely the largest investment I've ever made in myself and my family. 
See, I realised that those who pay, pay attention. And those who pay more, pay more attention. 
And since my goal is to generate $5000 to $15000 per month in passive income from my websites with just 1 hour a day of my time, every year that I wait to join the Champions Program was costing me $60,000 to $180,000. 
One of the things I wanted to know before joining was, what's the difference between the Digital Investors and the Champions Program? And can I make money with the Digital Investors Program or do I need to join the Champions Program in order to generate passive income from websites?
This is just my personal experience, okay, so please take it with a grain of salt. I did and am generating income with only what I learnt in the Digital Investors Program, so it's definitely possible.
The thing is, I don't know what your work ethic is or even how bad you want to succeed or how resourceful you are.
But if you really want to make passive income from websites and online assets, then yes, you will be able to make a few thousands per month just with what you'll learn in the Digital Investors Program.
It'll take time, it'll take money, and it'll take following the program as laid out and showing up for the monthly Q&A calls, and even asking for help more often than you're used to.
If you're willing to do all of that, there's no reason why you can't do it.
So if you've bought many online courses and programs (whether that's in real estate investing, or shares/stock investing, or something else), the reason we don't achieve our achieve our goals is because we don't believe we can or we aren't taking the daily action that we know we need to take to make progress.
To summarise the training programs from the eBusiness Institute:
The WebDev Accelerator course shows you how to design and build professional websites.
The Digital Investors Program shows how to start buying, renovating, and selling (or keeping) websites for passive income.
The Champions Program shows you how to grow and scale a digital business using systems, teams and automation, whether you want to start an agency or build a large website portfolio that pays you passive income for as long as you own the assets.
Live events with the eBusiness Institute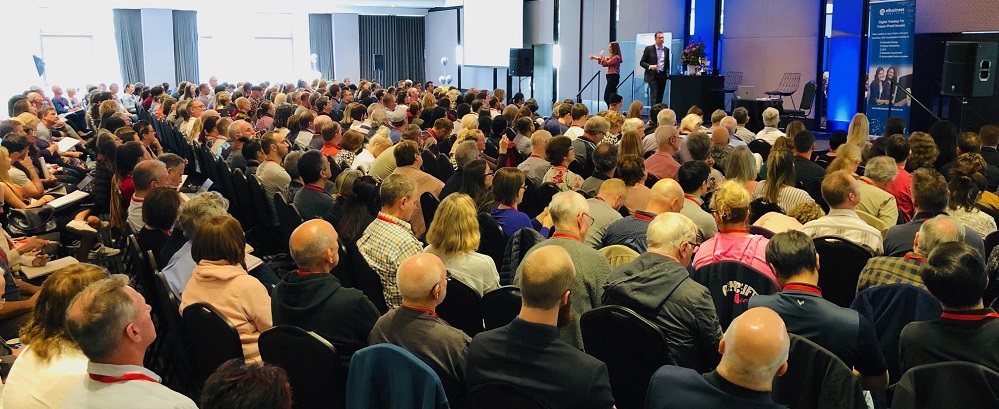 Since CV-19, the eBusiness Institute moved all of their live in-person events online. 
And being naturally introverted, I've never been the one to get excited about going to live in- person events.
So while I can't compare the difference between their in-person VS virtual events, I can tell you that their online events are unlike any other online events I've been to. 
And I've been to a lot of events since CV-19 just as I'm sure you have 🙂
Now since I'm in both the Digital Investors Program and the Champions Program, I'll give you a quick overview of the live events included in both programs.
Let's start with the Digital Investors Program.
The 3 Day Digital Investors Workshop with the eBusiness Institute 
The 3-Day Digital Investors Workshop with the eBusiness Institute is probably the largest event of its kind in Australia.
When it was held in-person, they had almost 1000 people in the audience from all over the world 
What I appreciate most about this event is that it's the exact opposite of those events where you're pitched program after program. 
Instead, it's three full days of intensive website investment training to set you up with the skills to make $10,000 a month or more, from buying, building, renovating and selling (or keeping) websites.
And it wasn't all about the tech either. During the event, Matt and Liz covered everything. From the tech to the strategy to the mindset you need to have to be successful in generating passive income from websites.
The last event which I attended was held on the 19th, 20th, and 21st of August. So next year's event will probably be held in August or September. But we won't know the dates yet until early 2022.
The second type of live event the eBusiness Institute offers is…
The Monthly Live Q&A webinars
The live monthly Q&A webinar with Matt and Liz is a 90-minute live session conducted via Zoom.
During these live sessions, they share updates on what you need to know about the website investing marketplace, and answer your most important questions about website investing.
You can either bring your questions to the live webinar and Matt or Liz will answer it.
Or you can email in your question before the webinar and they'll answer it live on the call.
And if you can't make a live session or you have to leave early or you're joining late, a recording of the session will be available in the members area a few days after the session once it is edited.
As for the Champions Program, members are invited to attend 2 types of events:
The Champions Bootcamp
The Champions Bootcamp is a full day of training, celebration, and planning that happens every 90 days.
These full-day Bootcamps are where members get together, connect with each other, review their accomplishments and set the top actions they want to complete for the next 90 days.
I personally love these bootcamps because it refocuses and energises me for the next 90 days. 
This for me is important because I find that at the end of every 90 days, I'm feeling more tired and less motivated than I was at the start of the quarter. 
So these full day training sessions really help to give me a jump start to my big audacious goals. And I'm not just left to figure out what to do at the end of the bootcamp.
The eBusiness Institute Champions Program also supports you in between these quarterly bootcamps with their weekly live coaching calls.
The Weekly Live Coaching Calls 
This is a 90-minute webinar with Matt and Liz where they cover everything from building an automated website portfolio that pays you passive income all the way to the actions you want to take each week to keep you on track with what you want to create for yourself and your family.
Technical support from the eBusiness Institute
One of the biggest concerns before I purchased the Digital investors program was how technical is this and will I actually be able to be successful at this, even though I am not tech savvy at all.
If that's a question you have as well, then you don't have to worry because the team at the e-business Institute offer really good tech-support. 
Pretty much anytime I have an issue that's tech related, which is pretty much anything that requires looking at a computer screen and clicking things, I will just send an email to them and I will always get a response back on what I can do to fix the issue. 
Sometimes they will even fix the issue for me. For example, part of the website buying process is to transfer the website to your name and your hosting company. 
Now if you don't know what that means then you're not even going to know how to do it. And so even though I knew what it meant, I still had no idea how to transfer ownership from someone else's name to my name. 
So what the e-business institute did is they had one of their techies actually complete the entire website transfer for me. All I did was provide them with some details and they handled the rest.
I can also tell you is that anything that you're not used to is going to be hard and it's going to be frustrating at first. And that's normal. But if you stick with it then what was hard becomes easy. Or if you have people that can serve as your techie then you really never have to learn any of the tax stuff because you can just get them to do it
In fact, someone in our community owns five restaurants and they have someone who manages their restaurants' websites. So what they did is that instead of learning all this text stuff they're just having their tech person handle it. So it really depends on what your goals are and your interest in wanting to learn the tech. 
My suggestion is to know enough so that if something is broken you know that it's broken but not so much where you can go and fix it yourself. 
Because if you want to generate passive income from websites, and people have different opinions about this, I'd say it's actually more important for you to know who to go to than to figure out how to do it yourself because if you find the right "who" then that person automatically comes with the "how". 
You probably already do this in other areas of your life.
For example, if your car is making funny noises, you probably don't try and figure out how to fix it yourself, instead you think "who can I take this to?" and then you take it to them.
Or if your dishwasher is clogged and the water won't drain, you might try and unclog or fix yourself but most likely you're going to call someone to look at and fix the issue for you.
Coaching from the eBusiness Institute
When our son was about 11 months old we hired a sleep coach to help him sleep and so we could sleep as well. because no matter what we tried he just kept waking up 3 to 4 times throughout the night wanting to be walked and rocked as soon as we put him down in his crib he start crying again. So we hired this sleep coach and I kid you not, after just four weeks of going through the program and following the program as laid out we actually got our nights back, our son stop waking up throughout the night and it was probably one of the biggest things that improved our marriage and our relationship. 
So with the e-business institute, they have coaches who have been where you are and are further along the path than you who can help you with whatever challenge that you have. 
This means you're never going to be doing this alone and you always have someone in your corner coaching you and guiding you to make sure that you're making the right decision for your future
Community support from the eBusiness Institute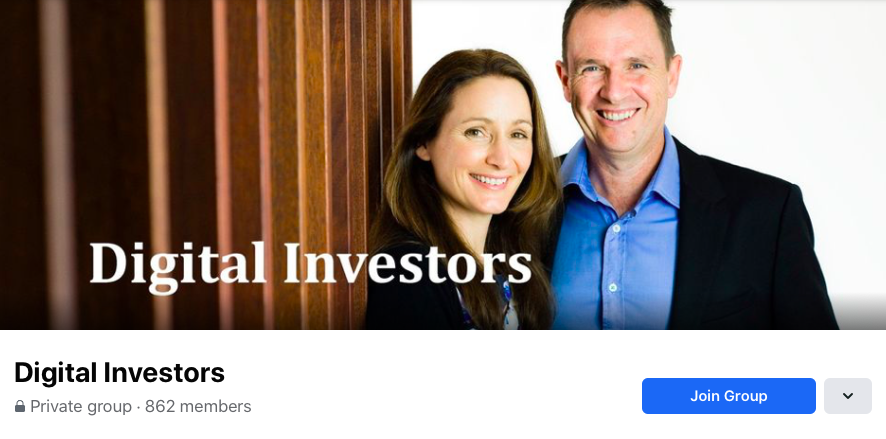 The eBusiness Institute also has a community of people that you can interact and ask questions.
This is a members-only community where only people who have paid for the Digital Investors Program are invited to join, which means it consists of very high-caliber group of people, and not one of those free Facebook groups.
Student Reviews of the eBusiness Institute
Can you actually make money buying and flipping (or keeping) websites?
I was pretty skeptical when I first watched the free masterclass from the eBusiness Institute.
I've never heard that you can buy websites, renovate them, and keep it for passive income like you could do with properties.
So I did a lot of research and read a lot of reviews. 
And by the looks of it, you don't need a lot of money to get started.
Unlike real estate where a 10-20% down payment is required on a $500,000 property to generate $500 per month in profit…
With websites, you'd only need to invest $5,000 to $7,500 to generate the same $500 per month profit.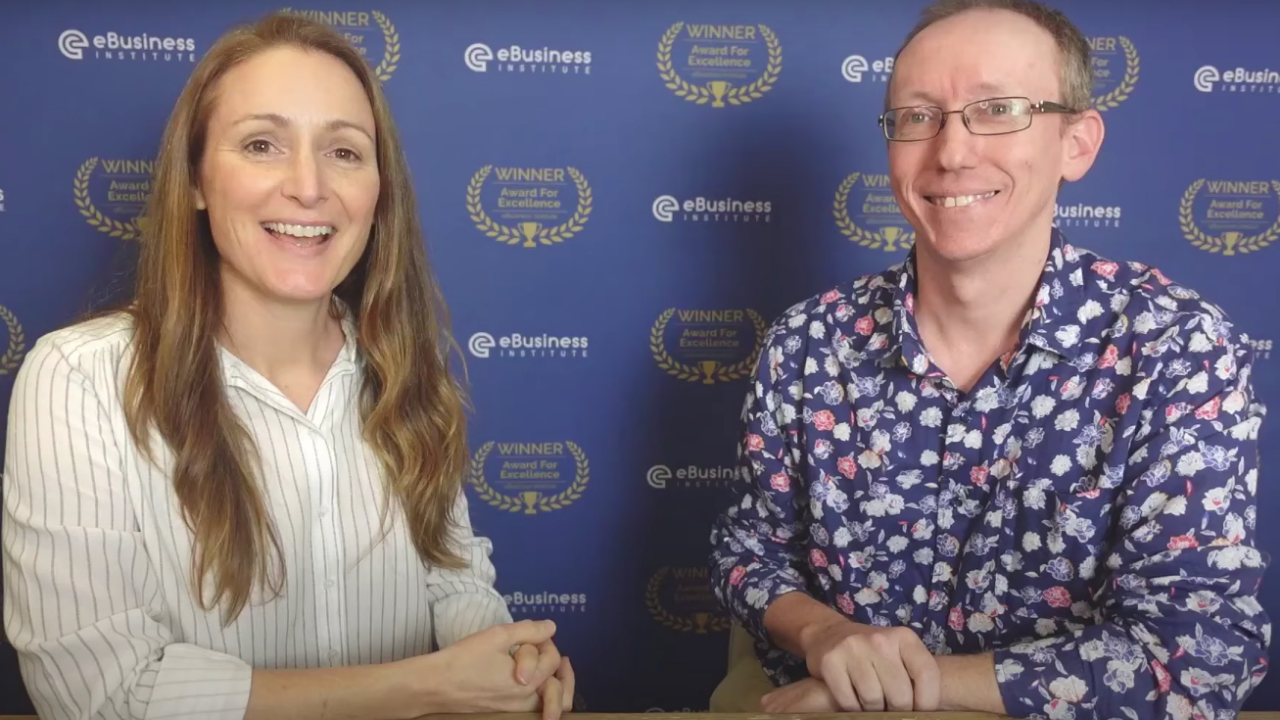 For example, Mark, a member of the eBusiness Insitute bought a $6000 website that came with $300/month in profit.
With some web renovations, he paid his entire $6000 investment back just 6 months after purchasing the website.
Now that website is free and clear of debt and pays Mark $6000-$10,000 per year with just about 3 hours of his time each month.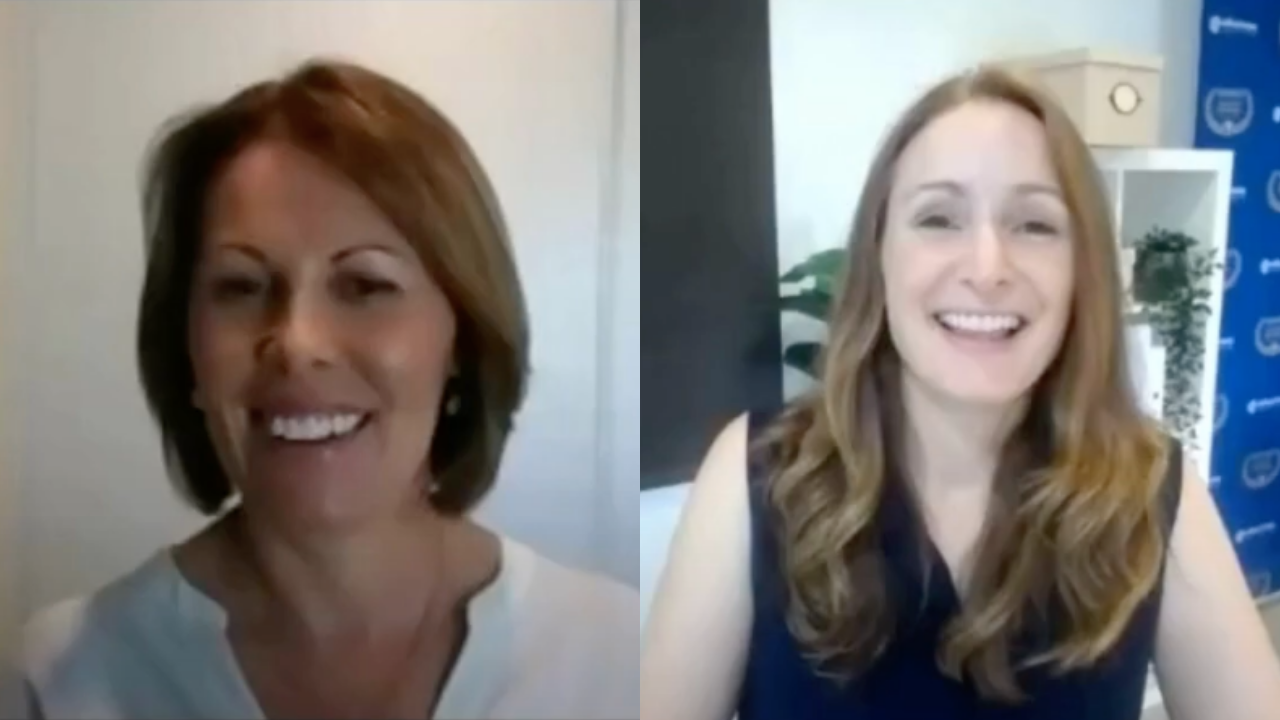 They also have another member, Lisa, who bought a $2000 website selling fitness equipment.
Within 1 year of purchasing and taking over the website, she's turned that initial investment into $5000 per month in income. And she spends about 5 hours per month on it. That's $1000/hour.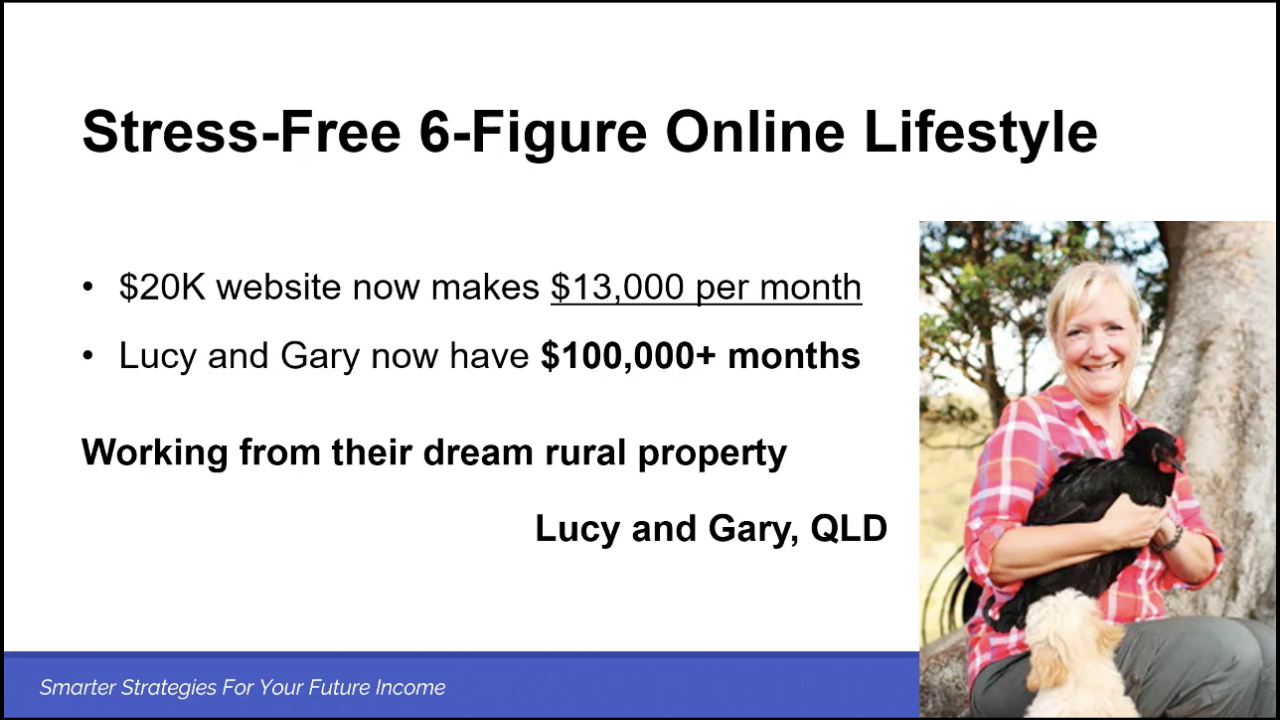 They also have couples who do the Digital Investors Program together, like Lucy and Gary…
Who went from total online beginners with no experience with websites to completely replacing their business income with their website portfolio.
Now they both have a stress-free 6-figure online lifestyle.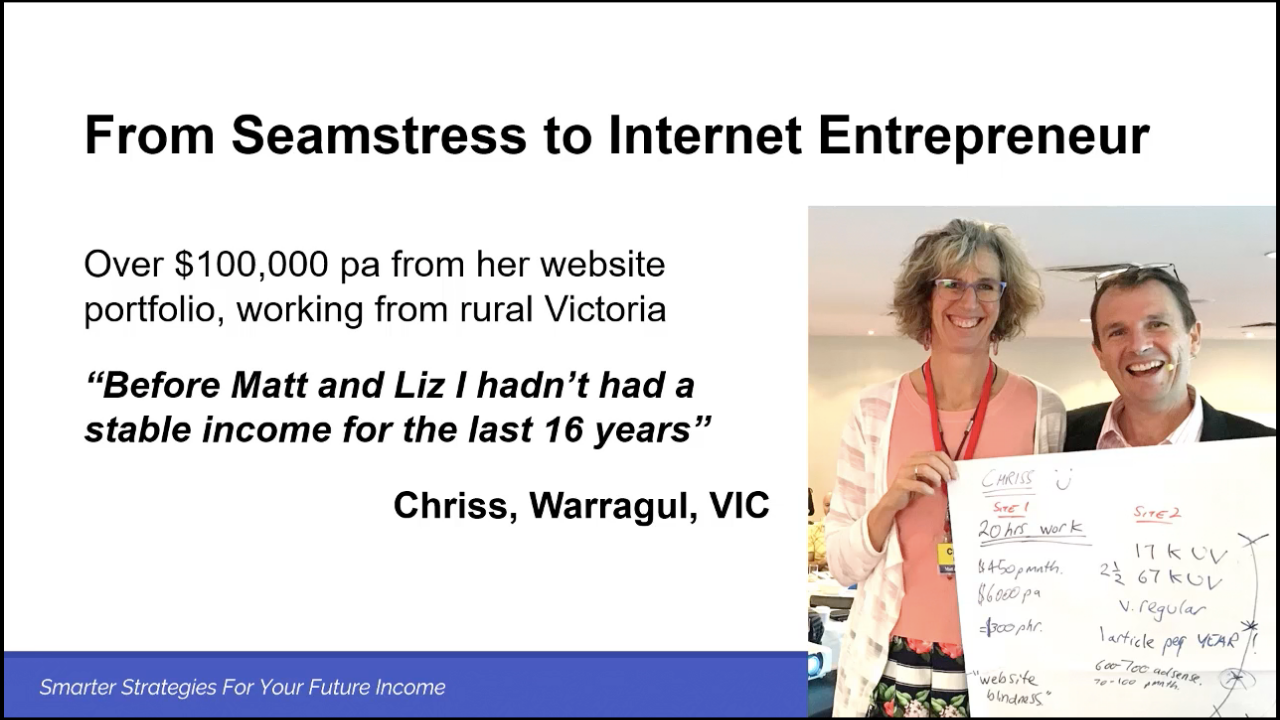 Another student is Chriss who for 16 years never had a stable income.
But after training with the eBusiness Institute, she makes over $100,000 per year from her website portfolio, working from rural Victoria.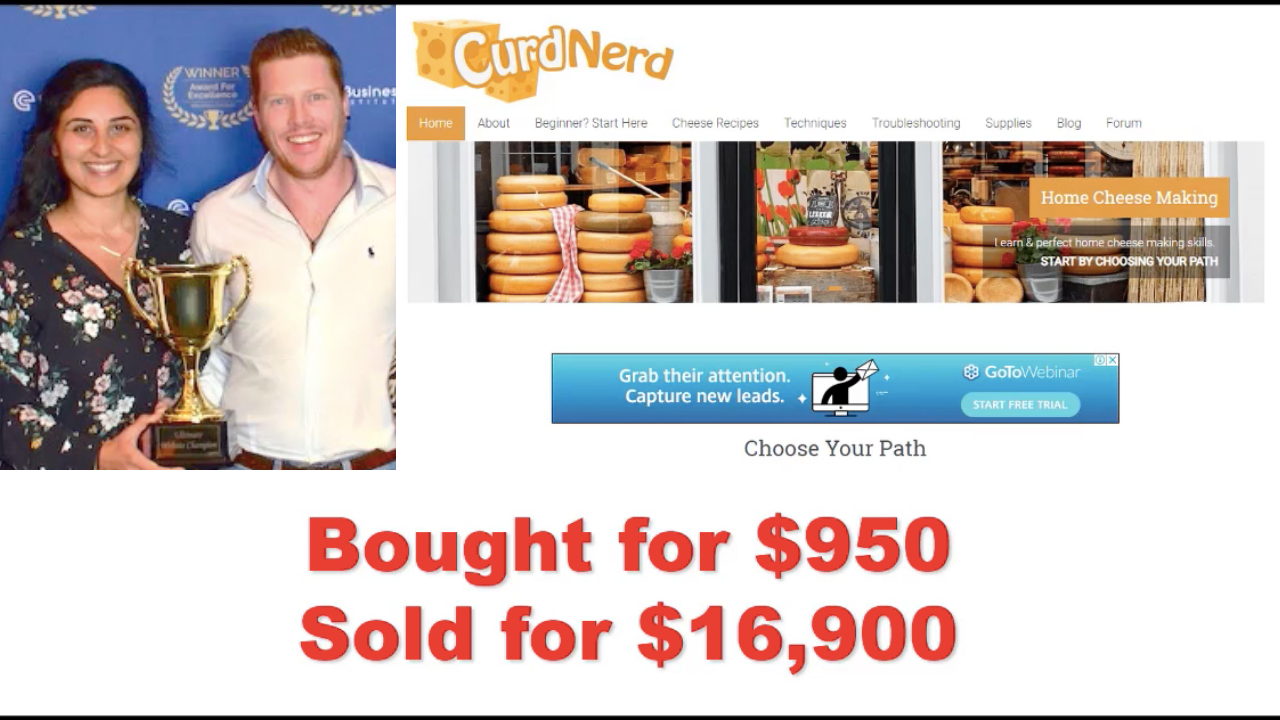 There's also Alexa and Nathan who bought a website about making cheese, a topic neither of them knew anything about.
But they saw the opportunity to flip the website, so they bought it for $960 and sold it for $16,900 just a few months later.
What's interesting is that both of them were complete beginners to buying websites and online since Nathan worked as an electrician and Alexa worked as a customer service rep.
So I know this isn't a scam and because I am personally on track to make $15,000 per month from my website portfolio.
This is income that comes in with very little of my time involvement. And I know I'll reach this number in the next 3 years. 
How have other members in the Digital Investors Program Done? 
I wanted to find more reviews because most of what I saw were positive ones.
I asked why that is and what I got back was that, they have a 30-day refund policy, so if you don't think it's for you, you just email and ask for your money back. My guess is they just give people their money back and that's why there are only positive reviews.
Start Free Training with the eBusiness Institute
If buying websites for passive income is something you want to get into, here are three ways that the eBusiness Institute can help you get started:
I started with their free training on how to buy websites for passive income.
If building websites is what you want, look at the WebDev Accelerator course.
If investing in websites that pays you passive income is what you want, then the Digital Investors Program is for you.
My goals and final thoughts about the eBusiness Institute
My first milestone is to make $2000 per month in passive income online, then $5000 per month, and eventually to $15,000 per month.
And I'm excited for the journey because the path is laid out for me in the program.
I hope you enjoy this review on the eBusiness Institute.
I'd love to hear from you. Did this review help you? What else in my eBusiness Institute review would you like to know more about.
Affiliate Disclaimer: In the spirit of being transparent, if you decide to purchase the Digital Investors Program from this eBusiness Institute review, I will recieve a small referral fee.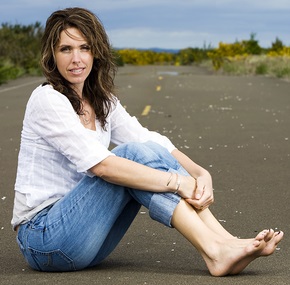 Melinda is the founder of SuperWAHM.com and started this site to share her best work from home ideas to help other Work At Home Mums become more financially independent and able to spend time with their families.