Cloth Nappies for Busy Mums: 5 Tips to Make the Switch Without Extra Hassle
Do you love the idea that reusable nappies are better for the environment, but are concerned about the hassle of switching from disposables?
As a busy working mum, you're already juggling so much, so despite the many benefits of cloth nappies it's natural to wonder whether it is worth it.
Don't worry – we've been there and we get it!  That's why we've pulled together some helpful tips and tricks (and debunked some common myths) to make the switch to cloth nappies so much easier.
The problem with disposable nappies
Did you know that each disposable nappy can take up to 500 years to break down in landfill? If you consider that each child will go through approximately 4000 – 6000 nappies between birth and toilet training, that's an enormous amount of waste.
While there are a growing number of eco-disposable nappies coming onto the market, these require special composting facilities to break down properly. In addition, they come at a higher price point than regular disposables, so they aren't necessarily ideal.
Enter modern cloth nappies. Given increasing environmental concerns, it's no surprise that there's been a huge surge in cloth nappy use in recent years. Yet the benefits aren't just environmental. Read on to find out more, and how you can jump on the fluffy bum bandwagon with minimal fuss!
The benefits of reusable nappies: a rundown
In case you still need some convincing, here's a rundown of some of the benefits:
Benefit #1 – Cloth nappies are a more environmentally-friendly option
Studies have shown that cloth nappies are indeed the most sustainable option (yes – even when factoring in manufacturing, washing, and drying).
Even more so if you purchase them second-hand or use them for multiple children. Plus, if you're in Australia you may be eligible for a government rebate, so check out your local council's website.
Benefit #3 – They can be better for your baby's skin
Cloth nappies come in a range of fabrics and many are made from natural fibres such as bamboo or cotton, allowing your baby's skin to breathe.
Benefit #4 – They look cute!
There are so many prints, patterns, and styles to choose from that you'll have great fun putting together your cloth stash.  Just a warning – they can be a little addictive!
Benefit #5 – They can do a great job of holding in those blowouts
Ok, hear me out! I know it's not the most enticing topic, but we've all heard those dreaded poonami stories and perhaps even experienced some ourselves. With a properly-fitted cloth nappy, you know you'll be safe juggling those Zoom sessions while your toddler plays on the carpet!
Benefit #6 – You can support another work-at-home mum (WAHM)!
In addition to the larger retailers, there are a growing number of dedicated WAHM nappy brands. So you can support an Aussie homegrown business and know your nappy has been handmade with love!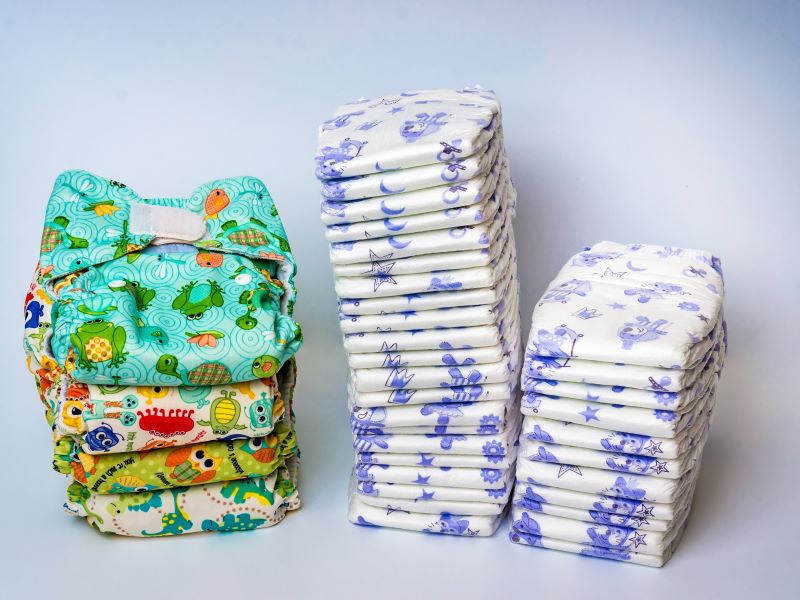 5 tips for making the switch to reusables
So, now that we're clear on the benefits of cloth nappies, here are 5 tips for transitioning to cloth life with ease:
Tip #1 – Get a good wash routine
In case you haven't heard – modern cloth nappies do not need soaking! Both reusable nappies and the science behind washing have evolved since previous generations. All you need is a few-step process, involving:
a couple of baskets (one for soiled nappies, one for prewashed)
a prewash every 1-2 days (hot washing machine cycle to remove soiling)
a main wash cycle every 2-3 days (warm to hot machine cycle to properly clean nappies)
then hang on the line to dry!
The Clean Cloth Nappies website is a great resource to help work out the right wash cycle for your machine, and for further resources on the topic.
Tip #2 – Use those little spaces in the day
First thing in the morning I usually pop the dirty nappies in for prewash. One of the huge benefits of working from home means I can hang out my morning wash at lunchtime and pop on an extra load of washing throughout the day. Are your hands free while you're listening to a webinar or podcast? That's a great time to fold laundry and 'prep' the nappies (i.e. snap the inserts back into the covers after washing).
Tip #3 –  Get your village on board
I can't emphasise this one enough. One thing I did before my first son was born was label the soiled and pre-washed I also put a note above my washing machine listing the prewash cycle, main wash cycle, and detergent amount for each. This meant that my partner, as well as the grandparents who were on hand to help in the early days, knew the whole process, and were able to put on a load of washing and hang them out. Definitely a game-changer when juggling a newborn!
Tip #4 – Start part-time if you need to
It doesn't need to be all-or-nothing. There is no need to put too much pressure on yourself if you are feeling overwhelmed, as every cloth nappy you use diverts a disposable nappy from landfill.
Tip #5 – Consider a nappy hire or laundry service

The above tips should make your cloth journey flow much more smoothly, but if you're really short on time or want to try before you buy, then a cloth nappy hire service can be a great way to dip your toe in. Most will offer a laundry service as well, and some offer a standalone laundry service where they will wash, dry, and return your own clean nappies to you.
Ready to make the switch to Cloth Nappies?
I hope the above tips have helped you see it's absolutely possible to balance work, parenting, and cloth nappies with ease!
In short, once you're set up with a good routine, you'll find the benefits of using cloth nappies are well worth it and it doesn't take that much extra time. You'll feel good about doing your part for the environment while enjoying seeing all those beautiful nappy cover prints on your bub. I strongly encourage you to give it a go and see for yourself!
Interested in more ways to be eco-friendly? See our other tips for sustainable living while working from home.
Jade Ivett is a mum of two young boys, an avid cloth nappy user, and a sustainability advocate. She is also learning to juggle all of this while transitioning to working from home! Jade founded the Cloth Nappy Info site as an independent hub of useful resources and cloth nappy reviews. She aims to support other parents who are keen to try reusable nappies for their children to make the process less daunting!