How to Make Money at Home selling Fruit and Vegetables
TO MARKET, TO MARKET.  MAKING MONEY FROM FRUIT AND VEG
Here is another idea on how to make easy money for work at home mums.  Selling mixed fruit and vegetable boxes.
As I have written about previously in the article "How I Got Started Making Money Online", I looked after up to 10 other children before and after school, as well as my 4.  That's a lot of mouths to feed.  When the kids came home with me after school I always had a large platter of cut, in season fruit and vegetables for them to eat (along with 2 scoops of ice cream).  In season fruit and vegetables are an economical way to feed many.
Every week I would shop for my produce at the local market.  When my children were very young, I was known as "The lady with the kids!"  I had a very large, old pram (buggy) with a framed seat attached to the front.  Two would sit at the back, 1 on the framed seat and I'd have the youngest on my back in a child sling.  The stall holders loved to chat with the kids and would constantly feed them whatever fruit they asked for.  The fruit and vegetable I bought was always fresh, tasty and good quality.
When my ever expanding brood of other people's children came after school, they really enjoyed the good tasting fruit and vegetables.  Their parents often commented that their children would compare what they were buying with what they were eating at my house.  I decided to be creative and scale!
I started buying larger quantities and boxes of produce.  I would then combine a little of each item into another box and then sell this to parents when they picked up their children.  Word got around – usually the best advertising – and eventually I had 26 customers.
They were able to nominate a small or large box size and also could tell me what they didn't like to eat.  I made up a template with all the different produce listed, itemised each list with the customer's name, address and phone number, what they didn't like and went shopping.  Each box I sold made me between $10-15 profit.  The customer was getting fresh, quality produce at around 30% cheaper than if they bought the same from their local grocer.  It was a win/win for everyone.
If this is an idea that interests you then here are a few tips before you start.
5 Tips for Making Money from Fruit & Vegetable Boxes
Shop at your local market and only buy in season produce.  This ensures the produce is fresh and cheap.  People can shop anywhere to buy mediocre – always try your produce before you buy it to make sure it is sweet and juicy.  The local market stall holders generally allow you to "try before you buy".   Where I shop they usually add…"and buy before you leave!"  They also say…"God helps those who help themselves, and God help you, if you get caught helping yourself!"
Another tip is to be chatty and get to know the stall holders, particularly if your children are shopping with you.  There have been many times that I have received a box of yesterday's produce for free or my children have paid and received extra for doing so.  The stall holders work long days, often starting before the sun rises, so they enjoy seeing a smiling, friendly customer.
You will also need to get some additional empty boxes to mix the produce into.  I used strong cardboard tomato boxes (these hold around 10kg/22lbs) for my small box and charged $25.00.  I used strong large, open, white bean boxes (these hold around 15kg/33lbs) for my large box and charged $35.00.
Some I delivered, some were collected.   If you are delivering, do not take on any customer that lives more than 5 minutes from you.  You do not want to spend time in traffic.
Generally, I earnt around $250-300 per week selling mixed fruit and vegetable boxes.  This also allowed me to get my produce for free.  I made sure the quality was always good.  I took something that I was already doing and scaled.  Most weeks I spent 4-5 hours doing the buying, mixing and delivering – it can all be done while your children are at school for the day.
Even if you were to buy for 2 other families and make $15.00 per box.  What could an extra $30.00 per week buy you?
Remember, look around you, get organised and be creative and you too can make easy money working at home.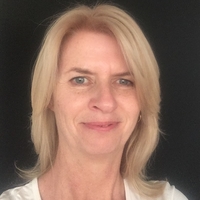 Yvette is a stay at home mum who is able to earn an income whilst working around her children by being creative.  She is co-founder of Strathfield Web Design, designing, creating and managing the online presence of local businesses.