Survive School Holidays & Keep Productive Working From Home
The psychology of working from home has both it's challenges and rewards. It means that I can take time off when needed to be with my family, but it also means that I need to motivate myself to stick to a schedule.
Most days this works well, when the kids are on school holidays it becomes more challenging. As a work at home mum school holidays can make working from home difficult. However, with a little planning it can be a very enjoyable and productive time.
I used craft ideas for the school holidays as a fun activity to keep my children busy while I got work done. Finding crafts that they would be interested in was easy and we had most of the supplies lying around the house.
Limiting Screen Time
 The hardest part about having the children home is they are glued to their screens. Their television, smartphones and tablets are constantly on. They have grown up with these devices, so they don't understand that excessive screen time is harmful.
Although having the kids glued to their screens makes it easy for me to work from home during school holidays, I don't want to compromise their health for my convenience. Excessive screen time can affect:
Learning ability
Sleep
Social Skills and Self-confidence
Obesity and Overall Health
Behaviour and Emotional Development
For a work at home mum finding a way to keep your kids occupied in a healthy way is important to maintaining your work productivity. Our family discovered craft ideas for the school holidays and there are so many other activities that your kids might enjoy. You may find that their hobbies and interests will change with age. Adapt to this and allow them to enjoy their time while you grow your business. This will really help with your psychology of working from home.
Crafting During School Break to Maintain Work Productivity
When my kids started crafting it took a couple of days for them to get into the flow and creativity for crafts. I spent a fair amount of time explaining specific techniques to them, letting them know where supplies were kept in the house and how they can find fun crafts to do.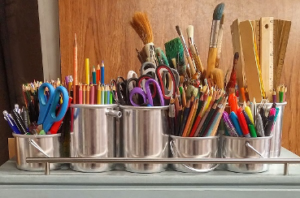 Once they got the hang of it, I was able to let them craft while I worked. Then at the end of the day they would show me all the creative things they made, and we spent quality time together talking about how they made them and playing together.  
Creating craft ideas for the school holidays may just seem like something fun for children to do. But it also teaches them fine motor skills, helps them become more creative and gain confidence.
If you're thinking about getting your kids onto crafting, here are some of the skills it will help them learn:
Improves motor skills
Improves teamwork and enhances social skills.
They learn to follow instructions.
Helps with communication skills.
Teaches patience and the ability to try new things
Helps them relax.
Encourages creativity.
If the kids thought that they were learning, they wouldn't have wanted to craft. And what fun would it be if they didn't enjoy what they were creating? That's why it was so important to find something fun that I knew that they would want to do.
How to Find Fun Crafts to Entertain Your Kids While You Work from Home
I did some research on the internet and found a great resource, Crafting News. It has lists of crafting ideas and instructions. And most of the supplies are everyday items that you'll most likely already have at home.
The girls have done countless projects and now look forward to craft time. They especially loved the "egg carton crafts list." They made décor items for their room, bird feeders for our feathered friends and gifts for friends and family. So, not only are they learning and having fun, they have discovered the importance of giving.
How Creativity Has Helped Our Family
When I started crafting time for my girls, it was more for me than them. I needed peace and quiet while I worked from home and they needed something to do. More than this, crafting has changed our lives in countless ways.

My children no longer sit in front of the TV all day while playing on their electronic devices, they want to learn new crafts.
Nothing is safe in our home anymore as they have learned that anything can be upcycled. And something handmade always has more meaning than something purchased from the store.
As a family, we spend more quality time together. I must admit, with my work schedule I was always on my computer too. Now, I find time to spend with my girls.
To help with my own psychology of working from home – when I'm done working, I turn off my computer and walk away. I don't sit there for hours checking e-mails and worrying about what I need to get done. Life is too short, don't let it pass you by. Spending time crafting with my children is something that provided countless memories.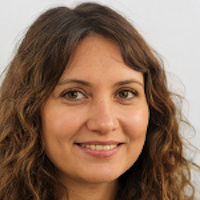 Jenny Agoston is first and foremost a mum of two beautiful girls. She works from home on her online business which provides learning resources for high school teachers and loves the flexibility this gives her to spend quality time with her family.