Take A Break From Your Home Office With These 5 Dog-Friendly Ideas
Looking for something a little different from your usual 'Netflix, wine, and a hot bath' after-work wind-down routine? Sometimes the best way to escape the daily grind of working from home is to grab your dog and get out of the house. If you're hoping to shake up your quiet time and want to bring your four-legged best friend along for the adventure, then these 5 dog-friendly ideas to take a break from your home office are for you!
1. Take Your Dog for a Hike After Work
If you're feeling housebound and a little stir-crazy after a long workday, there's no better cure than a hike.
Spending time outdoors has been found to relieve stress and boost the mental health of both people and pups.
Research suggests that people who hike frequently are less depressed, are able to focus more easily, and have a more creative approach to problem-solving.
Sign us up! 🙂
Taking your dog along makes it the perfect balance of peace and companionship. You reap all the benefits of being out in nature and get to recharge with your best friend.
The greatest thing about hiking is how simple it is. It's the perfect outdoor activity for beginners! There is no need to invest in fancy equipment or travel long distances. A local trail, some sturdy shoes, and a high-quality leash for hiking with your dog are all you need to get started.
2. Try a Dog-Friendly Cafe for Lunch
On slower days, lunch can feel less like a break and more like a reminder that it's barely even the afternoon. It can also be a bit of a lonely time when you work from home – who thought they would actually sort of miss the office kitchen?
If you're feeling stuck in a middle-of-the-day rut, it might be time to get out of the house and hit reset. Taking your dog along for an out-of-the-house lunch break is a fantastic way to break up your day without needing to step away from your desk for too long.
Luckily, dog-friendly cafes are more common than ever! Just jump online and see what's in your nearby area. You might be surprised to discover that your favorite cafe actually allows dogs. You might even find somewhere completely new now that there are so many hidden gems to be uncovered.
If it's a nice day outside, add to your outing by getting that puppuccino to go. You and your dog can settle in for a quick picnic in the park and refresh yourselves by basking in the sunshine. Complete with a quick game of fetch, of course. Your dog will definitely thank you.
3. Go Paddle Boarding with Your Dog
It might sound daunting, but don't need the balance of a pro to try paddleboarding with your dog! This is another easy outdoor activity that will clear your mind and get your body moving.
Beginning your paddle boarding journey with your dog is much simpler than it might sound. All you'll really need is a board that can support the weight of you and your pup, some life jackets, and your dog's favorite treats! You might just be surprised by how adventurous your dog can be when tempted.
I would recommend checking out this guide if you're interested in learning more about paddle boarding with dogs. Following these steps will have you and your dog paddling like pros in no time at all! 🙂
This activity might require more in terms of the level of time and financial commitments than some other options on this list, but the payoff is well worth it. Nothing says 'relaxing weekend activity' quite like a sunny Saturday spent by the water with your family and your dog.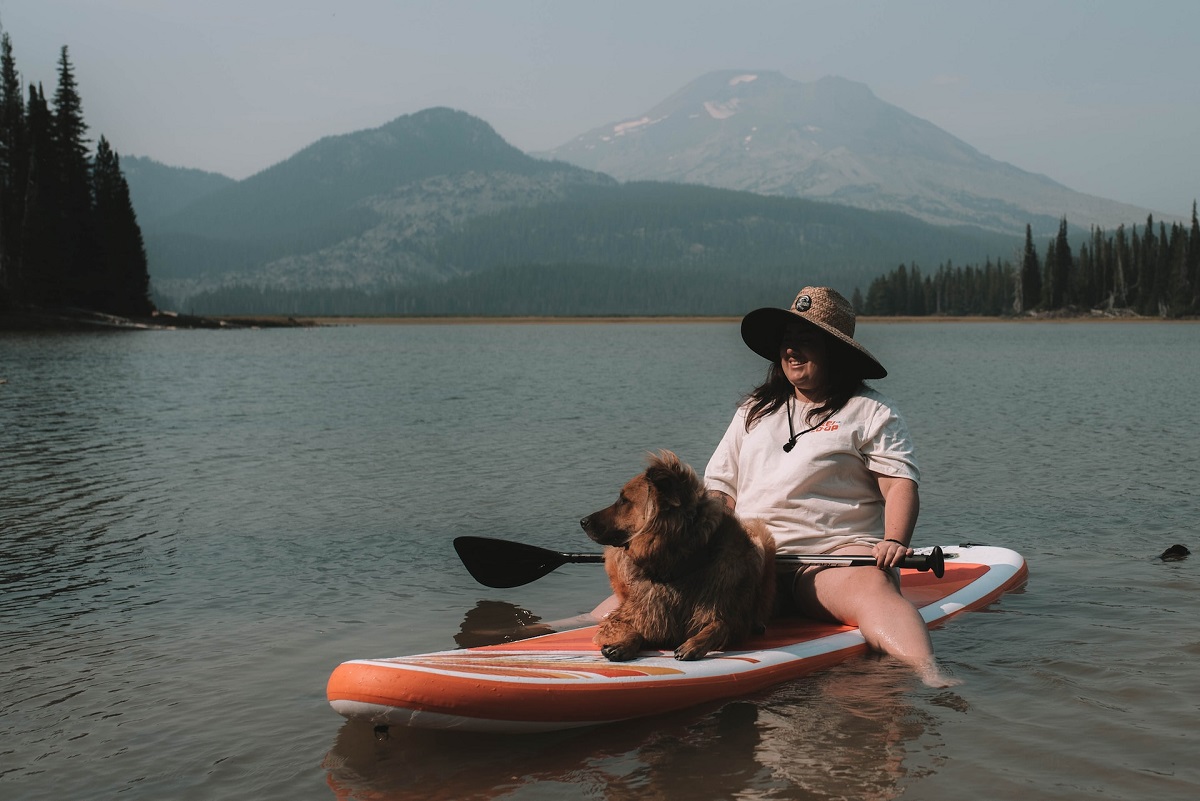 4. Take a Class with Your Dog
Sometimes, the best way to return to work feeling refreshed is to give your brain a different challenge to focus on. This helps you approach problems with a fresh eye, and means that you'll be much more likely to find a solution to whatever puzzle is giving you trouble.
Taking a basic obedience or agility class with your dog is a fantastic way to step away from work and focus on something else for a little bit. These beginner-level classes are an especially nice starting point if it's been a while since you and your dog have worked together as a team.
If you're looking for something with an extra edge, why not take it a step further? You and your dog may love a scent work class or personal protection course. These classes are a bit more challenging while still being a nice mental break from the real world.
It might not feel nice to admit it, but it can be all too easy to get frustrated with your dog if you're managing their care every day while also trying to work and run the household. Trust us! We've been there, and the burnout is real.
Instead of feeling guilty, try to use these classes as a dedicated period of time to reconnect with your pup. You'll both feel better for it.
5. Plan a Dog-Friendly Road Trip
A dog-friendly road trip is the ultimate out-of-office refresh if you have some spare time up your sleeve. Grab the kids and the car keys, and hit the road with your pooch!
The beauty of a road trip is that what you do is entirely up to you. Having no dedicated itinerary makes it one of the most dog-friendly types of travel. You can stop for as many bathroom breaks as you like and the kids have the perfect backseat companion to keep them company throughout the journey. You might even get to listen to a song or two in peace!
Spend the weekend exploring campgrounds with the family, driving interstate for the holidays, or even just taking a day trip to a location you've been meaning to visit. There's a whole dog-friendly world waiting out there!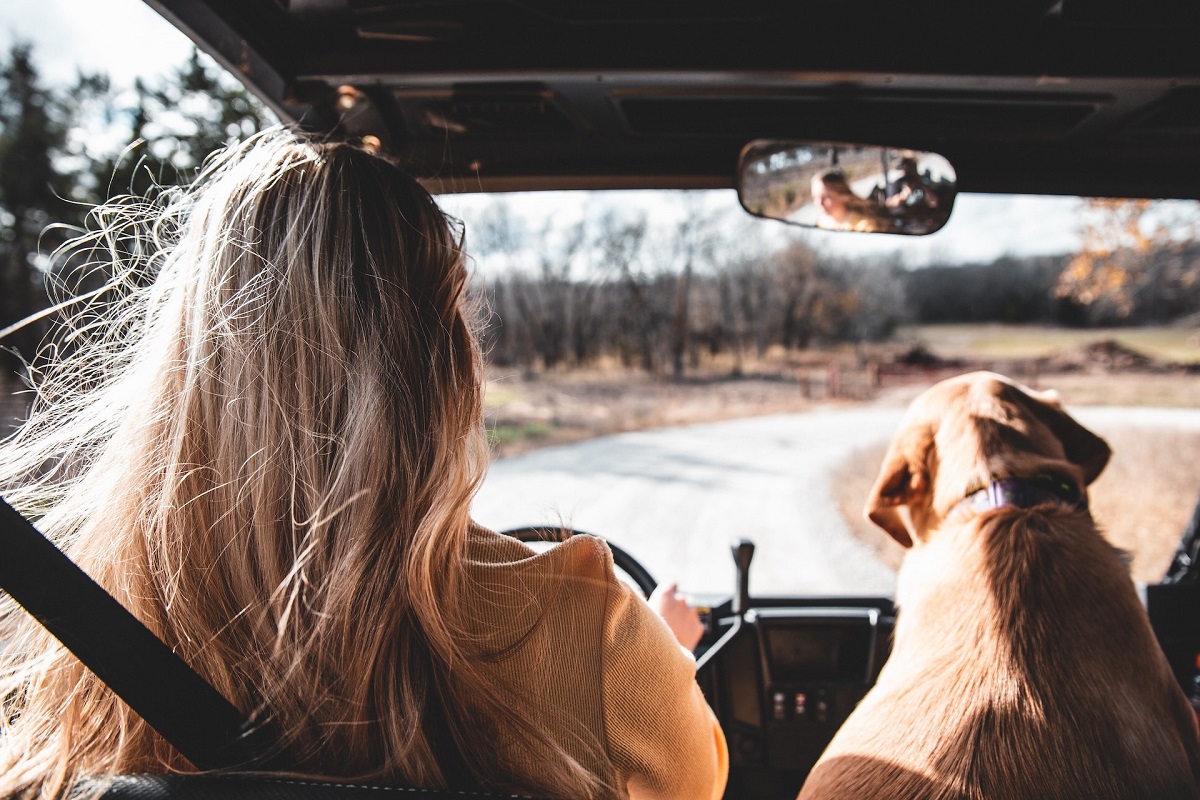 Final Thoughts
Time and time again, our dogs have been proven to bring out the best in us. Spending time with our pets is one of the best ways to refresh and return to work with a clearer outlook. This is especially true if you're also making an effort to get outdoors together.
Set aside some time to try at least one of these five dog-friendly ideas to take a break from your home office and see how much your mindset changes!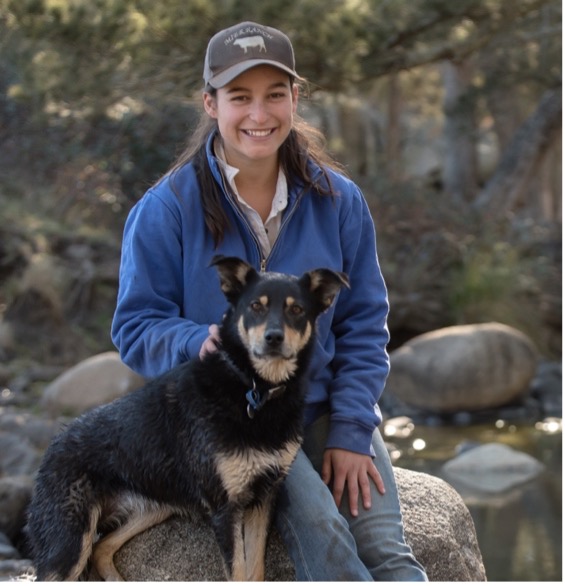 Jenni Chandler has traveled extensively across the US and Australia by car, bicycle, and on foot. Since becoming a proud dog mom to 6 furry friends, she loves to share as many of her epic outdoor adventures with her dogs as possible. When she's not out exploring with her dogs, she can be found, laptop in hand, on the porch of her family-owned ranch.