Feeling Burned Out? Take Time To Relax With The Family With These Simple Tips
Whether you are fairly new to being a work at home mum, or you have been practising this lifestyle for a while, it's important to regularly take time to relax by yourself and with the family.
For anyone who works at home, it's important to set clear boundaries between work and non-work time. You should also build regular rhythms into life to help maintain a healthy work-life balance.
I try to create regular weekly rhythms around:
Family responsibilities
Faith activities
Work commitments
Exercise and health
Social engagements
Rest and relaxing.
To help unwind from work I like to take time to rest with leisure activities, such as reading and gardening and more recently. I've also recently taken up wakeboarding lessons with the kids.
Having regular wakeboarding lessons is great for taking time out from our daily routine. But I also find the challenge of wakeboarding is a great way to destress. And I feel good about myself when I master a new technique I have been working on. Plus, it's a lot of fun!
There are definite seasons for relaxing that we should be building into our yearly calendars. A good example is the end of the school year. At this time of year, we all feel like we need to take time to relax. A great way to do this could be a camping trip, overseas holiday or beach vacation.
When the summer holidays arrive, the weather is lovely and the kids are often just as tired as we are. The busyness of family life can cease for a little while, allowing everyone some downtime.
But we do need to make sure that time to rest and relax is not always pushed to the end of our to-do list.
Relaxation needs to become a priority in itself for our overall good health.
Relax And Take A Break As Often As You Can
In addition to an end of year vacation, research by Mitas and Kroesen (2020), suggests that more frequent vacationers experience higher satisfaction with life. It doesn't have to be a long vacation either.
It seems that taking a short break has a significant, positive effect on perceived stress and general health and wellbeing. And these positive effects can last for up to 45 days after a short vacation (Blank et at., 2018).
There are plenty of daily pressures that can leave us feeling like we need to get away from it all and take time to unwind. It could be the news headlines, the state of our world, or the amount of work that is piling up.
Just like regular nights with sound sleep leave us feeling better than binge sleeping on the weekend, regular short breaks can help to alleviate the daily stresses of life. This can help in our own satisfaction, overall happiness and even our productivity can be greater.
Here's Some Tips You Can Use To Take Time To Relax
When you work from home, it is sometimes hard to separate your attention to work from your attention to life and the family. The two can meld into one throughout the day.
Or you might find yourself working late into the night because it's quieter and you can make significant progress crossing off the to-do list. I know I can easily get caught in this trap.
It's okay every now and then. Sometimes we need to put in those extra hours. But when this becomes a regular habit, and the boundaries blur between work and non-work, there's usually a cost somewhere.
Be it your lack of sleep, the kids spending too much time on screens, or just less time to spend on strengthening the quality of your family's relationships.  When we notice this happening, it's time to hit pause and unwind from work.
If you're wondering how to find time to relax and make a regular rhythm of this in your life, here are a few suggestions.
Tip #1 – Take a break and relax during the work day
I have found that when I am very focussed on completing a task, time flies and the day can disappear before I realise it.
Usually at the end of a day like this, I feel quite stressed. I've often skipped lunch, sometimes forgotten to drink enough water and if I haven't moved from the computer much, my body can be in need of a good stretch out.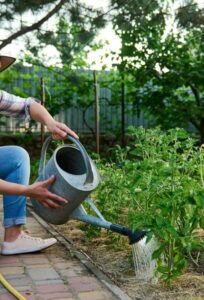 Instead of working day after day like this, I have found that stopping for a short lunch break is really good for my mood, my productivity and my overall enjoyment of the day. A few things I like to do during a short lunch break are:
Reading for 10 minutes
Hanging the laundry
Going for a short walk
Planning a day vacation
Watering the plants
I don't feel that work is ruling me, but I am in control. I am making a choice and allowing myself to have a break and to take time to relax.
Making this a daily practice keeps the right perspective on work and helps me maintain a healthy work-life balance.
Tip #2 – Unwind from work with a day vacation
It's important for the whole family to take time to rest, and a great way to do this is by planning a day vacation regularly. Not only is it important for us as parents to relax, but it's a valuable ingredient for life that we can model to our children.
We love to get outdoors and be refreshed in nature. It just feels good for your mental health and numerous studies have shown the benefits of sunshine, fresh air and nature for our overall wellbeing.
Planning a day vacation can be fun in itself. It can be done as a family. Or when the kids get older, it's fun to let them plan a day out for the whole family.
We'll often head to our nearby lake for some wakeboarding which is also a great activity for the kids to invite their friends along to.
What you do on these days can be just as important as taking the day off. Unplugging for the day and creating space to connect with each other helps to build shared experiences and memories. It also allows for conversations around topics that sometimes get pushed out of busy family life.
Using these simple methods are a great way to focus on what matters and make sure we are demonstrating to our kids that there's more to life than work.
Tip #3 – Take time to relax and recharge on a short break
In addition to taking time out to relax during the work day and establishing regular day vacations, research suggests that making time to relax and take a break, even a short one of 3-5 days, can be just as rejuvenating as taking a longer vacation.
Short breaks are usually easier to plan. It's easier to find a pet sitter, less time is needed to book in advance and you don't need to use up as much leave.
And when you have a few short breaks during the year, there's more to look forward to and enjoy planning and more to remember from the shared experiences.
For our family, there's some top wakeboarding locations that we like to visit with friends. But short breaks can be so varied. Here's a few ideas:
Camping in your favourite location or visit somewhere new
Visiting relatives or going on holidays together
Exploring a new city or being a tourist in your own city
A few days away with friends
Road trip exploring your local region
Family friendly beach resort
Hiking in the mountains
Taking a short break allows you to still get away without the significant costs of a long vacation. And there's so much to explore, often in our own backyards, that we can take for granted.
For us, a 3 – 4 hour drive, or a couple of hours on a plane, is a realistic travel time. It's also within our budget when we are planning to take time to relax and recharge.
Perhaps one of the biggest benefits for us of a short vacation is that we are more likely to relax and take a break without technology.
It can be hard to leave work for a couple of weeks at a time, so even though you might be away, it might still be necessary to check emails to keep on top of things.
It's easier to leave technology at home for a few days and take time to unwind, by completely unplugging. The opportunity to provide screen free activities for kids is super important for them too.
We find we are more likely to unplug on a short break – no social media, no news, no emails. But lots of time for wakeboarding, walks, board games, eating together and relaxing.
Having a good break from the busyness of life in this way really is good for our mental health and when you get back to work, you're ready to be highly productive again and hit that to-do list.
Make Sure You Take Time To Relax As A Priority
For many stay at home mums, family life is important. That's why we work from home, so we can be there for our children and others when they need us. We want to have the energy to give our kids attention. We want to help them to use their imaginations, to get outside, and be kids. But family life is busy. That is why it is so important for us, and our children, to take time to relax often.
A day vacation can be a way of hitting the reset button for family life. It also gives everyone the opportunity to refocus for what is ahead. This can be timed around periods of busyness for maximum benefit.
A short break is often much easier to organise and can have similar benefits as a long break, especially when you take time to rest and recharge more often.
Taking a short break regularly gives us a chance to clear our emotions and refresh our minds rather than allowing things to build up and become overwhelming.  
The excitement of planning a short vacation, anticipating it, experiencing it and remembering it afterwards all create connection points for the family and contribute to shared memories. And when this is done a few times a year, the benefits are received more than once. This can really help to alleviate the daily stresses of life.
Take time to relax yourself, and with your family, and enjoy a greater sense of satisfaction and happiness in life from achieving that much sought after work-life balance.
Tess Arnold and her husband manage wakeboardcritic.com to provide helpful information for families wanting to get into wakeboarding in the US.  Working together from home offers Tess great flexibility for the family. They love to hit the pause button often and get away with the kids for some camping and wakeboarding whenever they can.