Top Tips For Choosing The Best Exercise Machines For Your At Home Workouts
Looking to improve your fitness without going to the gym? Check out these best exercise machines to consider for your at home workouts…
Are you tired of feeling sluggish and unhealthy after sitting all day at your work from home setup? While remote work may come with some perks, neglecting your physical health shouldn't be one of them.
As a woman working from home, it's important to prioritise exercise and equip yourself with the right exercise machine to help look after your own health and well-being. But with so many options out there, how do you know which one is right for you?
To help you determine which is the best exercise machine for you, I've created an easy to follow reference guide below. Let's get started! 🙂
4 factors to consider when choosing exercise machines for your home workouts
1./Determine how much space you have in your home for a gym
Managing the space for your exercise machine can be an issue if you don't have a lot of spare room in your house or home office.
Usually, exercise machines tend to take up a lot of space. That is why most home gyms need to be more organized.
A good way to manage this is to measure the amount of free space you currently have and compare this to the size of the machine you are looking to purchase. Some types of exercise machines provide different sizing options, which might give you a bit more flexibility. Otherwise, you may need to consider a different type of smaller exercise machine if space is a little tight.
Determining the space you have available in your home can help you select the right exercise machine for you and your goals.  
2./ Budget is important in the decision-making process when purchasing an exercise machine
The amount of budget you have available is important to consider when you are thinking of buying an exercise machine.
Why?
Well, obviously high-end exercise machines are great because they have all the bells-and-whistles. But, of course, they can be expensive. Whereas, you can still get machines without as many features for a lower cost, but they can still meet your individual fitness needs.
As a busy mum, it's pointless spending your time researching brands (or types of machines) if you know they're going to be well outside of your price bracket. Or, if you know the machines have features that are well-outside of your current fitness goals.
So, consider all associated costs, including any after-purchase costs such as subscriptions, when making a budget evaluation. This will help keep you from unnecessary financial stress when trying to get fit at home.
3./ What are your Fitness Goals?
Before buying a machine, we recommend setting your fitness goal. This will help make it a clearer what you're trying to achieve with your at-home workouts, and what equipment you will need to make it happen.
For example, if you aim to do a normal walk or light jogging, you may only need a smaller treadmill with very simple features. This will help save you from purchasing two or three machines, where you don't even need the additional features or functions.
So before setting up any home gym, set your fitness goals first, THEN think about the best exercise machine needed to achieve them.
4./ Choose an exercise machine that is versatile and easy to use
Look for a machine that is easy to use and versatile. Machines that provide multiple functionalities can help you to achieve different fitness goals at the same time.
The best example of that would be a multipurpose exercise machine. This type of machine allows you to do various exercises on it at one time. Then, as you become more advanced in your fitness goals, this machine is much more adaptable as your fitness improves.
This allows you to progress in your fitness goals, without having to worry about spending more money every time you improve your personal fitness levels.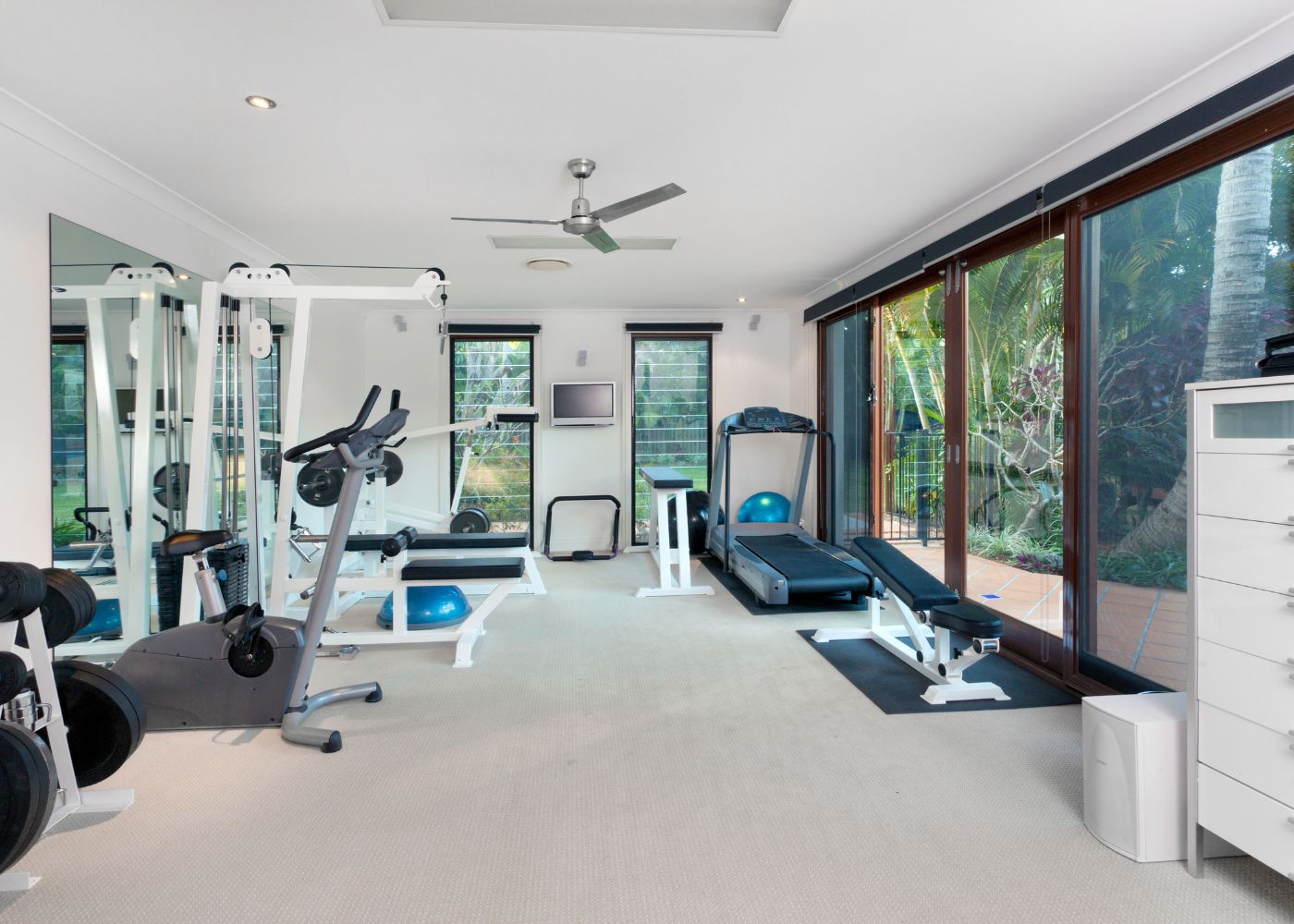 Types of Exercise Machines to Consider for your At Home Workout
So, now we know what to consider when selecting a piece of gym equipment for your home office, which machine should you buy? Here's the top 6 best exercise machines I typically tell my clients to consider, depending on their budget, space and fitness goals.
1./ Treadmill
The treadmill is probably the most common piece of exercise equipment used in at-home gym setups. Treadmills offer a lot of advantages, as they can:
Help with weight loss
Improve cardiovascular health
Improve mental health
Strengthen body muscles
Improve your quality sleep
And help to improve brain health
There are different options of treadmills available when setting up your at-home gym. The biggest thing to consider would be the amount of space the treadmill takes up in your house.
To help combat this, you could choose between a compact treadmill and a foldable one. Both have their own advantages, with the biggest benefit being they both consume less space.
The next thing to consider would be the treadmill's features. For example, if weight loss is an important goal for you, look for a treadmill that has a good incline level as they help to easily burn more calories. Also check the ability to adjust the treadmill's speed levels to help increase their efficiency in your workout.
 Treadmills have various options making them an excellent and popular choice for busy mums when exercising at home.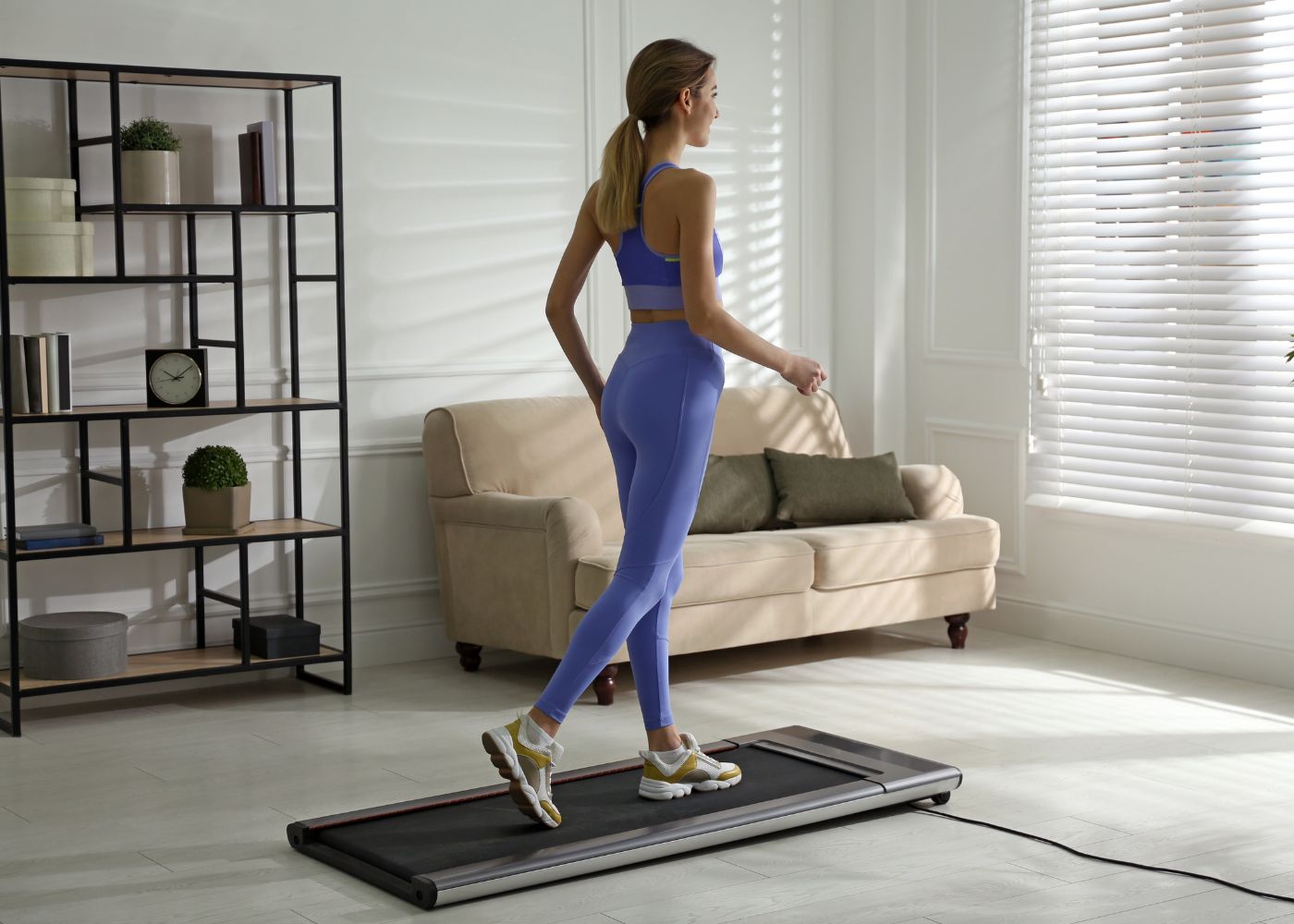 2./ Elliptical Trainers
When it comes to "bang for buck", the elliptical trainer can really help accelerate your fitness results, whilst taking up the same amount of space as a treadmill typically tends to use.
Some health and exercise fitness experts consider elliptical trainers better than traditional treadmills. This is because they can cover most of the features or advantages that a treadmill typically offers. They can be especially helpful with improving cardiovascular health as they help to boost stamina.
Elliptical trainers can also burn calories faster then a treadmill, as they engage the whole upper and lower body in your exercise. They also provide the added benefit of low-impact training that you tend to get when running on a treadmill. This is a great feature to consider if you are looking to lose a bit more weight or have any issues with high-impact training.
Similar to treadmills, there are lots of different models of elliptical trainers. So, consider your own personal fitness needs when choosing the best exercise machine for your home office.
3./ Stationary Bikes
Stationary bikes offer the ultimate low-impact exercise workout. So, similar to an elliptical trainer, this is great for mums who are looking to improve their fitness without the high-impact of running.
You can choose between an upright and a stationary recumbent bike. Both have their advantages and offer lower-impact cardio.
Upright bikes are the best if you aim to stay fit and burn calories faster through demanding exercise challenges. They are best suitable for those who love riding bicycles but can't manage to go outside. They engage more muscles and target your glutes, abs, back, arms, and neck. In addition, it offers a full-body workout.
A recumbent bike can be a good option if you need your body balance or stability considering your safety. It's also less tiring as it doesn't target the whole body and doesn't strain muscles too much.
An added benefit of stationary bikes is they are nice and stable. This means you could read a book or watch TV while you pedal without feeling like you're going to fall off. This is perfect for those busy mums who want to multi-task while they exercise 🙂
4./ Assault Bikes
Ready to take your fitness to the next level?
Assault bikes are another excellent option if you want to consider High-Intensity Interval Training (HIIT) or Tabata Workout.
These are one of the best pieces of equipment for torching more calories in less time. They can also help build some muscles as they add resistance your lower and upper body muscles when exercising. An added benefit is they help to improve your lungs and heart health by increasing your endurance.
There are a few ways to use an assault bike. So, here's a few simple tips to gain the best results:
Maintain proper seating position
Use an equal amount of effort while pulling, pushing, and pedaling
Slightly lean forward while using
Avoid trunk movements
Avoid arms and legs flaring outwards
Try pedaling backwards for an alternative workout
Assault Bikes are an excellent piece of equipment if you're a busy mum looking to increase your fitness in a shorter amount of time.
5./ Rowing Machines
The best thing about rowing machines is they are lightweight and consume less storage space, which is a common concern for most work at home mums. They're also an excellent choice for a full-body workout while maintaining your body balance and stability.
You can successfully perform a short workout on these machines, which is perfect for mums who don't have a lot of time to spare. They help target most body muscles twice the range that cycling and running can cover. A single stroke of these machines can offer the hamstrings, quads, arms, core, and back muscles work.
Some additional benefits of rowing machines include:
Develop arms and legs strength
Improve cardiovascular health
Increase endurance levels
Burn more calories in less time
Offers both high-intensity and low-impact workout
Rowing machines are ideal for exercising at home due to the small storage space required. They are very popular for mums who want to fit in a quick workout in between their busy schedules.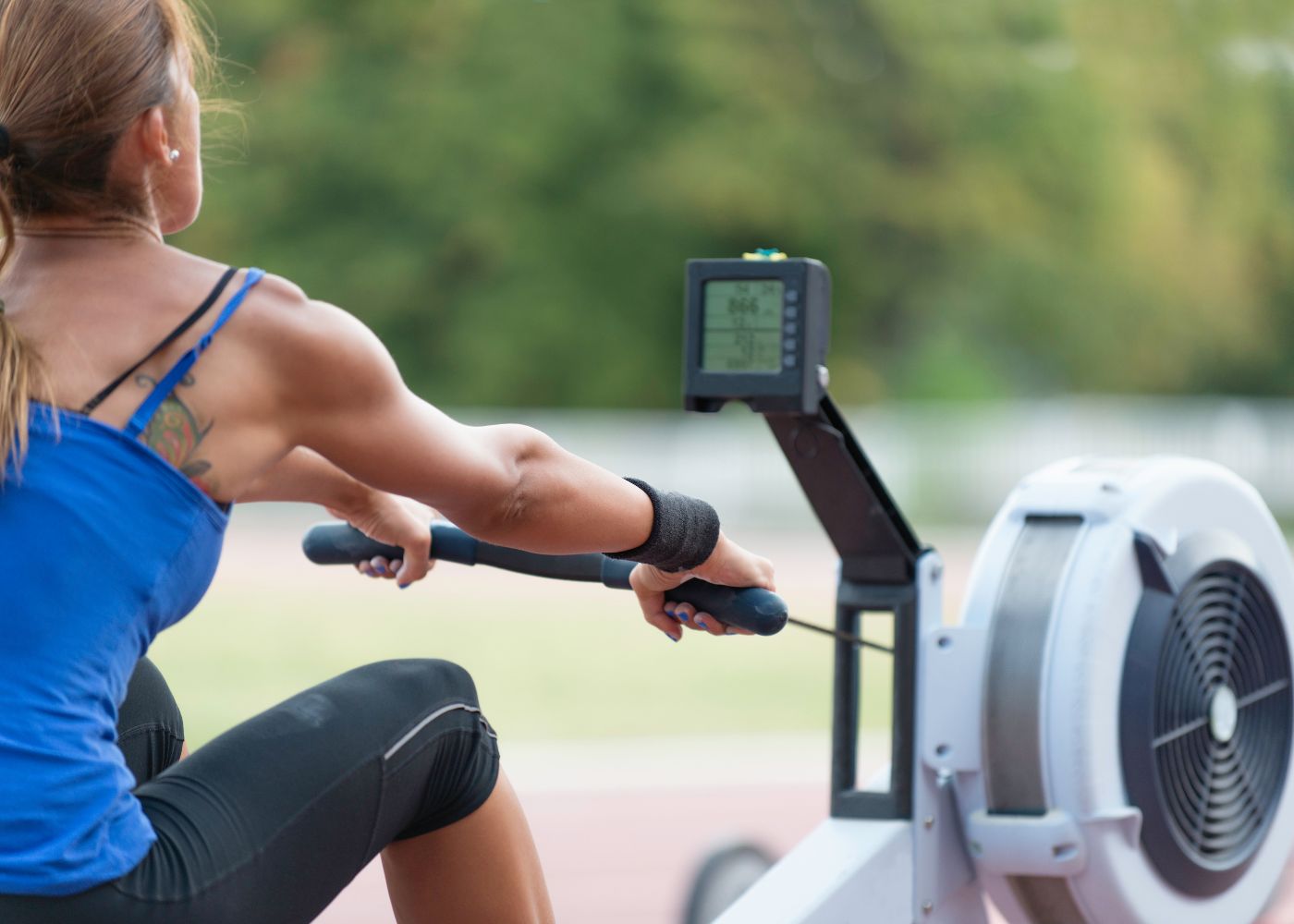 6./ Vibration Machines
Changing pace a little, I wanted to also include vibration machines into the list because they offer a great exercise alternative for busy mums at home.
Vibration machines offer whole-body vibration training, which offers some of the following benefits:
Lowers the stress hormone cortisol and builds strength
It may aid in partial weight loss
Enhances blood flow in the whole body
Fat burning
Flexibility improvement
Reduction in muscle soreness
There are different models of these machines available, so it's best to do your own research to choose the right type for you. But these are an excellent option for mums to incorporate into their daily exercise regime as they typically don't take up a lot of space, and it doesn't take a lot of time to do a workout on this machine (usually 20 minutes for a full body workout).
Which machine offers the best exercise equipment for you?
So, based on this list, I'd love to hear which machine/s you think would be the best fit for your at home workout. Leave a comment and let me know below.
Just remember, maintaining your physical and mental health is really important as a busy mum when you're working from home. So, no matter which type of exercise machine you choose to add to your home, make sure you put regular time aside to work on your personal health and fitness goals. You deserve it 🙂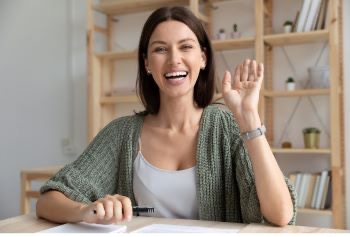 Linda Sloan is a Sports Scientist and Physical fitness trainer who has worked at several Gymnasiums and fitness centres in the city of San Diego. She is passionate about keeping fit and healthy and loves passing on her knowledge to women who are mums trying to juggle bringing up the kids, working, AND keep up an exercise regime.