Too busy to get fit? Here's How To Balance Working From Home And Fitness For Moms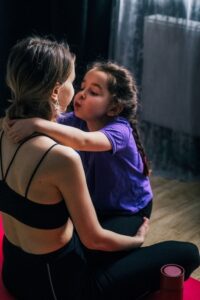 If you are a mom who works from home, you know how hard it is to find the right balance between working on your laptop and working out, especially if you have young kids – oh boy! 🙂
I'm sure you've reached out to other moms to see how they have managed to fit in working, motherhood and training. The good news is that you can do a few things to make sure you're getting the most out of your fitness plan and still have time to work on your business goals.
I am a pro-athlete, and I even find fitting in a workout around team commitments can be tricky! And it's my job to stay fit.
As a personal trainer, I know consistency is the key to keeping fit.
Several of my clients are parents who want to get their workouts in, but they feel like they can't because they're busy working or with their kids.
In this article, I'm giving you an exclusive insight into my top tips for fitness for moms – how to get in a good workout while still getting your work done and juggling the kids. Please do not actually juggle your children! 🙂
Fitness Tip #1 – Set time for your fitness goals
Find 30 minutes to get fit
I know how difficult it can be to find time for fitness, for moms especially. That's why I first tell my clients that it's essential to set aside time for themselves, even if it's just 30 minutes.
Find the right time to work on your fitness
It can be early in the morning before the kids wake up, during nap time, or after they go to bed. But fitness isn't just about going to the gym or going for a run. It's about making small changes in your everyday life, like taking the stairs instead of the elevator or parking further away from the store.
Every minute counts towards being fit and strong
Every little bit counts, and by making fitness a priority, you're setting an excellent example for your kids and making yourself a priority. And that's something we all deserve.
Fitness Tip #2 – Choose an exercise plan that you enjoy
Find exercise activities you enjoy
When it comes to fitness, for moms and busy people, it is crucial to find an activity that you enjoy and can see yourself regularly doing. For some people, that might be running, while for others, it could be biking, swimming, yoga, high-intensity interval training (HIIT) or lifting weights.
"The important thing is to find something that gets you moving and that you can stick with over the long haul."
Keep exercise simple
I love running because it's a great way to clear my head and get fresh air. It also takes minimal preparation, and I can set off from home – no travel required. The same goes for walking. But I know that not everyone feels the same way, so I always tell people to find an activity they enjoy and can commit to.
Exercise with a friend
Exercising with a friend may help keep you accountable, whether on a walk around the block or meeting at the gym. It is a great way to build up your fitness and work on your friendship.
Build exercise into your routine
Fitness is all about finding what works for you and making it a part of your routine. That's how you make lasting changes and see actual results.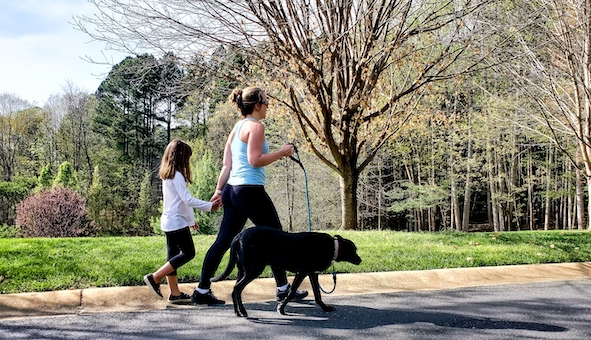 Fitness Tip #3 – Join your first class at a mom-friendly gym
Find a gym with childcare
I get it; the last thing you want to do is leave your kids at childcare so you can go work out.
But what if I told you there was a way to work out and bring your kids with you? No, I'm not talking about a stroller fitness class (although those are great too!). I'm talking about gyms specifically designed for moms, with on-site childcare so you can get your workout in without having to worry about your little ones.
Some of my favorite mom-friendly gyms are Orangetheory Fitness and CrossFit. They both offer great fitness sessions that will push you to your limits, and many have on-site childcare so you can bring your kids with you.
Look for fitness options that include children
And if you're not ready to commit to a gym membership, there are plenty of other options too. You can find mom and baby yoga classes, stroller fitness classes, and even online workouts you can do at home with your kids. Once they are old enough to participate, you will be demonstrating a healthy lifestyle.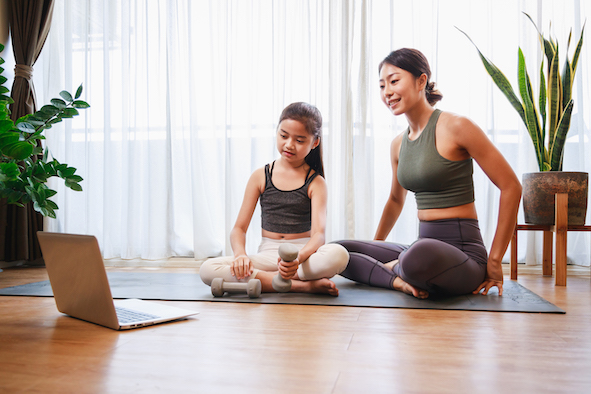 Fitness Tip #4 – Get an effective workout using High-Intensity Interval Training
HIIT – an efficient workout for moms and quick to do
I'm a big fan of HIIT workouts for moms because they are a great way to get a quick and efficient workout in. They are an excellent option for fitness for moms. And let's face it, as a mom, you probably don't have much time to spare.
HIIT stands for high-intensity interval training, a type of workout that alternates between periods of high-intensity activity and lower-intensity activity or rest. For example, you might do a minute of sprinting followed by a minute of walking and then repeat that for 10 minutes.
HIIT – efficient and effective
HIIT sessions are great because they are very efficient and can be done in a short amount of time, and they give you more options than some other more rigid or gym-based workout plans.
HIIT – simple and accessible
The best part is, you don't need any special equipment to do them. All you need is a pair of sneakers and a good attitude, and if you work from home, there is no need to go anywhere special for your workout.
If you're interested in trying HIIT, there are plenty of great workouts available online. Just make sure to warm up before you start and cool down afterwards.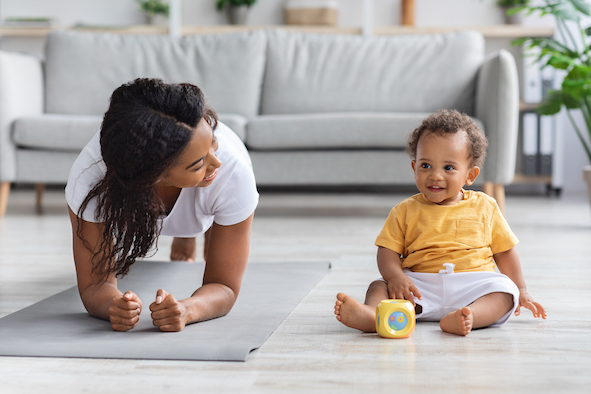 Fitness Tip #5 – Postpartum workouts – the best time for moms to start exercising
Exercise gently postpartum
It is crucial that you don't jump into a workout program straight away and that you ease into it gradually. Your body has been through a lot and needs time to recover.
I typically recommend starting with some light walking. Then you can progress to more intense workouts like running, HIIT, or lifting weights as your body starts to feel stronger. Always follow your doctor's advice.
Listen to your body
It is important to note that you must ease into working out after a natural birth. And that is especially the case after a c-section which will mean a lot slower return to your exercise regime. It is important to listen to your body – it is already under a lot of stress – and not push yourself too hard. If something hurts, stop.
…listen to your body…if it hurts, stop…
Find workouts designed for postpartum moms
Postpartum workouts are a great way to ease back into exercise after having a baby. Check with your doctor before starting to exercise. There are plenty of programs available online, and in many cases, you can even do them at home with your baby.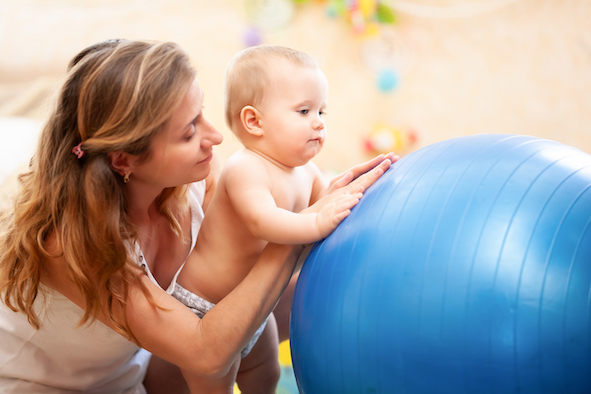 Fitness Tip #6 – The best way to make fitness a priority is to get the whole family involved
Make moving a family thing
One of the best ways for moms to make fitness an unmissable part of their day is to involve the whole family. Family activities help keep your body moving and stick with your workout routine. It will be a great bonding experience for everyone involved.
Try a variety of activities
There are plenty of activities that the families can do together, like going for walks or bike rides, playing tag in the park, or even taking a dance class together.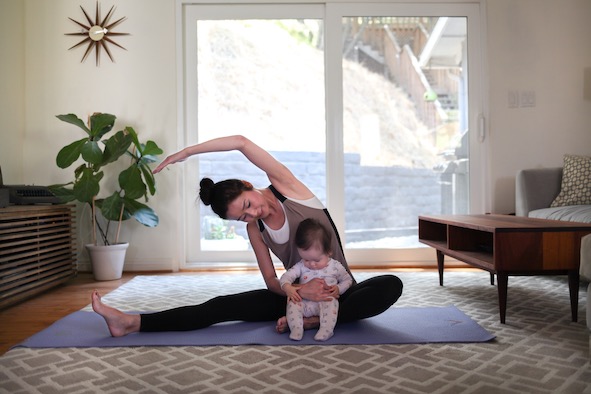 Fitness Tip #7 – The best workouts for a cash-strapped young mom
Minimal exercise equipment and low-cost activities
The best workouts for cash-strapped, young moms can be done at home, with minimal equipment, and don't require much time. That's why I love bodyweight exercises and HIIT programs. They are quick, efficient, and can be done anywhere.
Use your bodyweight and interval training
Some of my favorite bodyweight exercises are squats, lunges, push-ups, sit-ups, and planks. And there are endless ways to mix up HIIT workouts to keep them interesting. You can do HIIT workouts with your body weight, dumbbells, or even household items like a milk jug or a laundry basket.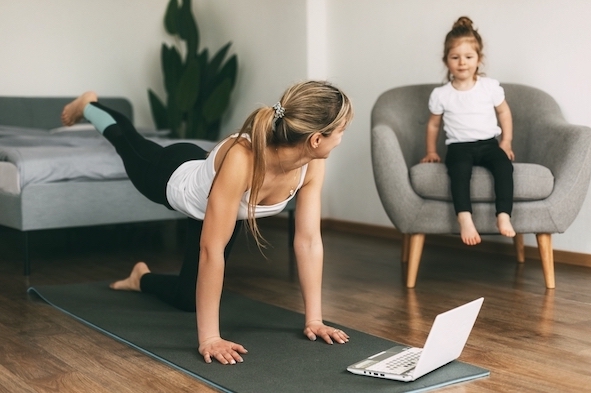 Some final thoughts to help improve fitness for moms
Keep exercise light and fun
Every mom or mommy has a lot of responsibilities. It can be tough to find time to fit in a workout, prioritise a healthy diet, and get enough sleep – whether working from home or not. So go easy and make it fun. You'll feel better with exercise and even better if it isn't a chore.
Keep exercise efficient and cost-effective
That's why HIIT workouts are a great option – they are quick and efficient and can be done anywhere. And the best part is that you don't need any special equipment or training to do them. Start with light walking and work your way up to more intense workouts like HIIT or lifting weights.
Pay attention to your body
Don't forget to listen to your body. Remember, if something hurts, stop.
Run your own race
Keeping fit as a mom is not a competition. It's about developing strength and stamina to keep up with the kids, feeling healthy, and doing something for fun. The most important thing is that you find workouts or activities that you enjoy and that work for you at your pace.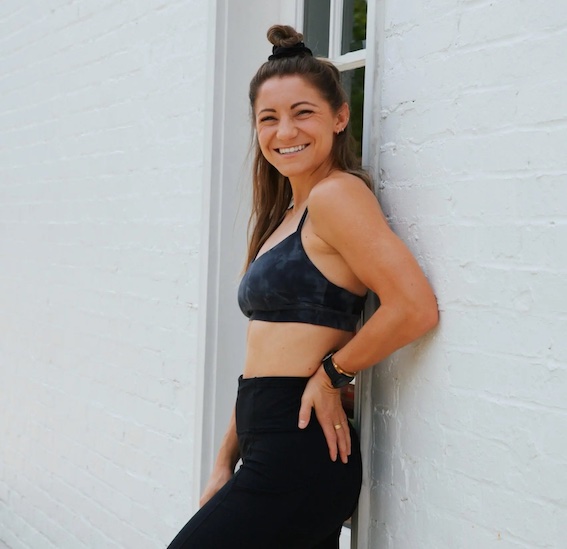 I'm Rylee Baisden, owner and founder of RyleeBaisden.com and Sweat Happy – an online fitness, health and wellbeing community. I'm a professional soccer player and a certified National Academy of Sports Medicine (NASM) personal trainer. Work at home moms can achieve their peak physical fitness, improve their overall wellbeing and maximise their health through the power of exercise, encouragement, and a positive attitude! I love what I do and I'm excited to share my experience and knowledge with you.