Home Office Setup: Top 10 Tips to Work from Home Like a Pro
We've all been there.  You decide to take the plunge and start an online business to work from home.  As the excitement and adrenalin run through your veins, you get started on the business right away without any thought to your home office setup.  In this article we're going to explain why your home office is critical and give you 10 tips to get the setup right.
Why Home Office Setup Is Critical
For a home office business, and as a work at home mum, technical skills are rarely the problem.  The key to success or failure is the soft stuff – confidence, motivation, organization, etc.  How you set up your home office, believe it or not, directly impacts these attributes.
A proper home office setup is critical because it:
Keeps you organized and reduces stress
"For every minute spent organizing, an hour is earned."   -Anonymous
If you spend half your time looking for stuff, or worse, inadvertently toss important documents, you will lose motivation.  Putting some thought in your home office setup will help you get organized and reduce anxiety, frustration, and overall stress.
Helps you gain confidence
Let's face it; when you began your journey as a work at home mum, part of you wondered whether working from home would make you happy or whether you'd make it.  Do I have what it takes to be successful?  Having the proper home office setup will help you gain confidence and overcome these internal objections.  There's only so much bandwidth in your brain; remove the self-doubt and you'll be happier and more optimistic.
Helps you be more productive
Improved home office setup will help you become more productive because you will be better focused on the important tasks at hand and have more energy to run your business and juggle home commitments.
Enhances your motivation
When you take the time to think through something, create a plan and see it realized, you increase your motivation.  This is important as a work at home mum to help keep you going and realize your full potential.
Top 10 Home Office Setup Tips
When you decide to take the plunge and work at home to support your family, you must overcome many challenges.  It sounds great at first, but the picnic period is short, and the fact that your home space is now your everything space sinks in.  You must learn to work at home effectively, and it all begins with your home office setup.
Before getting started, it would serve you well to review the basics of interior design.  You don't have to be Martha Stewart to set up your office, but it helps to know what's possible and the types of things you should consider.
Tip 1:  Conduct a thorough assessment and make a list of requirements
When considering your home office setup, you must first take stock of what you have and what you need.  Consider what's essential to achieve your business and home activities.  Even if you don't have a budget to buy or redo anything at the moment, make the list and keep it so you're aware of your goals for the future.
As an example, my business is research and development and designing online courses.  For that, I need space to store reference books and an area to record videos.  I also needed storage to accommodate files and other important papers.
Initially, I did not have enough space in my home office to record videos, so I had to choose another part of the house for that.  Since I was aware of the setup, I could plan my activities and work with the space accordingly.  Eventually, I was able to remodel my home office and extend the space slightly to accommodate a studio.
When you begin the list, create two columns.  Name the first column "What I Need" and label the second column "What I Have".  In the first column, brainstorm everything you'd like to accomplish in your office and anything you need to achieve those tasks.  In the second column, write down everything you currently have in your home office.  If you don't already have a home office, write down any furniture or articles around the house you can use for your office.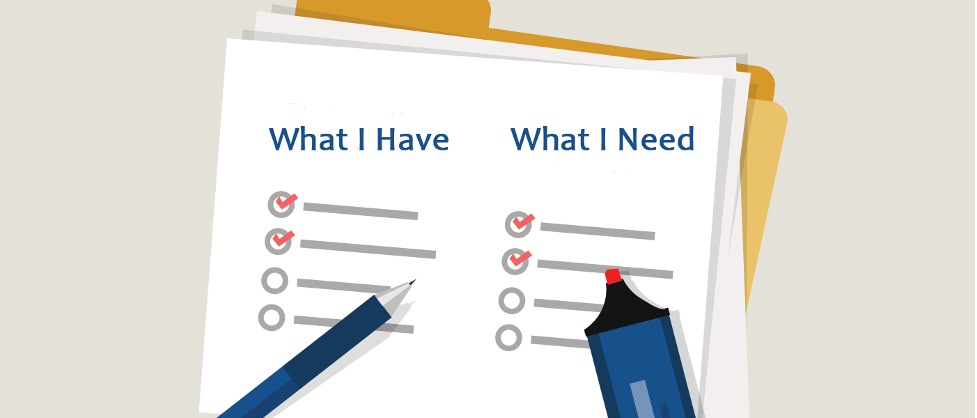 Once you've completed both columns, match the items in the first columns to the items in the second, and identify any gaps or missing items (i.e., items from the first column that don't have a match in the second).   Use the list to plan your home office setup and office décor.
Tip 2: Consider the Type and Location of Your Desk
Your desk or workstation is typically the focal point of your office.  It is a symbol of your new lifestyle as a work at home mum, and lots of activity will originate there.  It is important to pay special attention to your desk when considering your home office setup.
If you don't already have a desk or must replace your current one, choose a desk or workstation that's ergonomic and will allow you to be as productive as possible.
The optimum location of your desk varies among the experts, but the consensus is that your desk should be diagonal from the entrance and in a corner facing the door.  This is a power position and allows you to keep tabs on the rest of the room.  Keep your desk away from the door.  If not possible to be in a corner, place your desk in the center or left-hand side against a solid wall.
Tip 3:  Carefully Consider the Location of Other Office Furniture
To achieve optimum productivity, you want a layout that is organized and makes use of current space, accommodates your work style, and is aesthetically pleasing.  Once you've placed your desk, organize your other home office furniture around the desk.  Only include pieces that are absolutely necessary, as determined from your list in Tip 1.
Here are some tips for furniture placement:
Place bookcases so you can see them when you enter the room (not behind the door). You should be able to see the bookshelf from your desk.
Place credenzas close to your desk, as you'll likely be needing items from the credenza as you work.
Tip 4:  Make sure you have enough light
The most frustrating thing is to work in your home office without enough light.  When using natural light, avoid glare by making sure the source is in front of your work area.  You will need artificial light as well, as natural lighting may be too bright or too not during some parts of the day.
If possible, choose lighting sources that are adjustable, so you can increase or decrease the lighting as needed.
Tip 5:  Go Green!
Your home office setup should include plants not only for decorative purposes, but also for health benefits.  Plants provide oxygen and can help purify the air.  It has been shown that plants reduce stress levels and elevate your mood.  So, splurge on a few plants to enhance your workspace.
Tip 6:  Invest in Good Internet Service
Let's face it; everything is accomplished over the internet these days, and you'll need good internet service if you plan to work from home.  In addition, many families are cutting the cable cord and moving to streaming services for home entertainment and networking, thereby increasing the load on your home internet.
My business was completely dependent on the internet, so I went to the extreme measure of having two internet services in my home – one for my home office setup, and one for everything else.  It also provided a backup in case one service went down.  By the way, this need was identified by the list I created in Tip 1.
Tip 7:  Invest in a Good Chair
If you have to spend money on your home office setup, spend it on a good chair.  After all, you'll be using it for several hours in the day.  Choose an ergonomic chair which helps promote proper posture and reduces back pain.
If you're using a laptop, consider getting a laptop stand to raise your laptop to eye level. You'll need to adjust the stand together with your chair so that you're forced to sit straight and are not hunching over.
Tip 8:  Invest in a Good Printer
You may think that all of your records will be digital, but you will inevitably need a good printer as a work at home mum.  Get one that not only prints but also copies.  Also, make sure the printer is wireless, and you can print from any device like your iPad or phone.  Whether it's a child's homework assignment or record of payment to a vendor, you'll use your printer often, so get a good one now.
Tip 9:  Keep a box for receipts
As a work at home mum, some of your expenses may be tax deductible, and having receipts is important.  Eventually, you'll need to set up an accounting system, but at first, keeping receipts is critical not only for tax implications, but also to analyze the profit and loss of your business later.
Also, be sure to keep business and family receipts separate.  Create two boxes if necessary.  You'll want to do the same with files and other documentation.  Trust me, you'll be glad you began this practice early.
Tip 10:  Get Creative with Storage
As a work at home mum with a growing family, adequate storage can make your life easier.  Whether it's a box under your desk or a credenza repurposed as a file cabinet, you'll need space to include important documents and files.
Take a trip to your local dollar shop and look for crates, decorative boxes (or boxes you can decorate), wire baskets, or anything that can be used for storage.
You can also:
Install floating shelves or bookcases
Use a whiteboard or pegboard to declutter your desk
Conclusion
Work at home mums are super mums – baby on right hip, phone propped on left shoulder, knees slightly bent while the left-hand pokes through a file drawer to find an important document.
As a work at home mum, you will no doubt need a home office to keep organized and facilitate your business.  Home office setup will become critical to keep you productive and keep focused on the most critical tasks to keep home and business in harmony.
Your home office will likely become grand central to keep the family organized and take care of schedules, babysitters, school activities, play dates, etc.
There's also your business to consider or the employer to whom you report.  How you set up your home office is critical to keep all these in balance and help you be productive, happy, motivated, and confident.  The success of your business depends on these attributes, so use the 10 tips described above and get busy!

Connie Maldonado is an entrepreneur and business executive with a passion for helping others achieve their goals.  Whether via education or blog posts, she spends a lot of time mentoring and sponsoring others.  She's a mum to kids of the 4-legged variety which require just as much love and dedication.  She runs several sites including https://homeofficedesignstore.com/ which offers advice and tips to design your home office and work from home.