How To Grow Your Work At Home Mum Business Quicker
For most work at home mums, Facebook is the go-to platform for showcasing and promoting their business. While that is awesome, getting a quality website in addition to social media is the right way to go if you want to give your business a quick and long lasting boost.
But does expanding your work at home business begin and end with just quality website design?
As a superWAHM, you definitely want to grow your online business. But not at the expense of the benefits you enjoy as a work at home mumpreneur.
Four Smart Steps To Quickly Grow Your Work At Home Business Online 
In this post, I have put together four brilliant ways to expand your work at home mum business.
The effective combination of quality website design and these strategies will see your home-based business go through the roof.
1. Get a website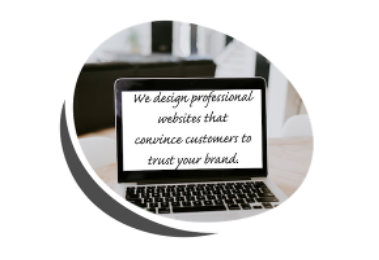 Today, word of mouth and just a Facebook page doesn't cut it. If you are serious about making more money online, you need a professionally designed website to showcase your business. A user-friendly website that is designed with your clients in mind, easy to navigate, and allows for quick access to information. One that is built with the best web design practices, super intuitive, and aesthetically pleasing.
Several studies have shown that you can't reach all of your target audience on Facebook. Also, all the limitations and guidelines imposed on Facebook business pages take away the freedom of representing your business as you would on your website. A good website design exposes your work at home mum business to several opportunities for success. You can make more money from motivated clients outside your family and friends circle and deliver a more satisfying experience for each customer.
With a good business website, you can now represent your brand without restrictions, meet clients outside of Facebook, provide better answers to questions and relate directly with your customers.
2. Drive traffic to your website with SEO
You see, one of the benefits of getting high quality website design for your work at home mum business is Quality Search Engine Optimisation. SEO puts your small business directly in front of qualified prospects.
By getting your keywords, content and links plus other SEO ranking factors right, your website can rank high on Google i.e. getting your website to appear on or near to the first page when someone searches Google for a product or service provided by your Work At Home Mum business. Higher Google rankings equals more traffic, more views and more conversions to your products or services.
Think of SEO as the marketing tool that continues where word of mouth ends. Its organic, long-term nature makes it the best way to expand your work at home mum business.
3. Maximize social media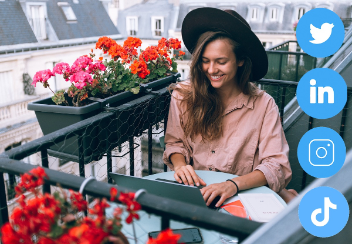 How are you using social media? Asides from Facebook, what other social media platforms do you actively use? Are you aware that you can use Twitter, Instagram, LinkedIn, and Tiktok to expand your work at home business quickly?
These platforms are home to billions of users, making them wonderful channels for promoting any kind of business. But because they serve different audiences, you need to find out where your ideal customer spends the most time. Then you can position your business for visibility and growth.
If you run a service-based business like a virtual assistant, writing, or web design, you can use Twitter and LinkedIn to meet and connect with businesses who need your services. For product-based businesses, use Instagram and TikTok to increase visibility and drive sales. Social media makes it easy for local and international clients to find your business.
All you need to do is show up every day, create quality content, engage with your audience and show your work. The more visibility your work at home business can get on social media, the more clients and sales you will make. And now, the best part about this is you can redirect most of the traffic to your website.
4. Expand your product or service offerings to solve more problems for your customers
This is a sure-fire way to expand your business, increase customer retention, and become an authority in your niche. Finding ways to solve more problems for your customers will make you more money without taking on more clients.
For instance, if you provide virtual assistance to companies, learn how to, and offer to manage their social media accounts. This way, your clients do not have to hire a separate social media manager. You can take on the two very related roles and increase your earnings.
If you provide graphic design services for branding/visual identity, increase your offering by including designs for marketing/advertorial purposes. Likewise, if you sell products, you can target complementary markets, i.e., offer products that serve other markets that are closely related to your primary market, e.g., teen girls and their mums. This way, you can increase sales with existing customers, become a reliable solution and grow your business.
Conclusion 
Growing your work at home business quickly is key to increasing sales and reaching your business goals. While it may seem like a hassle, it can be a walk in the park if approached correctly. Start by getting a high quality website in addition to the social media platforms you already use and then scale it up from there.
Rest assured that there is a large pool of customers that you can tap into and drive your business into realms of success.

Leonie is a retired primary school teacher specialising in computer education & mumpreneur to her fur baby.  After leaving full time employment, Leonie now splits her time between daily walks with her dog, her new website design business SSGC online, reading, playing bridge & line dancing.