How Good Web Design Makes More Money For Mompreneurs
As a midwife, my work has always been about helping and supporting mums. My role is to support families and increase women's confidence and belief in themselves.
Thinking ahead I know shift work, the pay and raising children is going to be a difficult juggling act so I wanted to set myself up with an alternative. Ideally a business where I could work from home and choose my own hours.
I leapt into building websites and creating my own digital web agency.
I never guessed that through designing and building websites for small business that I would continue to help women and promote families. Now as both a midwife and professional website designer I have been able to help mothers work from home, balance family life and turn their business dreams into a reality.
Through providing dynamic and professional websites, local mums and women have been able to successfully transition to working from home just like me.
A website is an asset to any business including home businesses. Here's how a website helps me, and my stay at home mum clients.
Good Small Business Website Design Helps the Transition Online
2020 has brought unexpected financial hardship and change for everyone. The isolation and shut down could not be predicted by anyone. Many people have lost their jobs, small businesses have had to close their door with no guarantee of re-opening and many streams of income have been cancelled.
The key to surviving the unpredictable economic times is to transition online. Small businesses have needed to shift to online store fronts and be able to transact online.
Many 'work at home mums' who gain an extra income through market stores and farmer market sales have had to re-think how they sell their products. As face to face sales are in shut down, the only way to sell currently is online through a small business website.
Good web design is the foundation of making a successful transition to earning money at home online.
Starting an Online Business can be foreign and scary territory for many with a small business, but if I as a part-time midwife can learn and create a great web design agency I know mums working from home definitely can.
What's The Best Advertising for a Small Business: Social media vs Business Website?
Most small side business endeavors struggle at promoting themselves past communicating to friends and family. There is the difficulty between trying to offer 'mates' rates' and earn an income.
Most small businesses and business startups will use social media to begin with for advertising and reaching customers. Facebook is seen as a free and easy option to promote small business services.
For many startup businesses, advertising on Facebook encounters the all too common cheeky friend asking for a significant discount. Too many discounts for friends and it can be difficult to earn the finances to grow.
The key to increasing income to a side business is to reach customers outside of your social circle. A website can help reach local clients searching for your service. A professional website can find relevant, motivated customers seeking your services outside of your friendship and family circles.
A website can help a business to grow by reaching more local customers who are searching online. Unlike a business social media account, a website is an asset.
How a Custom Website Can Increase Customers and Revenue
When people are seeking a service, they will use search engines like google to find a business. A well ranking website will be found by more customers seeking your products and services. The more customers that can find your business online, the more potential leads to convert to a sale.
How to Increase a Website's Search Engine Ranking to Increase Customers
The easier a website is to find online, the easier customers will find your business, products and services. A website that ranks highly in google for common relevant searched terms will be seen by more customers and present authority in that specific niche. Ranking a business website in google relies on thorough SEO elements throughout the web design. SEO stands for search engine optimisation and relates to how google ranks your website.
SEO Keywords and Research
SEO Content Writing
SEO Keyword and Research
A key to increase the ranking of your business website is through SEO keyword research and identify common search terms for your niche.
For a website to increase sales it is important that a website rates for key search terms your customers type into the search engine to find your business. Research into your customers and how they are searching to find your services is critical to setting up your website to be found.
Some customers may not know your specific job or product title and search the problems they need fixing. So when google is searching for a website to suggest for customer's problems the google bots should be able to see that your service answers their queries.
SEO Content Writing
Once you identify common problems, questions and search terms people ask google to find your business your website must include them.
Show google and other search engines that you answer your customers questions and problems to rank your website higher.
When designing websites and providing SEO Services for my clients, engaging and interesting SEO content is key to improving website rankings.
Starting A Business From Home Transformed With Good Web Design!
Websites are amazing for work at home mums as they change the shop front to a virtual platform. Customers can browse your services and products without needing to pay for the retail space and associated bills.
Instead of attending Sunday markets to sell local products, customers can browse, order and buy 24/7 without relying on store opening hours.
For services provided at home, a website helps customers to find you. At home businesses can not benefit from customer 'walk ins.' Instead, with a business website customers can stumble upon your business when searching online.
So I highly recommend you promote your new home business and increase sales by creating an online store with a professional website.
Clever Web Design Tips to Increase Sales
Just as when individuals walk into a store the salesperson finds out their needs and helps them to find what they are looking for; your website design must guide and help customers.
When customers land on your website homepage, they must be able to find what they are looking for easily without a person there to help. Therefore, your website layout design must guide customers to buy or contact.
Website Layout Ideas
Display your top services and products on the homepage
Contact details easy to find and phone number clearly display
Direct customers with CLEAR buttons and links to products or contact details
Ensure customers can easily see who you are and what service/products you provide
Create a good user experience.
Help To Set Up A Website
Working from home will allow you family life balance, to choose your own working hours and increase your autonomy for your working life. A stunning professionally designed website can help you work from home, increase business sales and increase customers.
Transitioning to an online home business can be scary. That is why it is important to focus on your end goals and your reasons why you are pursuing with your business. So, stay motivated as it can be done and there is help available.
Good luck with your transition online and enjoy the at home work life!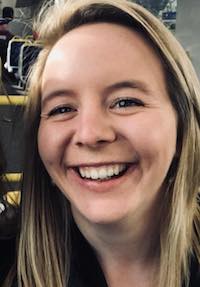 Sasha is a part-time midwife and digital marketer, and is the founder of Local Websites That Work in Gippsland. She is passionate about helping local businesses connect with their ideal audience and creating quality responsive websites for new mompreneurs interested in growing their home based business.