How To Build A Website For Your Home Based Business
Updated Aug 2021
Build an Effective Website For Your New Home Based Business
Being the awesome mompreneur that you are, chances are you already have the entrepreneurial flare to create your own home based business. Or at the very least, you have an idea of something you'd like to embark on to bring your personal passion to life.
As a leading Melbourne Website Designer, we've spoken to many Work at Home moms along the way, helping them to bring their passion to life online. And through it all, we've learnt a tip or two to help make that journey a little less overwhelming – and quite frankly, turn it into a fun experience!
Have you ever thought about owning a website for your own business? Or perhaps you already have a website, but it's not quite serving its purpose and bringing you the targeted visitors you need? Never fear! We have some handy tips to start getting you to think about the purpose of your website and how it can best serve your customers.
Now let's get one thing clear – you don't have to build the website yourself (phew!). But even when you engage with a web developer, you want to be able to express what it is you want your website to portray, and the look and feel it needs to have to make an impact on your target audience.
Over the next two articles we will give you our Top 6 Tips on what you need to consider for your website, and how to help it stand out from your competition.
Ok awesome mompreneurs – let's go!
Top 3 Tips For How To Build a Website That's Effective
Tip #1 – Your Website Should Have Clear Purpose and Intention
Be clear about what makes your product or service different to your competitors. Do you have an edge or offer anything unique from other small businesses in your niche?
Most likely your business would have some form of mission statement. What's a mission statement you ask? It's just a fancy way of saying what your business' goals and intentions are. Essentially – think about what problem you are trying to solve for you customers? Be clear about this, and make sure its expressed on your website.
Next, what's unique about you and your business? When clients are searching the marketplace, trying to find who can solve their particular problem best, how can you do that better from your competition down the road?
Essentially – why should they choose YOU? Be genuine about this – if you offer something unique or different from your competitor, it's one thing to tell people about this, but also make sure you deliver!
Tip #2 – Include Your Story on Your Website – People want to know about You!
Whilst there's a lot of great ways to market your home based business, when you look at how to build a website – one of the simplest things you can do is incorporate your personal story.
How did your business start, and where did you get the idea for your business from? Think about how you'd tell the story of your business or idea to your friends – I bet it's an interesting one!
To help give your website a personal touch – be sure you tell people your story. We don't want to know all the D&M of your life story – just some golden highlights that tells us the journey towards your new-found business.
The idea is to allow people to get you know who you are, and what your business stands for. When a customer feels they know you, this helps their level of trust that your business CAN actually help solve their problem.
At the end of the day, a well laid out website should help clients get to know you and your business better. By giving that personal touch, they already feel they know you and would want to do business with you.
Tip #3 – Use Your Website to Educate and Inform Your Customers
A website is no longer just a business card for people to find you. Your site should be informative and answer potential questions that your customers might have about your services or the products that you offer.
Customers already have a lot of choices to make each and every day in their busy lives. The last thing they would want is to make a lot of different decisions when visiting your website too! So, make sure that the choices you do provide on your website are limited, and very clear to understand.
Each page that you include in your website should be easy to read and navigate through. It should be clear for your visitor to see what they are meant to do when they visit your site.
And of course – the information that you do add to your website should provide easy-to-read information that assists them to make an informed decision on why they should choose your business, product or service.
As part of our business Website Design Services, we always ensure each page on our clients' websites have a clear purpose and action for their visitors.
Do you feel confident on how to build a website for your home business?
So there you are – 3 top tips to get you thinking and taking action now to start putting together your new (or renovated) website. Do you feel a little bit more confident about how you will build a website for your home business that will be a bit more effective, and convert more customers?
Now we've given you some juicy gold to get started with….Stay tuned for our next article that brings this all together. We want to show you how to take your website to the next level by helping you create that ultimate competitive website.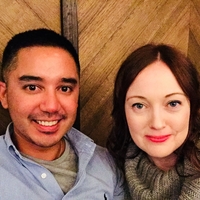 Calem & Jenn are award winning digital marketers, and are the founders of Elevate Websites in Melbourne. They are passionate about helping local businesses connect with their ideal audience, and personally mentor entrepreneurs in growing their home based business.