Top 5 Work From Home Business Ideas
Not just another spun article about working from home, this Top 5 Work From Home Business Ideas List is created from real world experience and may surprise you!
I know that there are lots of articles supposedly ranking the best work from home business ideas, but in this post I wanted to give you some real insights into the types of businesses we have seen that truly give the owner a work from home lifestyle as well as bringing in the bucks to support it!
Matt and I have seen a wide range of businesses and work from home business ideas over our years as business brokers – from big to small, in a whole range of industries. Some made their owners huge cash-flow and allowed them to work very few hours, others enslaved their owners to the point where they were actually going backwards – so instead of being paid for all their hard work, some owners were actually paying to be working 7 days a week and missing out on their family time.
This sounds insane, but it happens more often that you might think – especially to women. I have noticed over the years that most women are very good at keeping their eye on the ball, multitasking, and picking up the slack where others might let it fall.
They end up doing far more work than they get paid for, because they want to do a good job and they are so capable that they do the work of two or three people.
Just think about being a working Mum – I know in Australia that research has shown that women still do the majority of the housework – even though many of them also work full time jobs (or run businesses).
I've gone off on a tangent, but this is an important part of having a business at home or when considering the best work from home business ideas – making sure that you DON'T WORK TOO HARD!!
Anyway, many mums want to have the luxury of being able to stay at home with their children as they grow, and also have the time and energy to enjoy time with their partner as well. Isn't that what being a SuperWAHM is all about??
So here it is, the Top 5 Work From Home Business Ideas List – these are the businesses run from home that we found gave the best lifestyle while allowing the owner to work from home, work low hours AND make great money:
Number 5: Work From Home Service Business
Think hairdressing or beauty therapy, or natural health. Especially if you are already qualified, this is a good way to get some income coming in from loyal regular clients. One such home based business we sold had added an extra spin by offering mobile hairdressing for aged care facilities. This meant she had set working hours within school times, she could do many cuts all in one go, and once she finished for the day she could just concentrate on her family.
It doesn't cost much to get the approvals for your own home salon in most areas (you do need to check with your local council of course), and only a small investment in renovating a room of your house (usually the garage) to have the necessary equipment. The successful home businesses of this type that we have seen have always been run by a work at home mom who is a great net-worker and knows how to make people feel welcome and cared for in her work at home environment.
The negative of these home businesses though was that you are very tied in to working the hours – if you don't work, you don't get paid! So lets take a look at some better (in my opinion) work from home business ideas…
Number 4: Small Home-Based Wholesaling Business
The advantage of these kind of home businesses is that you only have to deal with a limited number of customers or products to be able to make a good income, and you don't have to work the long hours of a standard retail business. We sold one small wholesaler that imported just one product, had it shipped in from overseas to a warehouse that wasn't even in the city where he lived, and distributed to his customers from there (so there was virtually no work involved from him!). He ran that business from home on a mobile phone, with 2 days a week work time – and it made him over $200,000 profit every year!
Of course many people do a similar thing these days by importing products and selling through ebay. We had another client who sold just one simple but high-ticket priced office product on ebay – it was about $1,000 sale, and he made over $100,000 a year from that one simple product. Not a bad lifestyle and income for someone who wants to work from home.
The secret to success with these home businesses is finding the right products and industry – the best way to do that is to start looking at other successful work from home businesses – check the "business for sale" listings on sites like http://www.seekbusiness.com.au, or find products that are selling well in other states or countries and bring them in to your own.
Number 3: Small Home-Based Manufacturing Business
We owned a couple of businesses like this that we successfully ran from home. The advantage again here is that you aren't tied to working long hours to make your money – in fact in one of our businesses we only worked 6 months of the year because the product was seasonal and we were able to systemise our business so well. Now that was a great lifestyle!
We have sold a whole range of small manufacturing businesses, some of the easiest to run were ones where the actual manufacture was outsourced and the owner just did some packaging or assembly. One lady had come up with the idea of making chocolate flower bouquets – her home based business was growing very quickly. Another supplied the lids for the small jars that a big supplier of spices needed. Another packaged up plastic coat-hangers and sold them to large department chains. And another supplied the lids for the tops of yoghurt containers. All excellent work from home business ideas, that are easy businesses to sell later down the track when you want to exit your business.
Important note: all these businesses were actually run from home with limited time needed from the owner, because they were smart and had other companies do the manufacture for them.
Number 2: Information Marketing Business
Now this has become a very popular choice for work at home moms and definitely ranks in the top two work from home business ideas because it can give you great ongoing income with very little work required after the initial set-up phase. By information marketing, I mean creating websites that sell information and help for people – SuperWAHM is an example of this – providing specialised information and knowledge as an online course or business coaching.
One of the ways this is done is through blogging – sharing your knowledge with your readers and either selling an information product or business coaching program, or having advertisers pay you to  advertise on your site. If you read my last post, you will know that Yaro Starak is a great example of this. He makes a high 6 figure income from his blog, and one of the ways he does that is by helping other people learn how to make money from blogging too! (Yaro has also bought and sold websites like us and this is why we got him to speak at one of our website investment summits – you can read about his experience of speaking to our community members about selling websites here.
Number 1: One Of Our Favorite Work From Home Business Ideas:
Buying Money-Making Websites and Building Your Web-Business Portfolio.
I admit I am rather biased with this one because this is what I love doing. Out of every business we have owned or sold, I have found this one creates the best, most leveraged income with surprisingly little work time, and very little stress too, and most importantly allows me to work from home as my full-time occupation.
The reason we buy "up-and-running" sites is because it saves us a lot of time, effort and money. They are already proven money-making machines, and we just add some little improvements so that they make even more.
We ALWAYS choose sites that take very little or no time to run, and we ALWAYS pick ones that we understand.
The great thing with this method is that once you have "tweaked" the site's income, there is often little more to do than watch the money roll in.
When you choose a work from home business, you must consider the pressures that it will put on you, not just the time it will take. So that is why we always choose websites that are easy to understand and run.
If you would like more information about what we do and how we buy websites, check out our blog at MattandLizRaad.com, and join us on facebook at Facebook.com/mattandlizraad
So that's my Top 5 List of Work From Home Business Ideas, feel free to comment and add your thoughts below!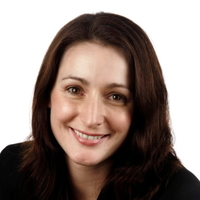 Liz Raad is a successful online entrepreneur and educator who's expertise is buying and selling websites and teaching women how to do the same. She is also the co-founder of the eBusiness Institute Australia, a private training organisation that provides digital marketing courses designed specifically for those who want to re-train for the digital future or earn income independently.