How to Set Up Your Home Office With An Electric Standing Desk
The covid-19 pandemic has certainly transformed the very fabric of our life – health, security, comfort, and utility. In fact, the pandemic has had such a profound impact on our daily lives that it has inspired innovation as individuals and as a society and even for us Super WAHMS!
Now more than ever, we are devising creative ways to improve our lives, our business, and our productivity. And there is no better way to do this than with an updated and well-equipped home office.
With the increasing trend of people wanting to work from home, including work at home mums AND work from home dads, it is now more important than ever to invest in a home office that gives you not only the space and functionality you need but also one that can help improve your health and productivity.
Whether you are a working from home mum who needs to be in touch with clients and collaborators or a freelancer who wants to be in the loop on new projects, an updated home office is a must.
And what could be more perfect than a standing desk?
With this innovative and intuitive desk solution, you can finally have the functionality and health benefits of an ergonomic working environment without compromising on style or space.
To assist you in creating the perfect home office, below we discuss the unrivaled benefits of an electric standing desk, its many features, and how to set one up for best results.
What Is an Electric Standing Desk?
For those who want to add an innovative twist to their office space, a sit-stand desk is an answer. Bringing you the best of both worlds – aesthetics and comfort – this innovative solution lets you take your workstation up off the ground and onto an elevated surface that makes you feel energized and refreshed.
Further boasting a sleek and modern design, an electric standing desk is not only a functional workstation but also adds a much-needed sense of personalization, commitment to better health, productivity.
And with the many benefits that a standing desk brings to the table, it is no wonder why more and more people are investing in this innovative solution.
So, if you are looking for a stylish, functional, and ergonomic workstation that will help you be more productive and healthier, a standup desk is definitely the ultimate answer.
And if you are still not convinced, let's discuss some of the key features that make a standing work desk the perfect choice for your home office.
5 Key Features of an Electric Standing Desk
A Wide Range of Adjustability
Let's face it – not everyone's the same, and your workspace needs to be flexible enough to accommodate your individual needs.
From the height of your desk to the angle of your chair, there is a wide range of settings that can be customized to suit your unique workspace requirements.
And though this necessary flexibility is often ignored in commercial space, it is something that can be easily integrated into the home office.
A Home office adjustable standing desk, thanks to its intrinsic ability to adapt to users' height, provides the perfect platform for a personalized and productively efficient workspace.
Durable Structure
When it comes to your home office, you want to invest in a solution that is built to last. After all, you are investing a significant chunk of your hard-earned money into this workspace, and you want to ensure that it will withstand the daily wear and tear.
A Standing work desk is made with the same robust construction as its stationary counterparts, with the base of the desks made from steel and the frame assembled using high-quality aluminum components.
This ensures that your home office desk will last you for years to come, as well as ensuring that it will be sturdy enough to support the weight of your computer, printer, documents, expensive wooden tops (who doesn't like some good old-fashioned oak?) and every other imaginable piece of equipment you can think of.
Versatile and Convenient
With a flexible design, a standing desk is an excellent choice for anyone who wants to improve their health and stay productive at the same time.
Not only is it convenient and comfortable in a sense you can adjust it to any desired height, but it is also versatile enough to allow you to use your desk for a wide range of other tasks as well.
From typing to gaming, from sketching to crafting, there are numerous ways in which you can utilize your adjustable standing workstation.
Some models even come with an innate ability to tilt to give you that unique angle to sketch or just flow with your creativity.
This versatility also extends to the overall design, with many models boasting multiple cable management options, color options, sizing, and so on.
Promotes a Healthy Work Environment in Your Home
Home office life has its share of drawbacks, and one of the most consistent problems is constant sitting. If you are someone who works from home, the chances are that you are sitting in an office chair for up to eight hours a day.
This sedentary lifestyle can take a toll on your health, both mental and physical, and can have a negative impact on your productivity as well.
However, with the help of a high desk, you can break away from this sedentary lifestyle and give yourself a healthier alternative. By providing you with the ability to adjust the height of your screen, an electric standing desk allows you to work while standing up.
This, in turn, promotes an active way of working, which we hardly get to experience in usual office setups. In fact, numerous studies have found that sitting for prolonged periods of time can, over time, lead to chronic health problems.
These include back problems, premature aging, poor blood circulation, and obesity, among others. With a home standing desk, you can elevate all these issues and keep yourself in tip-top shape.
Space-Saving Bonanza For WAHM's!
One of the major drawbacks of a traditional office setup is the lack of space. If you are someone who is dealing with limited living space, like many typical WAHM's, it can be difficult to set up a traditional office in your home.
But thanks to the space-saving design of a sit-stand desk for the office you can finally have the perfect ergonomic setup in your own home.
Not only is it easy to set up, but it also allows you to free up valuable space in your home. This gives you not only more breathing room but also a sense of freedom that you never thought possible.
The 5 Major Benefits of Investing in an Electric Standing Desk
Benefit #1. Enhances Focus and Productivity
It is no secret that productivity is directly proportional to our overall health and well-being. When we are in an active and fit state, we tend to work better.
We are also more energetic and alert. On the other hand, when we are lethargic and exhausted, our productivity goes down, and we are more forgetful and unfocused.
An electric standing desk gives you an elevated platform that actively encourages you to stand for long hours. This not only boosts your blood circulation but also improves your posture, which in turn enhances your focus.
And if this wasn't enough, a stand up desk for your home office also gives you the freedom and mobility to move around, reaching across your desk to plug in your laptop or grab that document you need.
With a standing desk, you can increase your productivity levels without risking your back health.
Benefit #2. Improves Posture
For those Work At Home Mums (WAHMS') with desk jobs, the conventional sitting posture can result in a number of problems, from chronic back and neck pain to muscle and joint injuries.
However, with an uplift desk, you can say goodbye to back and neck pain, as the desk encourages you to stand and work, improving your overall posture.
It empowers you with the freedom and flexibility to move around without putting stress on your muscles and joints.
An adjustable office desk also eliminates the need for unnecessary sitting postures, such as hunching, slouching, and leaning, which further improves your health and productivity.
Ergonomically designed and sleek in structure, a sit-stand computer desk offers the ultimate comfort without any of the discomforts.
Benefit #3. Help Improve Your Mood and Energy Levels
These days, we all seem to be tired, stressed, and fatigued. Especially for us work at home moms, in addition to working we still need to raise the kids. It can be exhausting being a WAHM!
With the increasing workload, long working hours, and never-ending stress to deliver, our energy levels are going down, and our moods are on the downswing.
Now more than ever, we need a cure for our lethargy. And what better way than an electric standing desk?
The best height adjustable table helps you burn the extra calories while also improving your posture and mood. It boosts your blood circulation and oxygen supply, which in turn helps you stay energized and focused.
In fact, one study suggests that individuals working on standing desks experience less stress and increased vigor.
Benefit #4. May Lower Your Risk of Heart Disease
There are numerous studies that suggest that sitting down for long hours can increase your risk of obesity, high cholesterol, diabetes, and cardiovascular diseases.
But thanks to an adjustable standing desk, now you can keep your body active, blood circulation high, and your heart in good shape while still enjoying the comfort and convenience of the personalized workstation.
Benefit # 5. Lowers Risk of Type 2 Diabetes
With the rise in obesity and sedentary lifestyle, diabetes has become a major health concern. But with an electric standing table, you can now work in a healthy way while still lowering your risk of developing this disease.
Not only does standing up help increase your metabolism and burn more calories, but it also helps improve insulin sensitivity, which helps regulate blood sugar levels.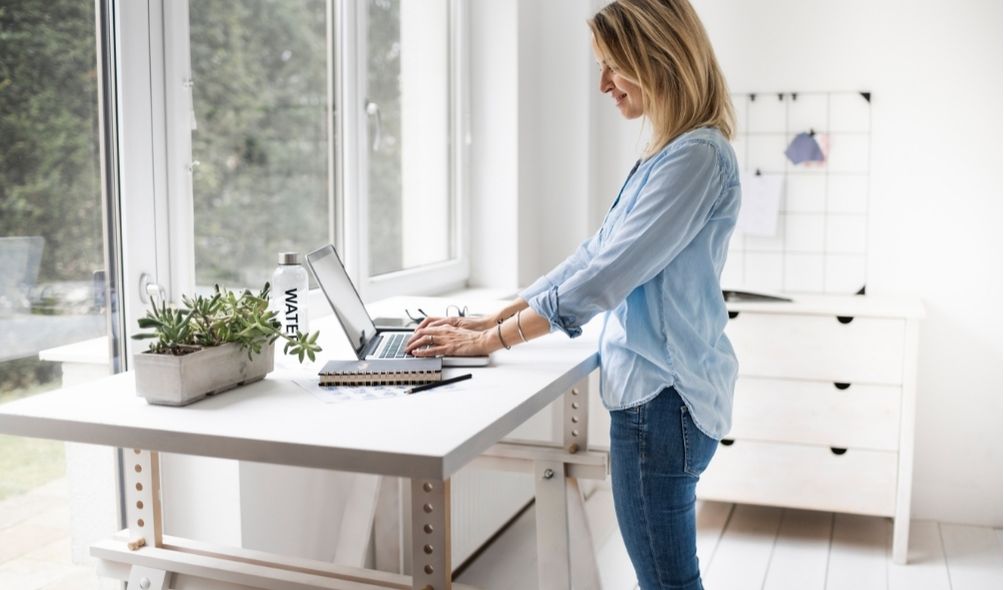 4 Tips on How to Setup A Perfect Home Office with Electric Standing Desk
Now that we have established what a standing desk is, its many features, and benefits, let's take a look at how to set one up. These desks are a revolutionary way to work in your home office, as they bring you the comfort and functionality of an elevated workstation.
Additionally, home office standing desks are known for being stylish and adding a lot of personalization to your office. However, they can be quite tricky to set up, so we're here to help.
Follow these expert tips and tricks for setting up your standing table for an efficient workstation, and you'll be sitting pretty in no time.
Tip 1. Plan Your Budget
Electric standing desks come in all shapes and sizes. The more functionality you want to include, the more it will cost. And while it's always fun to have an infinite budget, be realistic when assessing how much you're willing to spend.
If you plan on including features such as a monitor arm, keyboard tray, or other upgrades, your budget will increase considerably.
And let's not forget about the tops and the shelving, which will need to be a good fit for your desk so that you can have your papers and other files at hand. So, when deciding on the features that you want to include, keep your budget in mind.
Tip 2. Lighting
Lighting can make or break the entire appearance of your office. Not only does it make your room feel more open and spacious, but it also adds a professional touch to your space that you'll be proud to share with your clients.
Apart from the natural light, there are also plenty of desk lamps and task lighting options that come in a variety of styles and sizes. So, find out what kind of lighting you need and go for it.
If you are a professional involved in creative endeavors, LEDs and CFLs are some of the best options for illuminating your space with a fancy or bright ambiance. If you are, however, more of a casual entrepreneur or someone with a sharp focus on their professional career, then something subtle yet stylish will work best for you.
We recommend you go for something sleek and minimalist, like a ceiling lamp or pendant light. As with all things, there are tons of options, but as long as you pick something that flatters your space and doesn't feel too much, you'll be good to go.
Tip 3. Organize Your Home Office!
If you haven't already done so, it's time to clean up the clutter and make your home office feel more organized. While you're at it, also add some storage space by buying a bookcase, cupboard, or other storage units.
Having a clean, clutter-free workstation will allow you to focus on what matters: your work.
After all, how productive can you be if you're constantly struggling to find a place to put your things?
Another thing that's important to organize is your desktop. If you want to keep your workstation neat and tidy, then it's important to have a proper arrangement of your computer accessories.
Tip 4. Hide the Wires
Some people are aesthetically impaired when it comes to office decor, and some simply like things to be a little chaotic. However, the wires that power your computer, speakers, and other office gadgets are an eyesore.
So, hide them as much as possible to give your office a more polished look.
If there are any cables running from the ceiling, route them through the back of your desk and hide them behind it. The objective is simple – less clutter so you can focus on your work.
Conclusion
As you can see, the benefits of an electric standing desk are numerous.
Not only does it offer a convenient, functional, and stylish setup for your home office, but it also helps promote a healthy and active work environment and provides you with the perfect platform to focus on your work.
And at the end of the day, that is what we all want to achieve as we work from the comfort of our home.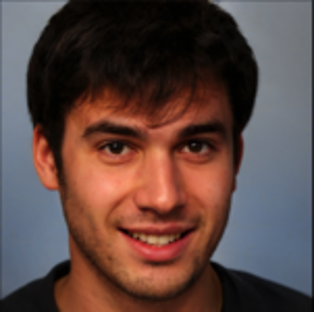 Alex Comorovic is a full time work from home dad with 2 beautiful children. He is the co-founder of Standingtabledesk, which offers the objective of making your work-from-home routine more healthy and less strenuous.  Alex made it his mission to help other solopreneurs with setting up their home office perfectly and effortlessly.