The Advantages of Your Own Domain Name
One of the worst mistakes a new business owner can make is to use a hosted blog for their business site.  Hosting can be quite cheap, if you use a site such as Hostgator (as I do) you can have unlimited sites under the one hosting plan.
There are three main reasons for having your site or blog self-hosted rather than using a free platform such as Blogger, WordPress, Typepad, Free-Web etc.
1.    Search Engine rankings. When you have your own website every hit on your website increases your rating on search engines.  If your site is hosted on a free platform, they receive the increase in ratings.  The higher your rating on the search engines, the more they will pick up your site.  If you're giving away your website hits to a free platform they are the one's being noticed and indexed by search engines, not your business.
2.    Emails. Having an email address [email protected] looks far more professional than a free service email.  Gmail is possibly the only exception to this; however I would argue that an email address from your own site is still more professional than gmail.  A bonus of having your own site's email is that when you email someone they can find your site url from your email.  (Although you have a link in your email sig already, don't you!)
3.    It looks more professional to have your own domain.  Why use a free platform?  Is it because your business isn't bringing in enough to pay $8 a year for the domain and $10 per month for hosting?  Using a free platform can raise questions in the visitors minds about the professionalism and authenticity of the business.  Is this a hobby or a real business?
If you love the ease of using a blogging service for your website, have a look at WordPress.
WordPress.org (different to wordpress.com) is an absolute treasure for small businesses to be able to get online and update a website easily.  You can download the WordPress blogging software and install it on your own domain.  In fact, most hosting companies offer instant installation of all the major blogging software onto your own domain.  I prefer WordPress because of it's ease of use and the huge functionality that you can achieve from installing plugins and widgets.  And as a bonus you can import your free blog onto your new domain, so you keep all your previous work!
If you need some help setting up a blogsite, Sandra de Freitas (TechCoach) has written a great book called "Does This Blogsite Make my Wallet Look Fat".  Easy to understand, step by step directions for installing and optimising a blogsite.
Free hosting, particularly on blogsites, are a great way to get started and have some practice with getting out into the world wide web.  As your business grows and develops though, it's to your advantage to register your own domain and move your site over to it.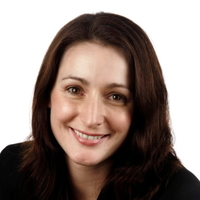 Liz Raad is a successful online entrepreneur and educator who's expertise is buying and selling websites and teaching women how to do the same. She is also the co-founder of the eBusiness Institute Australia, a private training organisation that provides digital marketing courses designed specifically for those who want to re-train for the digital future or earn income independently.