Advice for New Moms: How to Navigate Breast Pumping While You Work From Home
Are you a work-from-home mom who is also breastfeeding? I get it – balancing work and being a new mom can be a challenge. But it can be done, and you can feel successful both at work and when caring for your little one.
So, to help you out, I want to provide you with some valuable advice to help you maintain your physical and mental well-being while raising your new baby. I'll also share some tips on how to manage your busy day when working from home.
By taking these simple steps in each area, you'll have a much better chance of looking after yourself while providing an optimal environment for your baby's growth.
My Top Advice for New Moms on Breast Pumping While Working
Tip #1 – Set Up a Designated Workspace
My first advice for new moms is to set up a designated work area, which will help you get into the right mental headspace and improve your productivity.
In addition, have your breast pump accessories close by on a table. Get them ready ahead of time to reduce the set-up time while working at home. Ensure your pump is fully charged and the parts are cleaned and ready for use.
Tip #2 – Get Yourself Organized, Set a Pumping Schedule
You need to be your own advocate when it comes to regular pumping or nursing breaks. Setting yourself a pumping schedule will help you be more intentional with your time during the day.
Try to schedule your pumping sessions during meetings. This will help save you time. Make sure you angle your camera appropriately to remain discreet and choose a quiet breast pump.  You can also cover the motor with a blanket to help reduce the noise of the pump.
Tip #3 – Invest in a Hands-Free Electric Pump
Having a hands-free pump offers flexibility while working at home. This will give you the ability to pump and work at the same time.
Be sure to get yourself a hands-free pumping bra so your flanges are secured appropriately while pumping. This will save you time and can help improve productivity while working at home.
Tip #4 – Communicate with Your Employer
Be sure to speak to your employer and come up with a plan regarding breastfeeding around your work schedule. According to the Fair Labor Standards Act (FLSA) in the USA, employers are required to provide breaks for pumping.
Employers cannot discriminate against employees who breast feed or pump. So, even though you're working from home, talk to your employer about your needs as a new mom and what options are available to allow for flexible work hours while keeping up with your parenting responsibilities.
Tip #5 – Be Flexible in your Work Schedule
You don't have to be restricted to 9-5 schedule. Plan a schedule that works for you and your baby and communicate that to your employer. You may need to stretch out your work hours to accommodate your child's extra needs and attention.
Tip #6 – Ask for Help
This is one advice for new moms that shouldn't be overlooked. Consider getting help from family.
As a new work from home mom, it can be daunting trying to work everything out yourself. Be sure to reach out to family. Most are generally more than happy to help out. You can also look at getting a babysitter to mind your baby and offer you some respite while you work at home.
Having someone to help you can give you the time and space you need to focus on your work without worrying about your baby's needs.
Tip #7 – Have a Plan to Navigate Breast Feeding While Traveling for Work
Whenever you are traveling for work, squeeze in a pumping session before you leave for the airport. You can also travel with breast milk and pump on the go. By doing this, you will have one less thing to worry about while navigating all your luggage and baby through the airport.
Otherwise, do some preparation beforehand and research for the locations of parents room so you are not frantically searching for one at the airport. Having a plan in place and using the best bottles for breastfed babies will help to reduce unnecessary stress when traveling with your little one.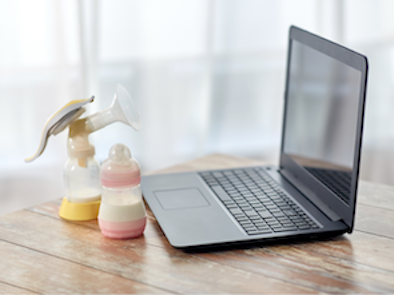 Top FAQs for Breast Pumping while Working at Home
How Often Should I Be Pumping While Working at Home?
The frequency at which you should pump while working from home depends on a few factors, such as:
Your baby's feeding schedule
Your milk supply
And how long you will be away from your baby.
A general guideline is to aim for pumping sessions that are spaced approximately 2-3 hours apart during your workday. For example, if you work an 8-hour day, you may want to plan for three pumping sessions during that time. However, some women may need to pump more frequently to maintain their milk supply, while others may be able to pump less often.
It's important to pay attention to your body's cues and your milk output to determine what works best for you. If you feel uncomfortable or engorged between pumping sessions, you may need to increase the frequency of your pumping.
On the other hand, if you are consistently pumping more milk than your baby needs, you may be able to pump less often.
How Can I Maintain Milk Supply While Working from Home?
Try to stick to a consistent schedule, pumping regularly to maintain your milk supply.
You can also consider power pumping if you're struggling to maintain your milk supply. This is when you pump for shorter periods of time but more frequently, which can help increase milk production.
Ensure you consume a balanced diet with plenty of protein, fruits and vegetables. This can help support your milk supply.
How Do I Store My Breast Milk?
After pumping, you can use breastmilk storage bags to store your breastmilk. Make sure you label the bags with the date and time the milk was expressed.
Store your milk in the refrigerator or in freezer after expressing.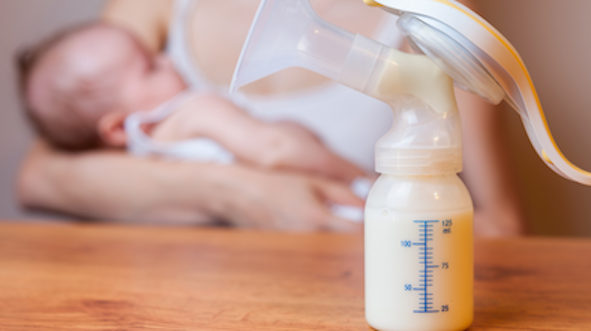 Are you Ready to Conquer Breast Pumping While Working at Home?
Overall, it is possible to care for your baby and work at home.  It takes some planning, organization and some flexibility.
By establishing a routine, setting up a designated workspace, having a support system in place, and remaining flexible, you can successfully balance the demands of work and motherhood while also providing your baby with the important benefits of breast milk.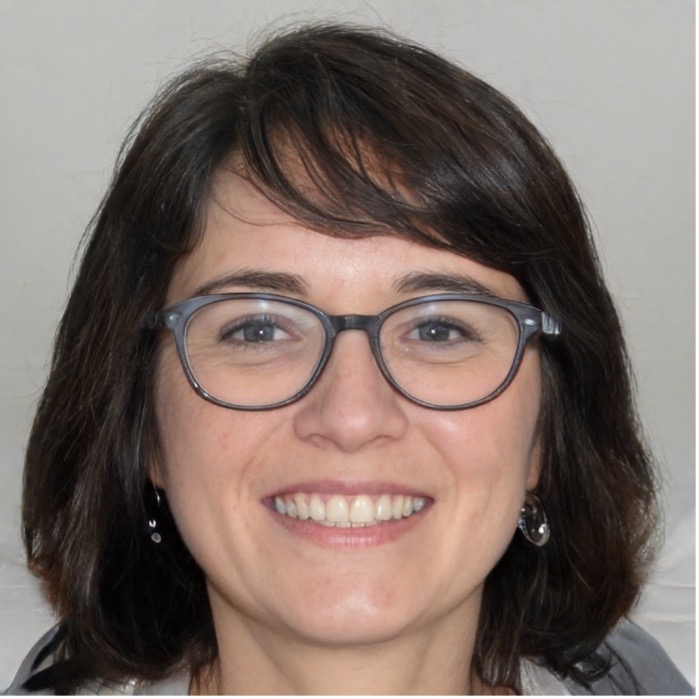 Jamie Leema is a mother of 3 and has a passion in healthy living and sustainability. She is all about making conscious choices, living in the now, staying healthy and adopting sustainable practices to reduce impact on our world. With this in mind, Jamie started her blog to share information she's passionate about in pregnancy, motherhood and baby gear that makes life easier for mums.