Avoid These 7 Mistakes When Creating A Home Office For Small Spaces
Thinking of setting up a home office, but don't have much space to work with? These tips will help you to create a beautiful office, even in a small space…
One of the biggest mistakes when working from home is not dedicating a space to work where you can focus and quickly pick up where you left off. Many of us aren't lucky enough to have a spare room to have a dedicated study so this article takes a look at creating a home office for small spaces and mistakes to avoid.
Common Mistakes when Creating a Home Office for Small Spaces
Mistake #1 – Too Much Clutter
A cluttered messy desk is the number one mistake for small home office set ups, check out this article on home office desk organizational ideas for 100 tips on organisation, productivity and design.
Mistake #2 – Poor lighting
Good lighting is not only important to prevent eye strain but also improves focus and productivity. If you're working in a room with dull lighting, supplement with a good desk light.
If you've set up in an alternative space like the basement or attic with no natural light, hang a couple of large mirrors to help give the feeling of openness and bounce light around the space.
Mistake #3 – Choosing the wrong desk for the space.
Putting a full-size desk into a living room is going to get in the way and encourage clutter to pile up.
Choose a minimalist desk that it just big enough for your essentials. Most people don't need big executive desks with all the drawers and shelving because all their documents and resources are stored online.
Mistake #4 – Placing your monitor in front of a window
While it's great to have natural lighting and a view to look out to, having your monitor set up in front of a window can actually cause too much glare and reflect light from your desktop.
If possible, it's better to position your desk and monitor so you have gentle indirect light in your space or install sheer curtains to soften the light.
Mistake #5 – Working from the couch instead of setting up a dedicated office space
Not only is this bad for your neck and back, but there are also too many distractions in the lounge room.
Mistake #6 – Forgetting the background for conference calls
Keep in mind that when you dial into a video call that your clients will see what's in the background. Can you setup your desk on a wall that faces away from the piles of laundry waiting to be folded?
Mistake #7 – Using a dining chair or stool rather than an ergonomic office chair
Buying a quality office chair is always a good investment, an alternative to this is purchasing a portable lumbar support unit. These can be attached to any chair to give your back the support it needs.
How Do You Make a Home Office in a Small Space?
Here's some simple things to consider when you're trying to create a home office in a small space.
Choosing the Space
Home offices don't need to take up an entire room, there are many alternative small areas of the home going unused that can be converted to a home office.
Thanks to technology we no longer need big filing cabinets or bulky computers. Look at the areas of the home that tend to collect clutter; is the hallway wide enough for a slim built-in desk?
Do you have an open space under the stairs? Read on for more examples under Spaces to Create a Small Home Office.
Select the Right Desk for the Space
Finding space for a desk is usually the first challenge but there are also a range of desks that fold away so the space can be used for other purposes while you're not working. Jump ahead to Alternative Desks for Small Home Offices to see some examples.
Storage for Small Home Office Space
Make use of vertical space by installing shelves above the desk or having drawers tucked under the desktop. If you're working in a multipurpose area like the dining room table, a portable trolley can be really useful to quickly put away cords, chargers and notebooks and wheel out of sight.
Alternative Desks for Small Home Offices
One of the key tips when designing a home office for small spaces is to choose a desk that works well in the room. Here are some desk alternatives you might want to consider:
Slim Wall Mounted Desk
A thin, long bench-top bracketed to the wall is a good option when creating a home office in a multipurpose room. Narrow desktops are usually at least 61cm deep to allow for a monitor and keyboard but if you're working with a laptop this can be narrower.
Another option for narrow desks is to install a keyboard shelf on roller tracks that slides away under the desktop when not in use.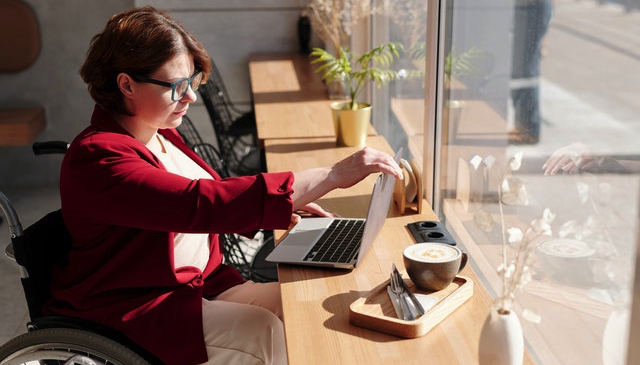 Home Office in a Fold Away Cabinet
For multifunctional spaces consider a fold away desk that is built into a cabinet. These handy fold up desks convert into a box mounted on the wall and hide away clutter when the desk isn't being used.
Custom Desk for Nooks and Unusual Shaped Spaces
If you have a nook or unusual shaped space in the home, take advantage of it with a customized built-in desk.
In the image below the bay window area is an unusual shape so getting a bench cut and installed to perfectly fit the space makes the most use out of the area.
Shelf with extendable desk
Desks that fold out or extend are great space savers. This shelving unit with a built-in desk can easily fit into a lounge, dining room or bedroom.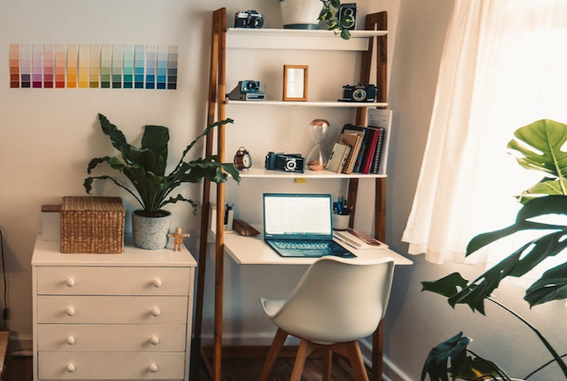 Spaces to Create a Small Home Office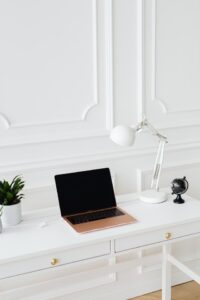 Think outside the box when finding a place to set up a home office for small spaces.
Look at the areas that are unused or spaces that tend to collect clutter. This could be a room that could be converted to an office space such as the attic, basement or garage.
When space is tight, a small office can be set up in a shared space such as a kitchen nook, spare bedroom built in robe or under a stair way. Here's some other places you can consider:
Attic
Hallway
Basement conversion. Here's some of our recent Basement Office Ideas
Kitchen nook
Closet conversion. E.g. use the spare bedroom built in robe
Under the stairs
Using A Home Office Trolley for a Multi-Function Space
If you can't designate a space for an office desk the best alternative is usually the dining room table or the kitchen bench. And many of us WAHMs are guilty of working from the couch to the detriment of our backs and necks! 
When using the dining table or kitchen bench for working from home, a good tip is to have a crate or trolley that your notebook, mouse, pen, and chargers can be collected up together. That way, when you need to put aside work to make dinner then easily find everything to set back up when you're ready.
Another option when space is limited is to get some fresh air and set up an outdoor office space.
Are you ready to set up your new home office?
When setting up a home office for small spaces make sure to consider all unused spaces in the house, choose the best desk for the area and have good storage set up from the start.
There are many alternative spaces in the house for a small home office when you don't have a spare room such as the attic, hallways, converting built in closets and under the stairs.
When there just isn't anywhere in the house to fit an office desk, dedicate a small portable trolley or crate for your office equipment so you can easily get set up at the kitchen bench, dining table or an outside location.
Jane Sanders is a full-time home renovator, decorator and a proud mum of 4 kids. She is passionate about helping other mums renovate their family homes into a space they love to live in. So, she created a leading home décor design blog to help guide others in their home renovation journey.