How To Start Your Own Business As A Pet Photographer
Are you interested in how to become a pet photographer? If you are a stay-at-home mom, you might be looking for a side hustle that not only pays well but also allows you to work from home.
As an animal lover with a creative streak, starting a pet photography business might just be the answer 🙂
Dog photography (or cats if you're a cat person!) can put a smile on your face. But it takes more than just the right equipment and practice to build a safe and successful photography business. Not to mention capturing the essence of someone's favourite furbaby.
So, what do you need to do if you want to become a successful and trusted professional?
As an expert pet photographer, I want to share a few key tips on how you can successfully plan your new side hustle.
But first – what's the most important talent a professional animal photographer needs?
No, it's not creativity…
Or even photography skills…
And it's not even marketing skills…
Or sharing professional images on social media…
Those are all important of course. But the most important skill is a thorough understanding of how animals behave and what their triggers are. So that you are all safe and ready when that perfect forever memory moment arrives.
4 Top Tips To Become A Successful Pet Photographer
Tip #1 – Be an expert at understanding animal behaviour
The most important thing is that all adorable creatures (whether four-legged, two-legged, winged or even scaly) stay safe during the photography session. The same is true when you're delivering your amazing dog photography (or cat or bird…or tortoise or snake…) artwork.
It's critically important that you have a detailed conversation with the huParents (that's pet owners in huSpeak!) about their precious furbabies prior to their session. They know every quirk of their gorgeous family member. But you don't.
You need to know if flashes, or sudden noises or wearing a particular item of clothing is likely to startle them – making it unsafe for both them and you.
You and your client can work through the do's and don'ts for their pets. And having a thorough understanding of cat or dog psychology will make all the difference.
That way you can plan a pet photography session that will be safe and stress-free.
If you have an animal trainer or veterinary practice background, this can be a great starting point!
Tip #2 – Choose a safe and convenient photography studio
It's all about controlling the environment. While it might be enticing to choose a dog park or beach for the professional animal photography session, there will be so many distractions for a creature whose ability to smell is a thousand times better than ours.
That's why the top pet photographers focus on studio sessions. Find a studio with great parking nearby and where there as few distractions as possible inside.
Renting a temporary space in a larger studio is fine. But you really need to make sure that your clients are kept separate from other photographers' clients. And space out your appointments to avoid overlap.
Remember, this is a new and potentially overwhelming environment for an animal. Set each session up to suit the BFFFs based on your prior conversation with their huMoms and huDads. And allow enough time in the session for your pet to become familiar and comfortable with the space. But not so long that it becomes tiring.
Always let the furbaby approach you first, and let you know in their way that they trust you and are ready to start. This is where your 'animal whisperer' skills come to the fore! That way everything is kept calm and easy, and you don't have to worry about any unexpected and unwanted incidents.
Tip #3 – Be a skilled photographer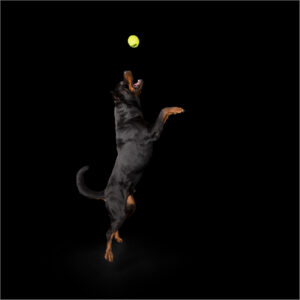 Phew! Finally – a mention of actual photography! There is so much to think about before the first camera click in your pet photo shoot. It goes without saying that you should be great at your photography craft.
You may only have a split second when your aniModel is ready to cooperate. And you need to be ready. Having a thorough knowledge, and also suitable equipment that can capture that perfect moment, even if it lasts a split second is essential. That's what will make your photographic art stand out from the crowd.
And now to the creative part. With everything else taken care of, now it's time to focus on the creative part of animal art photography. You want to bring out the best in your clients' BFFFs.
Inviting the huParents to bring along some favourite toys or props can really help their furry friend's personality shine through. Watching a puppy frolic with a favourite soft toy can be delightful.
And if your furry client is willing, you may also be able to introduce a few of your own studio props. Always remembering that it's about comfort and stress-free first. No dressing up a dog, just because their huParent thinks it might be fun.
Tip #4 – Think about the whole pet photography experience
Having amazing animal artwork is a wonderful addition to a home, and often becomes a precious memory of a strong bond. What kind of artwork, whether cat photography or a dog portrait – will you produce – a beautiful canvas? A coffee table book?
This can be a substantial investment for the huParents. So, think about how you can make the reveal a special experience too. Think about giving a 'sneak peek' at the artwork that can be shared by your delighted client on social media.
How are you going to build excitement right from the moment someone gets in touch with you, to when they receive the beautiful artwork? And so that they remember with fondness the whole experience every time they glance at that forever pet portrait of their BFFF on the wall?
This amazing experience is what will keep the word of mouth recommendations flowing for you as an accomplished pet photographer.
Ready to Get Started as a Pet Photographer?
These are a few of the most important points you should keep in mind if you want to become a pet photographer:
A knowledge of animal behaviour
A safe place for the pet photography session
Great photography skills
Ability to create a safe and enjoyable experience for furry friends and their humans
There is so much pleasure in creating furrever memories through your animal art photography. If you have the right skills and approach, you can really stand out from the crowd.
There will be some lumps and bumps along the way, but with a solid foundation, you can provide a safe and enjoyable service for your clients and their furry friends. One that they will remember forever. Consider investing in what you need to get started and start planning today!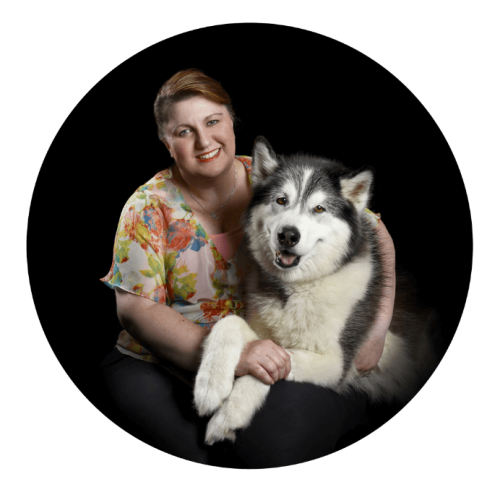 Lorraine Charlecrafte is the Director & Main Photographer of Zoo Studio, one of the leading pet photography studios in Australia.  She has been serving the WAHM community through her compassion for pets of all sizes to create quality and timeless pieces for their owners. She strongly believes that pet portraits are a great way to deepen the relationship between animals and their owners.